Last Updated on November 20, 2023
Boka is rolling out a new promotion and it might interest you. This is your chance to claim a free Boka Toothpaste sample while supplies last.
The brand is giving away free samples of their Ela Mint n-Ha toothpaste to select users.
Boka Ela Mint n-Ha toothpaste is crafted with nano-hydroxyapatite (n-Ha), a revolutionary material that's been a buzz in the dental community. This biocompatible compound is known for its ability to remineralize teeth, providing a natural approach to stronger, healthier enamel. It's a game-changer for those seeking an alternative to fluoride without compromising on protection against cavities and sensitivity.
Interested? Let's dive into how you can get your hands on this freebie.
How to claim a free sample of Boka Ela Mint n-Ha toothpaste?
For a limited time, you can claim a free trial of Boka's Ela Mint n-Ha toothpaste directly through an exclusive campaign running on Facebook and Instagram.
To get your hands on this exclusive free trial, here's what you need to do:
Keep an eye out for the sponsored post by Boka on your Facebook or Instagram feed.
Once you find the ad with the sample, hit the 'Sign Up' button to proceed.
You'll be prompted to fill out a form providing necessary details to ship your free sample.
Here is a screenshot of what the sponsored post looks like: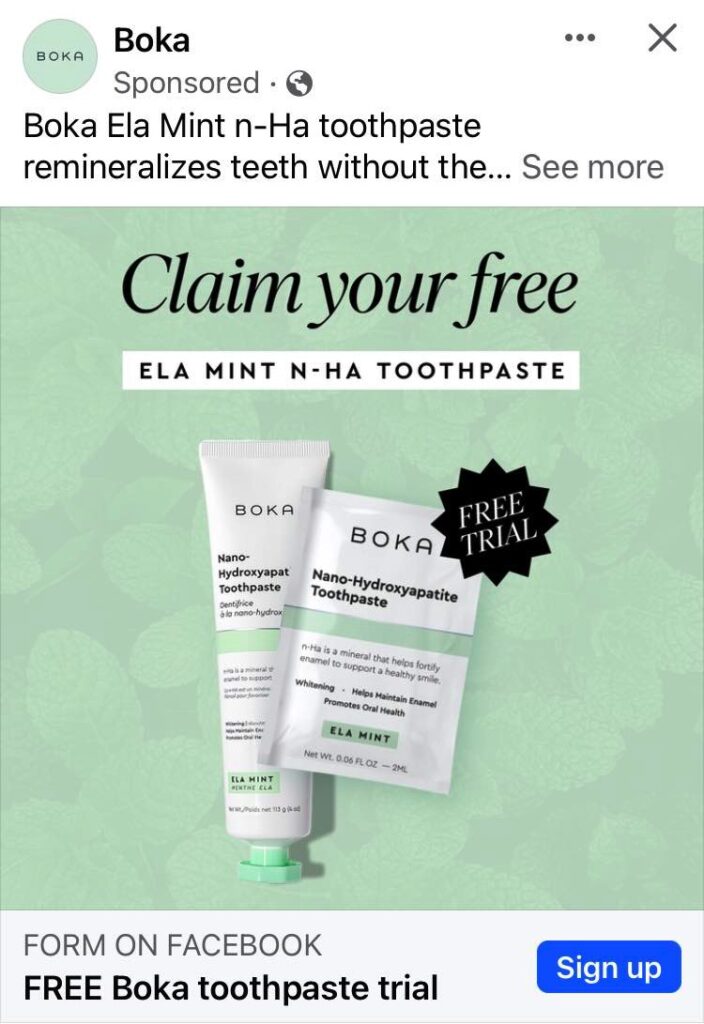 To increase your chances of finding this ad and claiming the sample, I suggest you follow the tips below:
Visit Boka on Social Media: Head over to Boka's official Facebook page and Instagram and follow them
Show interest in the brand: Interact with their content on Facebook and/or Instagram. You can like posts, leave comments, etc…
Search for the Boka Toothpaste: Perform a quick search on either the internet or directly the Facebook / Instagram search bar and engage with the results
After that, simply keep an eye out for sponsored posts coming your way.
Offer currently showing up to select US residents on Facebook and Instagram.
Available for a limited time only or while supplies last.
Be the first to get the latest freebies in your inbox