Last Updated on October 24, 2023
Removing your makeup correctly and cleansing your face is very important to keep a healthy skin. And now, you get the opportunity to experience the magic of one of the best Cleansing products: a free Bioderma Cleansing Oil sample.
Bioderma is generously offering FREE samples of their new Sensibio Micellar Cleansing Oil – a soothing makeup remover.
This product comes as the newest addition to Bioderma's famous Sensibio range, designed specifically for sensitive skin. Their micellar technology attracts impurities like a magnet, eliminating dirt and even waterproof makeup without harsh scrubbing. As a result, your skin feels clean, soft, and moisturized.
Interested? Let's dive into how you can get this freebie in the mail.
How to order a free sample of Bioderma Sensibio Micellar Cleansing Oil?
NEW! From Facebook / Instagram – AVAILABLE
The brand has turned to the power of social media, making the sample available through its official channels on Facebook and Instagram. So there is no direct link to the form, but you can follow the tips below to increase your chances of seeing the ad with the sample.
I suggest:
Open your Facebook or Instagram and look up Bioderma
Like the Bioderma Page on Facebook or Instagram if you haven't done so already
Engage with their content by liking recent posts, leaving a comment, etc… (Like 5 or more…)
Use the search function on Facebook and Instagram or the internet to search for Bioderma Sensibio Cleansing Oil and interact with the results.
Visit and view the product on the brand's website to help algorithms understand you are interested in it. Thus, show you the ad with the sample.
The steps as explained above are important to help the META algorithms recognize your interest in the brand and this product in particular… So it's more likely to show you the sponsored post.
Here is a screenshot of the advert you need to find to claim this freebie.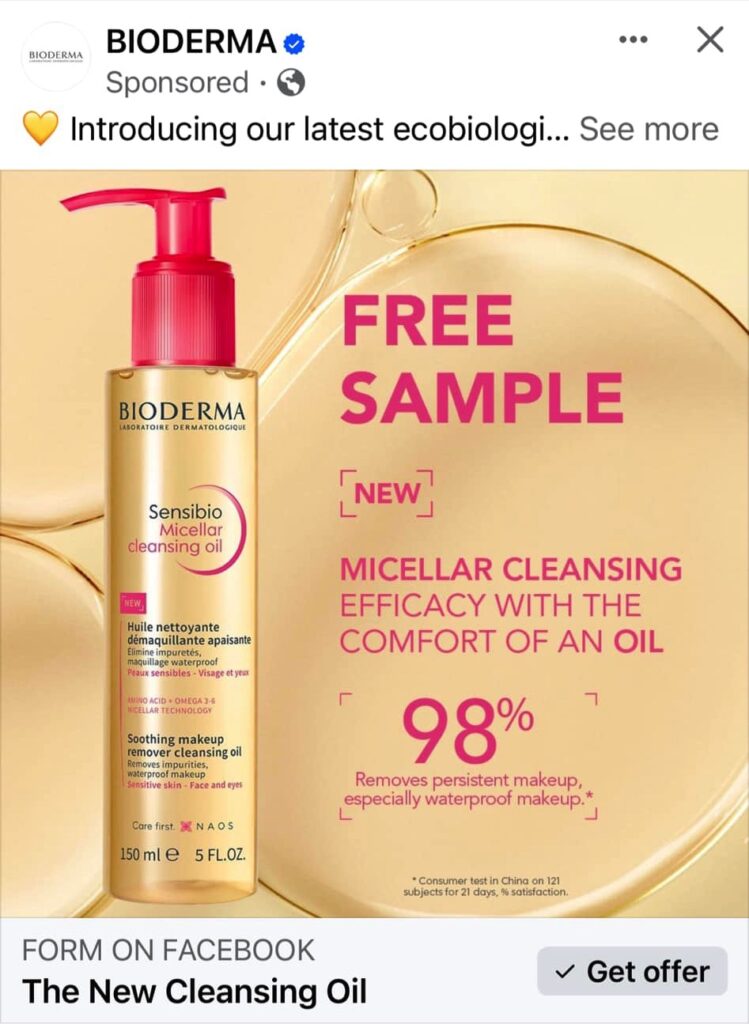 Once you spot it, click on the 'GET OFFER' button and that's it, you will need to fill out the form to receive your sample.
This offer is available for a limited time only or while supplies last. It's showing for select users on Facebook and Instagram.
So, keep your eyes peeled on your social media feeds, engage with Bioderma, and claim your sample when the opportunity strikes.
Good luck.
The Bioderma Sensibio cleansing oil promises to lift away even the most stubborn makeup while ensuring your skin remains calm and soothed. So how about you put their claims to the test? Claim your sample and judge for yourself!
Be the first to get the latest freebies in your inbox