Last Updated on September 25, 2023
Bloomingdale's has just unveiled a new and enticing sampling offer. This time, the spotlight is on the luxurious Baccarat Rouge 540 range by Maison Francis Kurkdjian… And it's all about indulgence for your skin. That's right, you can now claim a free Baccarat Rouge 540 sample pack.
The Maison Francis Kurkdjian Baccarat Rouge 540 fragrance is often described as a poetic alchemy, a harmonious balance between oriental and woody notes. Now, imagine this signature scent gracing not just your pulse points, but also your entire body, wrapping you in an aura of sophistication and elegance.
Right now, Bloomingdale's is giving away free Baccarat Rouge 540 sample packs to US residents. Each pack includes:
Baccarat Rouge 540 Hand and Body Cleansing Gel
Baccarat Rouge 540 Scented Body Lotion
Read on to find out how to get your hands on this freebie without further delay.
How to sign up for a free sample pack of Maison Francis Kurkdjian Baccarat Rouge 540 Body Lotion & Cleansing Gel?
From SoPost Link
Getting your hands on to this deluxe offer is simple. All you need to do is follow the steps below:
Click on the button below to go to the offer page on SoPost.
FIll out the form
Submit it and voila, you're all set.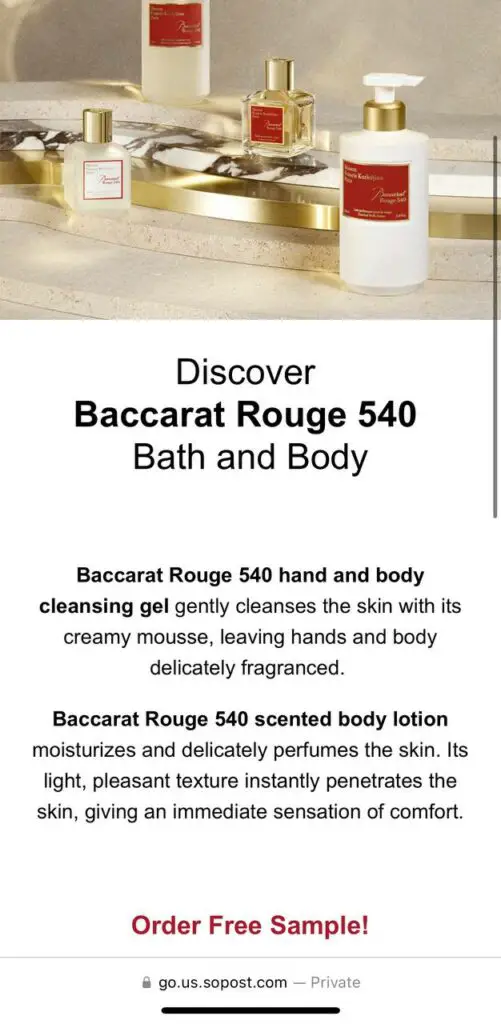 NOTE: If it says sold out, just retry in a few minutes or so. Or, you can try to find the original sponsored ad from Bloomingdale's page. I will do my best to find a better link and let you know so you can score this amazing freebie.
As with all luxurious offers, stocks are limited. It's advisable to act swiftly to secure your sample pack.
Dive in, immerse yourself, and claim these lavish body products before they're all snapped up!
From Facebook / Instagram
Here is an update for you! It looks like the SoPost link is very unstable and doesn't work for most of you. So, I suggest you try to snag this freebie form the source : a sponsored post from Bloomingdale's page on Facebook and Instagram.
Follow Bloomingdale's page on Facebook and Instagram
Interact with the brand by liking recent posts, watching a video they shared on their page or a story, etc…
Look up Baccarat Rouge Body & Bath range on the internet or on Bloomingdale's website directly
You can also try to search for the product on the Facebook or Instagram Search bar
Here is what the sponsored post looks like: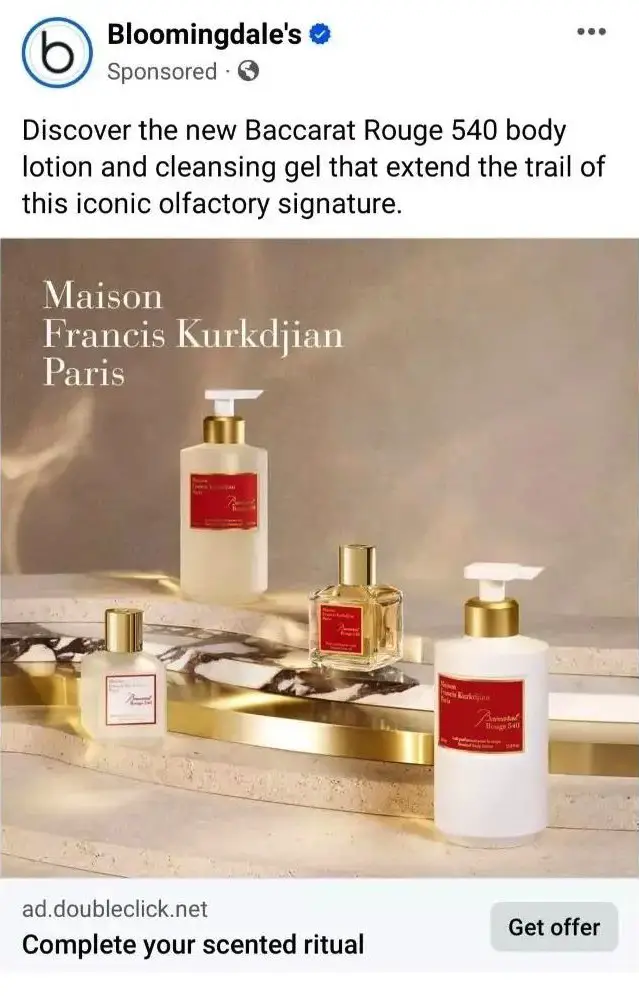 When you spot it, click on the button and fill out the form.
IMPORTANT: Keep an eye out on this article for updates. I'm actively looking for a direct SoPost link that works. You can also try the one below if it comes back.
There's no denying that the Baccarat Rouge 540 range is the epitome of luxury and sophistication. And with Bloomingdales bringing these products closer to you with their new SoPost sampling offer, there's every reason to indulge.
Whether you're a die-hard fan of Baccarat fragrances or someone looking to dive into the world of luxury scents, this is an offer you wouldn't want to miss.
Claim your piece of opulence today
Be the first to get the latest freebies in your inbox