Last Updated on October 20, 2023
For a limited time only, get a free MUGLER Alien Goddess perfume sample with a simple request. Discover the new Alien Goddess fragrance with a free sample in the UK.
If you love the Alien perfume by Mugler, then you will be thrilled to hear that the fragrance has taken on a new personality and scent. An exquisite new perfume line by Mugler that you can try for free.
Here's how.
How to get a free Mugler Alien perfume sample by post?
NEW! From Odore Link – AVAILABLE
A new Odore Link is available to claim a free sample of Mugler Alien Eau de Parfum of your choice.
To get your sample, I invite you to follow the instructions below:
Click on the 'Go to Offer' button below to go to the publication offer on Facebook
Once there, click on the 'SIGN UP' button to access the Odore form
Fill it out with the required details to find out which Mugler Alien Goddess is perfect for you, and claim it.
Available for a limited time or while supplies last.
If the page says that You do not have access to this link, you can simply try to copy paste the link below directly into your browser:
https://getmefreesamples.com/Odore-Mugler-Alien-Goddess-sample
UPDATE: Here is the original post from Mugler page with the link to the form. Simply click on the post below to access the form.
I received mine today, it's a 1,2 ml sample vial as you can see in the picture below. The offer is still available if you are interested in getting one x.
But after checking, there is only the Mugler Alien Goddess SUPRA FLORALE Eau de Parfum sample still in stock.
On TikTok – AVAILABLE
There is a new version of the MUGLER Alien fragrance… Discover the new MUGLER Alien Supra Floral Fragrance with a free sample while supplies last. This one is available on TikTok sponsored posts from several beauty influencers.
To get it, I suggest you follow the tips and tricks below:
Search for Tasha Amber Ghouri profile and MULGER on TikTok and follow them
Like their content or leave comments, etc… to show your interest in their content and products
Use the search bar to look up the MUGLER Alien SUPRA Floral and look it up on the internet as well
After that, keep your eyes open for any sponsored posts. Here is a picture of the one you need to find to claim this freebie.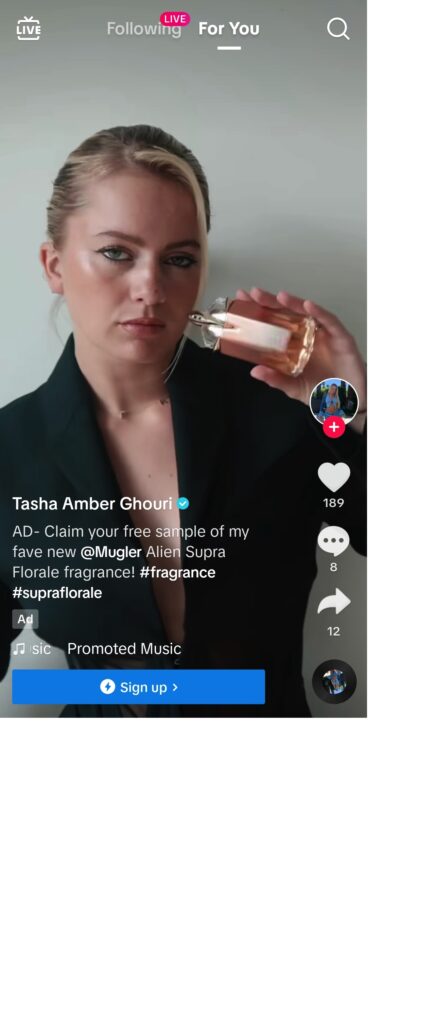 Thru Facebook / Instagram – AVAILABLE
There is a new sponsored post showing up to select residents of the UK on Facebook and Instagram. The post is on the Mugler UK page and it's powered by a SoPost form.
There is no direct link to it as of yet. However, you can follow Mugler's on Facebook and like a couple of recent posts. Also, you can search for the new perfume on their website to increase your odds of getting this post to pop up in your social feed.
Here is what the advert looks like :
There are two different ads, one is for the Mugler Alien Eau de Parfum, and the second for Alien Goddess Perfume as you can see below.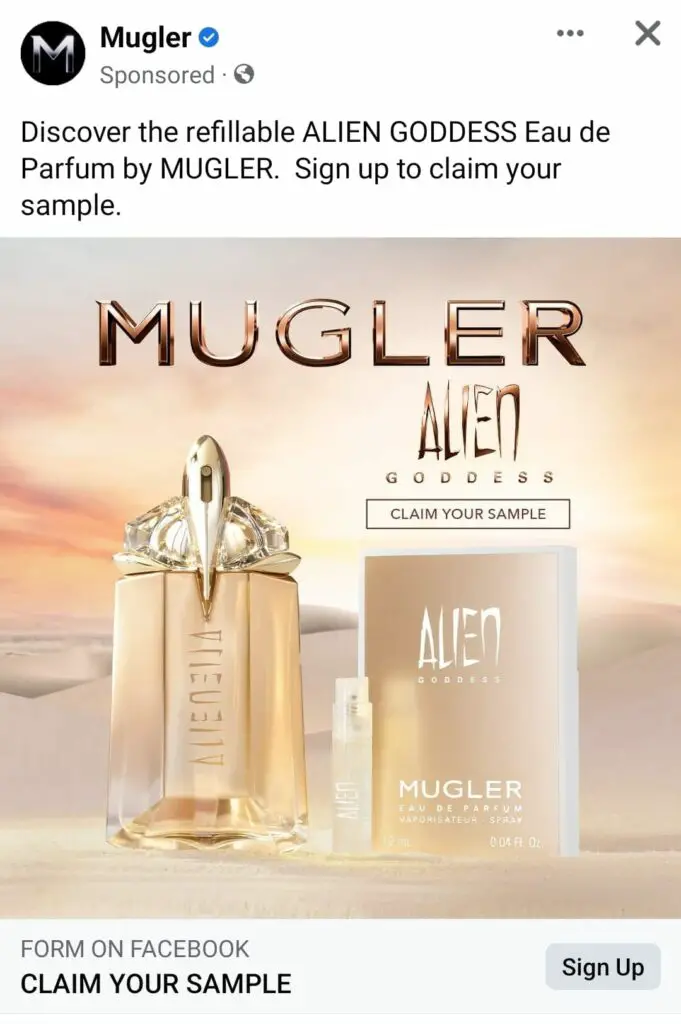 As you can see in the targeting criteria set by the brand, this sponsored post is showing up to select female residents of the United Kingdom, who set their age between 18 to 54 and shown interest in Beauty, Fitness, and Wellness.
Stay in the loop by subscribing to push notifications. I'll make sure to ping you whenever there's an update about the Mugler Alien Goddess perfume sample and more.
Did you manage to find it? Let me know in the comments below.
Also, here are the terms and conditions if it helps.
Good luck.
Amid magazine page – SOLD OUT
There's a new pop-up with free Mugler Alien Supra Floral samples that shows on a specific Cosmopolitan magazine page. To get yours while supplies last, simply follow the link to the article page. Accept cookies and scroll down and up until you find the SoPost popup.
Once you find it, just click on 'CLAIM YOUR SAMPLE' and proceed with filling out the form. Make sure to check your inbox for a confirmation email.
Please note that this not might be available for everyone. Try using a private mode on your browser. If it says invalid link, you can retry a couple of minutes later. Good luck!
With Direct SoPost Link – SOLD OUT!
Be quick to get a free sample of the new Alien Goddess perfume by Mugler with SoPost direct link to form. Click here and fill out the form before they run out of stock. If you come and it's out of stock, you can always keep an eye out on Facebook for the advert to pop up. Read below for more details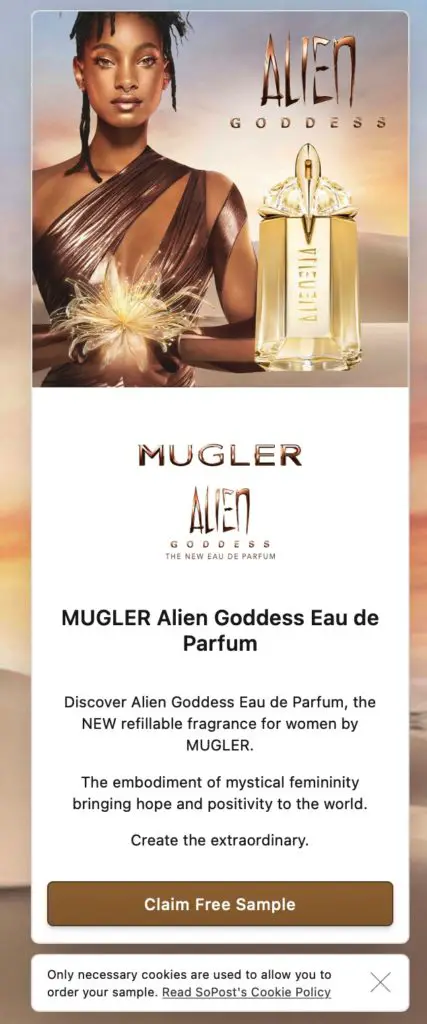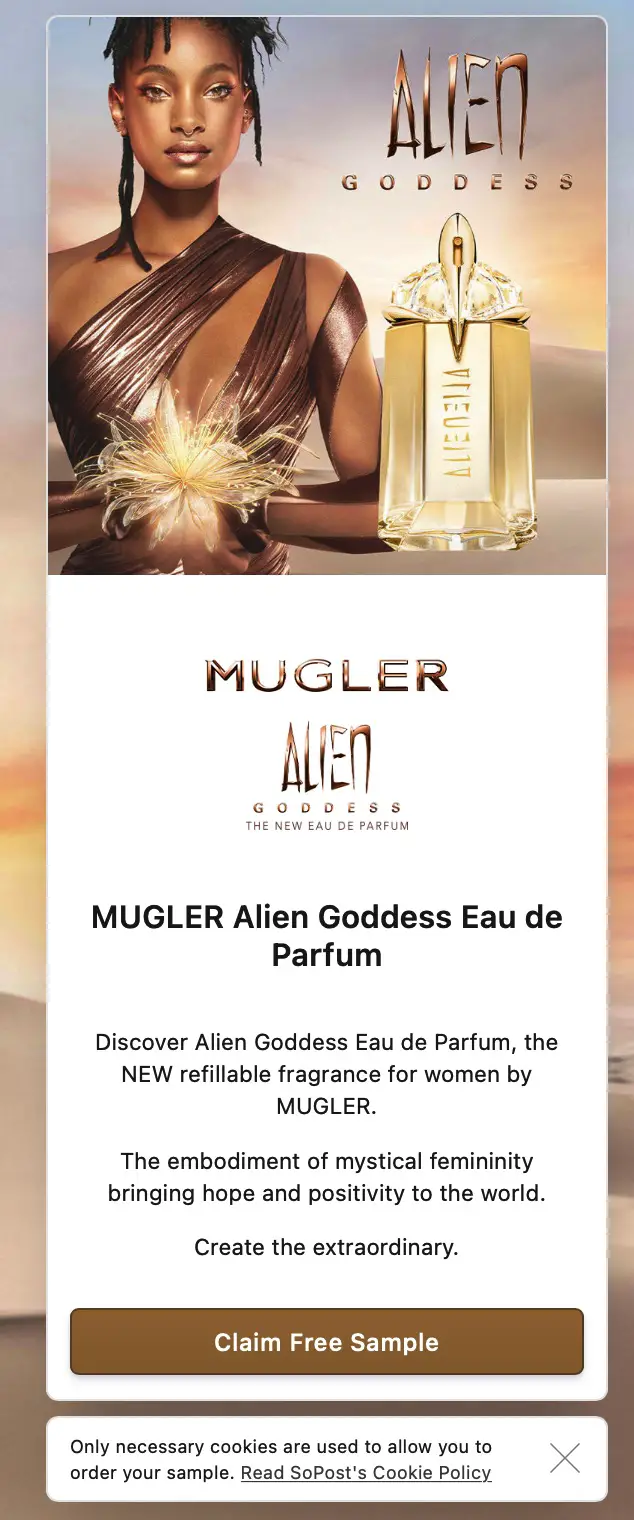 From Mugler sampling campaign – EXPIRED!
To get your free Alien Goddess perfume samples by post, I invite you to go to the sampling page by following this link right here. Simply fill out the form and submit it to receive a 1.5mL sample of Alien Goddess Fragrance.
There are 15,000 samples available. Distributed on a first asked, first-served basis. So be quick for a chance to nab one whilst supplies last.
This offer is open to residents of the UK, 16+.
the NEW refillable fragrance for women by MUGLER is a fragrance that embodies all shades of the surreal. The ethereal concoction blends a floral fusion of dazzling Bergamot, with mystical Jasmine and vanilla to create a scent that smells like nothing else on the market.
P.S: The offers below are only for UK residents. If you live in the US or Canada, you can find the right form for your country here.
Be the first to get the latest freebies in your inbox