Last Updated on July 16, 2022
Marie Claire is giving away Free Weleda Skin Food full size samples to members of Marie Claire Beauty Drawer.
Weleda Skin Food is a nourishing, moisturizing skin care product that you will love and keep using!
Skin Food helps your skin to "breathe" by providing a protective layer of natural oils that prevent moisture loss. In addition, it is a calming balm for irritated or sensitive skin. Skin Food is perfect for all ages, including children's delicate skin as well as adults with dry or mature skin, helping to improve elasticity and tone.
To see if you qualified for a free Weleda Skin Food sample from Marie Claire, simply read the instructions below.
How to get a free sample of Weleda Skin Food in the UK?
NEW! Thru Facebook / Instagram – AVAILABLE!
There is a new sampling offer currently doing rounds on Facebook and Instagram. Spot it to score a free sample of Weleda Skin Food by post. Here is how to increase your odds of seeing the advert
Like and Follow the Facebook page of Weleda
Interact with the brand (Like recent posts, comment or watch recent videos)
Lookup the Weleda Skin Food on the Facebook search bar or the internet
Here is a snapshot of the advert you should be keeping an eye out for while scrolling through your social feed.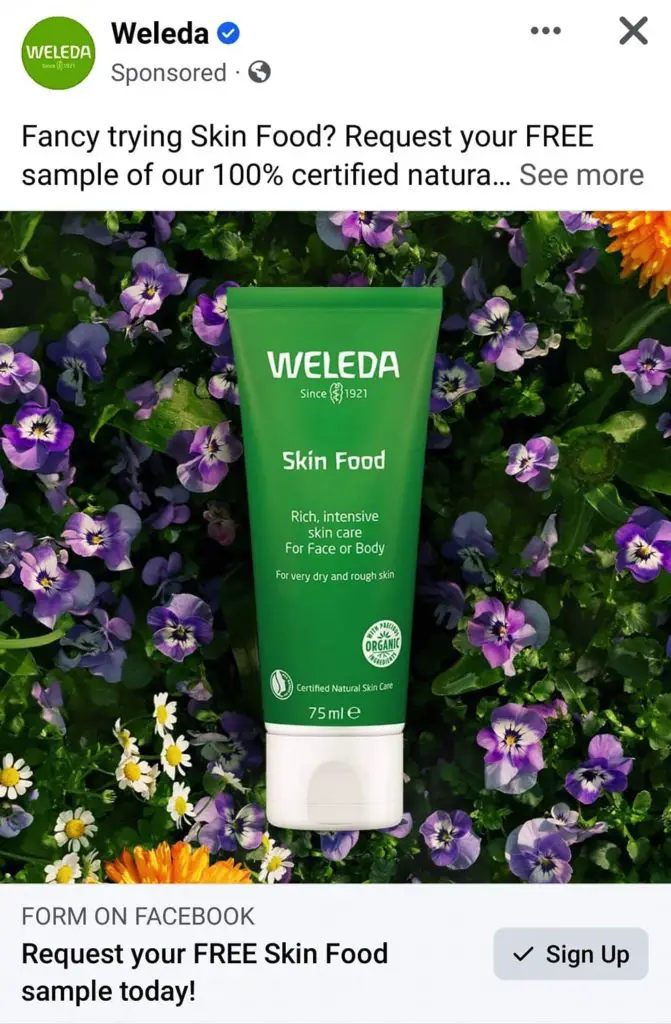 With Marie Claire Beauty Drawer – SOLD OUT!
Select Marie Claire Beauty Drawer members are eligible for a free full-size sample of Free Weleda Skin Food. To see if you qualify for this amazing freebie, I invite you to check your email or your Marie Claire Beauty Drawer Dashboard.
Below is a snapshot of the email you should be on the lookout for.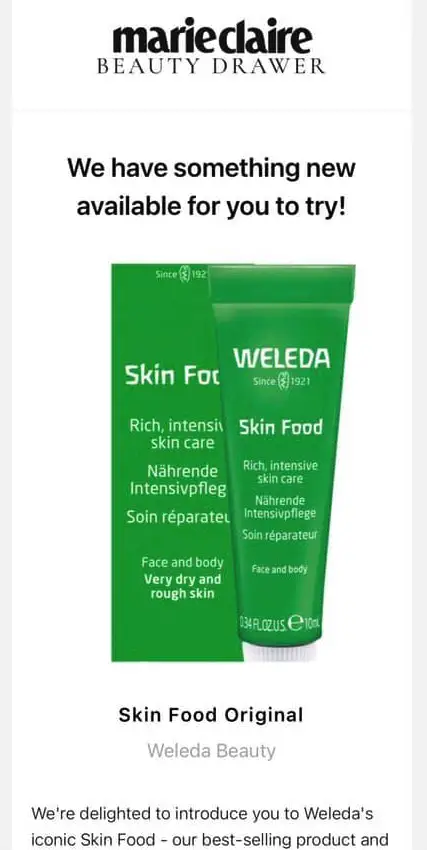 If you are not a member yet, you can sign up right now so you won't miss out on future offers. And who knows, you could get these too. You can sign up at beautydrawer.marieclaire.co.uk. It's free and easy.
Available for select UK residents who are members of Marie Claire Beauty Community.
Check out this list for more free samples with Marie Claire.
Be the first to get the latest freebies in your inbox