Last Updated on October 2, 2023
HOT FREEBIE! For a limited time, you can get a Free Bioderma Micellar Water sample with a simple request.
This beloved product is adored globally for its gentle yet effective formula, making it a staple in many skincare routines. And now, for a limited time, you can try it out for free! But hurry, samples are expected to run out quickly, so act fast!
Now, let's dive into how to get your hands on this generous offer.
How to get free samples of Bioderma Sensibio H20 Micellar Water?
NEW! From Facebook / Instagram – AVAILABLE
Great news! Bioderma has also made their Sensibio H20 Micellar Water samples available through sponsored posts on Facebook and Instagram.
To increase your chances of seeing these posts:
Follow Bioderma on Social Media: Make sure to follow the Bioderma page on Facebook and Instagram
Engage with Bioderma's posts by liking, viewing videos or reels, and commenting. The algorithm will then recognize your interest in the brand and is more likely to show you the sponsored post.
Search for Bioderma Sensibio H20 Micellar Water: Use the search function on Facebook and Instagram to search for Bioderma Sensibio H20 Micellar Water. This can further signal to the algorithm your interest in the product.
Visit Bioderma's website: Visit and view the product on the Bioderma website to help algorithms understand you are interested in it.
And that should be about it… After these steps, keep checking your social media feeds for sponsored posts from Bioderma. You can see below a screenshot of the one with the sample.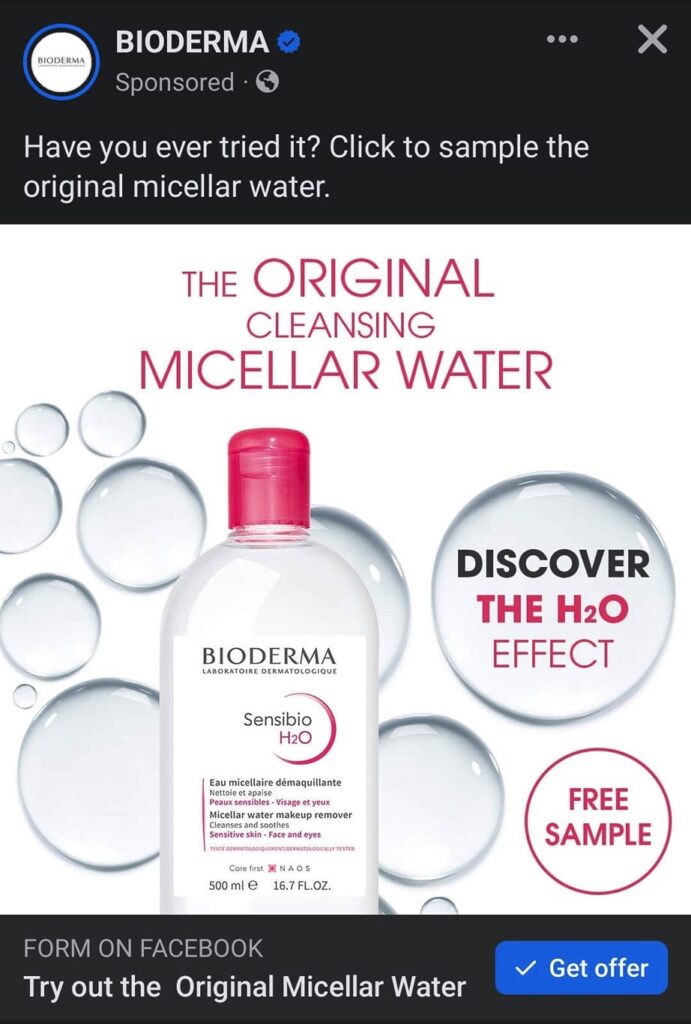 Once you spot it, click on the 'GET OFFER' button and that's it, you will need to fill out the form to receive your sample.
Offer available for a limited time or while supplies last.
Stay tuned for a possible new direct link for this freebie.
From TopBox Circle – SOLD OUT
TopBox Circle is giving away free samples of Bioderma Sensibio H20 Micellar Water (10ml mini bottle).
To receive a free 10ml sample of Bioderma Sensibio H20 Micellar Water in the mail from TopBox Circle, I invite you to follow the highlighted link right here. Just put your shipping address and personal info in the corresponding fields and send it away.
Allow up to 4 weeks for your sample to be shipped to you by mail.
Valid for a short period of time only or while supplies last.
Be the first to get the latest freebies in your inbox