Last Updated on September 26, 2023
Hurry up to snag a totally free Benefit Mascara sample while supplies last.
The world of Mascaras is in constant evolution, with innovative products and unique formulas introduced every day. One brand that always manages to stay ahead of the curve, and captivates with its quirky and effective products, is Benefit Cosmetics.
And now you can put their Mascaras to the test without having to buy the full size product? How? It's quite simple, you can request a free sample to receive in the mail.
Here is a list of all Benefit Cosmetics sampling offers for Mascaras.
How to get a free Benefit Mascara sample by mail
NEW! Benefit Fan Fest Mascara sample from TikTok – AVAILABLE
Benefit Cosmetics has launched a new Mascara: Benefit Fan Fest Fanning Volumizing Mascara, and guess what? There's a special treat waiting for you on TikTok: a sponsored post from Benefit offering FREE samples of the Fan Fest Fanning Volumizing Mascara!
Lashes that fan out, providing a dramatic yet elegant look, have always been in vogue. Benefit's new Fan Fest Mascara promises just that: a volumizing effect that spreads your lashes out in a glamorous fan shape.
This is your chance to try out this sensational new mascara before making it a staple in your beauty regimen. So here is how:
Like and follow the Benefit Cosmetics account on TikTok
Watch and like their shared reels and videos
Use the search bar to look up the new Benefit Cosmetics Fan Fest Mascara and engage with related content
That's it, now all you have left to do is keep an eye out for Benefit Cosmetics' sponsored post showcasing the Fan Fest Mascara.
Here is what it looks like:
you spot the post, there will be a clear call to action guiding you on how to claim your free sample.
The unique formula ensures that each lash gets its moment in the spotlight without clumping, while the specially designed brush ensures an even and intense coating.
So don't miss out on this sample. Follow the steps above and get yours while supplies last.
Available for a limited time only, to select users on TikTok.
Benefit They're Real Magnet Mascara sample from TopBox Circle – SOLD OUT
UPDATE:
Received mine at last. It took a lot of time but it showed up. See picture below. The link still works sometimes. I'll keep you posted if you missed it.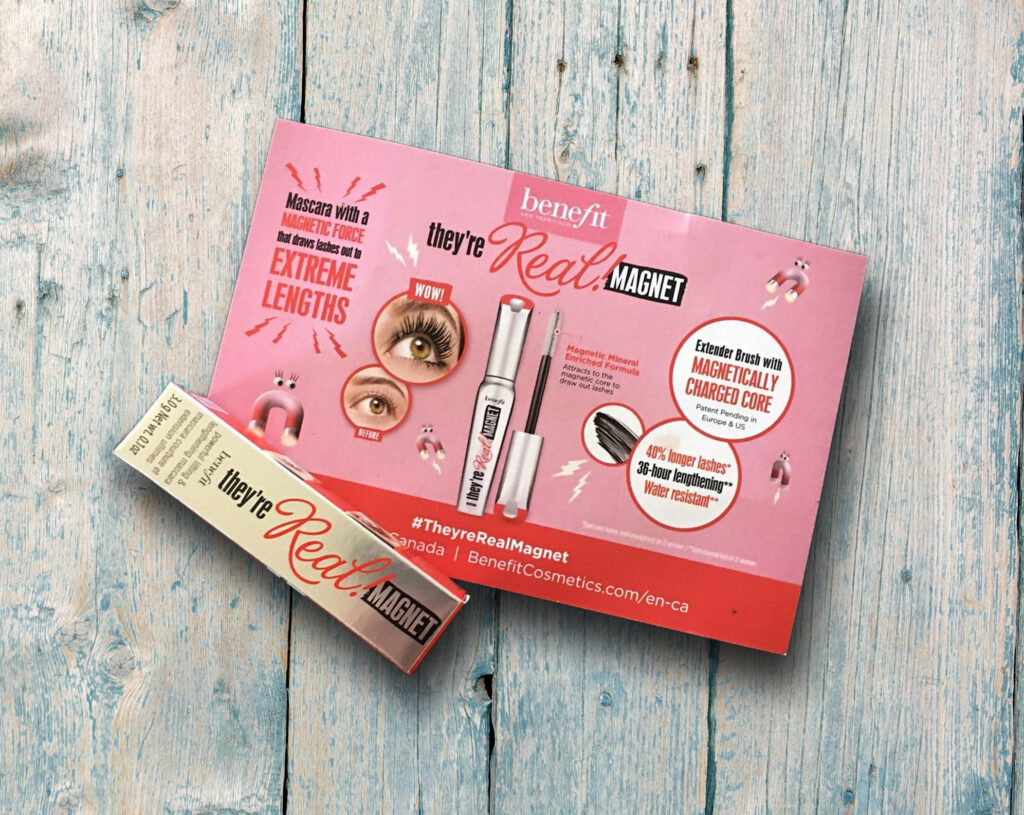 The Benefit They're Real! Magnet Mascara sample is incredibly cute. The Benefit Mascara sample comes in a fun size way. It's just so cute to have.
---
They're Real! Magnet Mascara by Benefit Cosmetics is a lengthening mascara with a magnetic force that draws out lashes to EXTREME LENGTHS. Thus, they look longer on the first try. And now you can get a sample from TopBox Circle.
If you want to get a free Benefit Mascara Sample, I invite you to follow the link highlighted here to the form on TopBox Circle.
Pop up your shipping info in there and send away to receive your Benefit Mascara sample by mail, 100% gratis of all charges.
Please note that the sampling page goes on and off. I guess they have a limited number of samples per day. So stay vigilant and check regularly. I'll make sure to notify you whenever I spot it again. To make sure you get one, I suggest you allow me to send you push notifications if you haven't done so already. Anyway. I hope you get one.
Valid for a short period of time or whilst supplies last.
Be the first to get the latest freebies in your inbox