Last Updated on February 7, 2022
Are you a fan of Yves Saint Laurent fragrances? How about you get a free YSL Mon Paris Perfume sample to try out before you decide whether to buy or not.
For a limited time, Macy's is giving away free Mon Paris Perfume samples to select US residents.
The Mon Paris Fragrance sampling campaign is currently ongoing on Facebook and Instagram, thru a sponsored post.
How to get a free sample of YSL Mon Paris Perfume by mail?
As I mentioned above, right now the Macy's page on Facebook is giving away the Mon Paris Fragrance samples. There is no direct link to the request form. However, there are a bunch of actions you can complete. Hopefully, the advert will pop up in your social media feed.
The actions I recommend you to follow are :
The idea is to fit into the potential buyer criteria they have set.
Keep scrolling your social media feed as usual but keep an eye out for sponsored posts. The advert for this YSL perfume freebie looks like the snapshot below.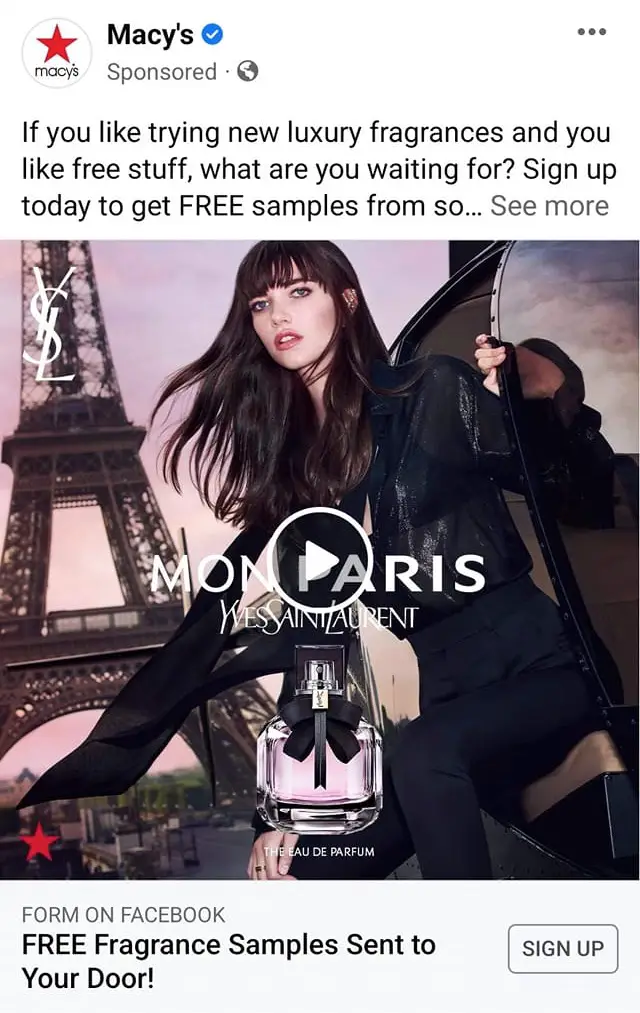 Once you see the pop up, just hit sign up and a SoPost form will appear. Fill it in and wait for your samples to arrive in the mail.
This freebie is currently showing up to select Facebook and Instagram users, living in the United States of America. This could be also available in other countries. But the procedure remains the same no matter where you live.
Stay tuned for more offers and great value samples.
Be the first to get the latest freebies in your inbox