Last Updated on February 28, 2023
Don't miss out on this new sampling offer to claim a free YSL Black Opium sample.
YSL Black Opium is one of the most iconic and well know fragrances by Yves Saint Laurent. Now you can discover its new version – Black Opium Le Parfum.
YSL Black Opium Fragrance is a sensual, deep, and mysterious fragrance. It is an intense perfume that leaves you feeling like the seductive woman of your dreams. This fragrance opens with a fresh burst of four precious Vanilla variations, White Flowers, and Coffee Beans.
You can get your hands on a free sample to try out for free, courtesy of YSL. Here is how.
How to get a free sample of YSL Black Opium?
Right now the Macy's Page on Facebook is giving away the new Black Opium Le Parfum Fragrance samples. There is no direct link to the request form. However, there are a bunch of actions you can complete. Hopefully, the advert will pop up in your social media feed.
The actions I recommend you follow are :
The idea is to fit into the potential criteria they have set.
After that, keep your eyes open for the sponsored publication to show up in your social feed. It could be Instagram, or Facebook, whichever one you usually use stick to it.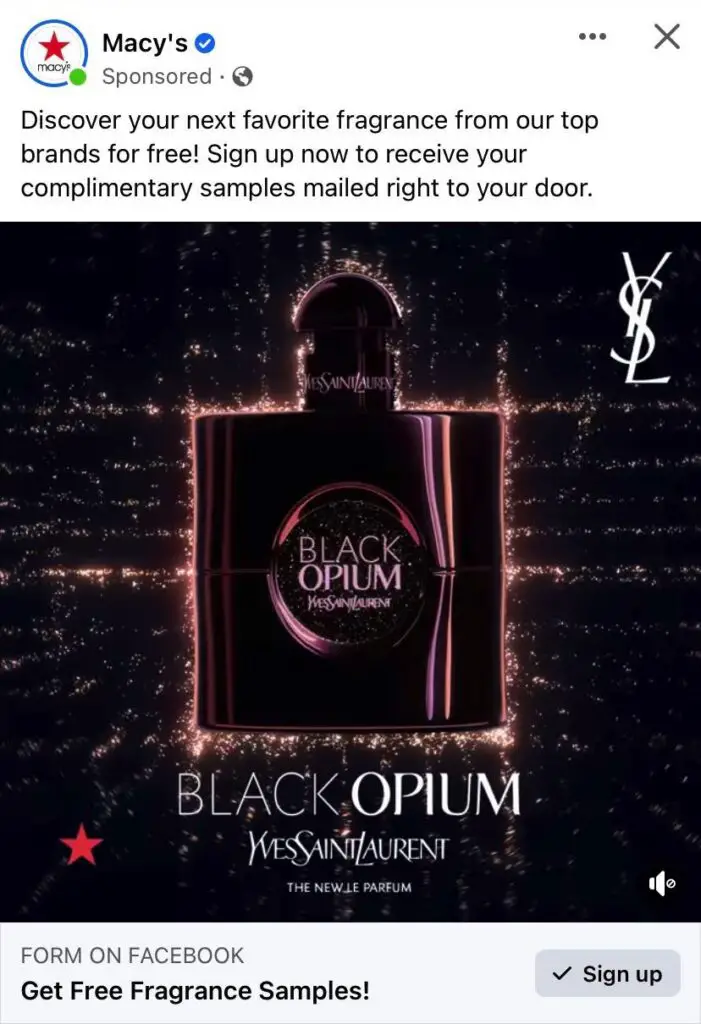 Once you spot it, hit the 'SIGN UP' button to access the request form. As simple as that.
I will keep you posted regarding any new updates or other ways to score this freebie.
Good luck.
It's currently showing up on social media for select users who are residents of the United States. I will tell you more when I know more. X
Be the first to get the latest freebies in your inbox