Last Updated on October 3, 2023
I'm thrilled to bring you an exciting new offer that's definitely worth checking… And it is no other than a free Vichy Neovadiol Meno 5 Serum sample to try out.
This Serum is particularly good for peri and post-menopausal skin. As you know, changes in hormone levels during and after menopause can result in a variety of skin issues. Including increased dryness, a loss of firmness, and the appearance of dark spots and wrinkles.
Vichy's Neovadiol Meno 5 Serum is perfect to address these concerns because it is rich in dermatological ingredients. It works to not only improve the appearance of dark spots and wrinkles but also visibly firm the skin and boost radiance and hydration.
Interested in trying a sample? Here is how you can grab this freebie to test gratis.
How to order a free sample of Vichy Neovadiol Meno 5 Serum?
Getting your hands on this fabulous freebie couldn't be easier. Simply:
Click on the 'Go to Offer' button below to go to the Vichy Neovadiol Serum sample request form on SoPost
Submit your request
That's it… After you have submitted the form and agreed to the terms and conditions, your free sample will be on its way to you.
Please note that this offer is available only while supplies last, so don't hesitate to claim your sample as soon as possible.
This offer is available to residents of the 50 US states (excluding Puerto Rico) and DC aged 21 or older.
This free sample of Neovadiol Meno 5 Serum is a wonderful opportunity for those navigating the changes of menopause to experience the benefits of this powerful serum.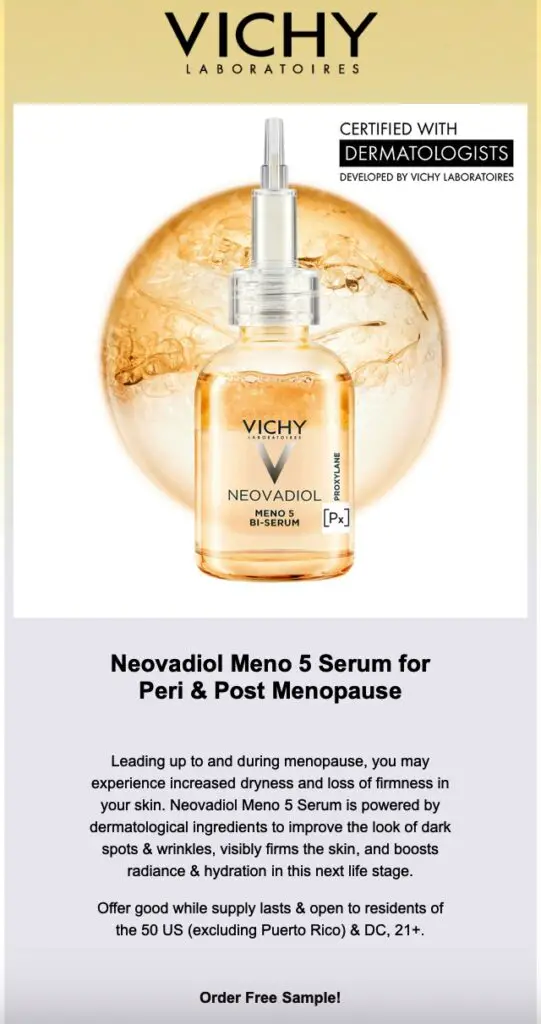 Remember to share this offer with your friends and family who might also benefit from this offer.
Happy sampling!
Be the first to get the latest freebies in your inbox