Last Updated on September 19, 2022
Hurry up to get your hands on a free Valentino Voce Viva sample while supplies last.
Valentino Voce Viva fragrance for women is an alluring and sophisticated scent, with a touch of virtuosity that makes it perfect for evening wear. Classically feminine, yet with a modern twist, this scent will make any woman feel feminine and beautiful from the moment she applies it to her skin until long after she has left the party.
Macy's is giving away free samples of the iconic Valentino Voce Viva Perfume to select residents of the US. Discover this amazing fragrance without paying a cent. Here is how.
How to get a free sample of Valentino Voce Viva in the US?
Macy's is giving away these samples through a sponsored post on Facebook and Instagram. There is no direct link to the form, that's why you need to complete a few actions, hopefully, this will make the sponsored post pop up in your social feed, giving you access to the request form. Here is what to do:
Like and follow the Macys page on Facebook and Instagram as well if you use it
Follow the Valentino Beauty page on Facebook
Interact with both pages (Like recent posts, comment or watch a recent video or story)
Lookup the Valentino Voce Viva perfume on the internet or on Macy's website directly
Keep scrolling your social media feed as usual but keep an eye out for sponsored posts. Here is a snapshot below of what it looks like.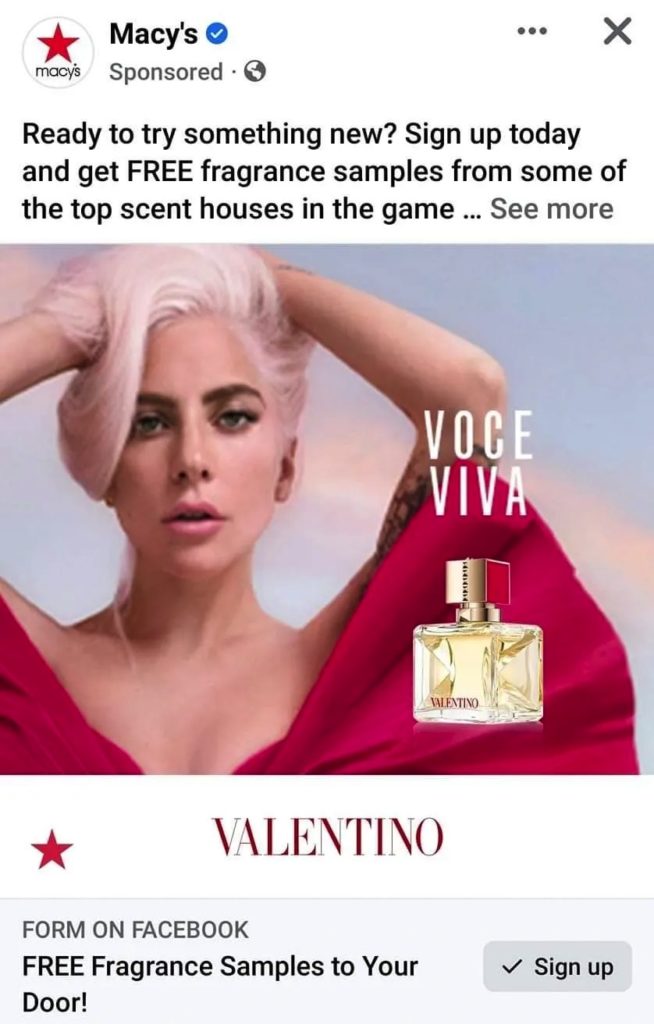 Available for a short period of time only, or while supplies last.
You could also get other perfume samples with Macy's since they have other ongoing campaigns. You can learn more about how to get free perfume samples with Macy's here.
Good luck
Be the first to get the latest freebies in your inbox