Last Updated on May 9, 2022
Seize this magnificent offer to get your hands on a free Tory Burch Perfume sample in the US. While supplies last, Macy's is giving away free samples of Tory Burch Perfume to select US residents.
Tory Burch Signature perfume is a fragrance for women who want to express their effortlessly chic style. Those looking for a fragrance that is both feminine and powerful, that smells sexy but also fresh, and that speaks to their busy lifestyle.
A sophisticated perfume with addictive notes of Floral peony, crisp citrus, grapefruit, and neroli. The mix is anchored by earthy vetiver. Tory Burch Signature Eau de Parfum is the perfect signature scent for women with a sense of timeless style.
How to claim a free sample of Tory Burch Perfume ?
Macys is giving away the samples through a sponsored advert on Facebook and Instagram. So I do not have a direct link to the form. This means that in order to get a sample, you need to spot the sponsored post on either Facebook or Instagram. Don't worry, it's super easy. Simply follow the instructions below to get your sample.
The actions are as follow :
After that, just keep scrolling your social media feed and keep an open eye for the advert to pop up in your feed. Below is a snapshot I took of the post you should be on the lookout for.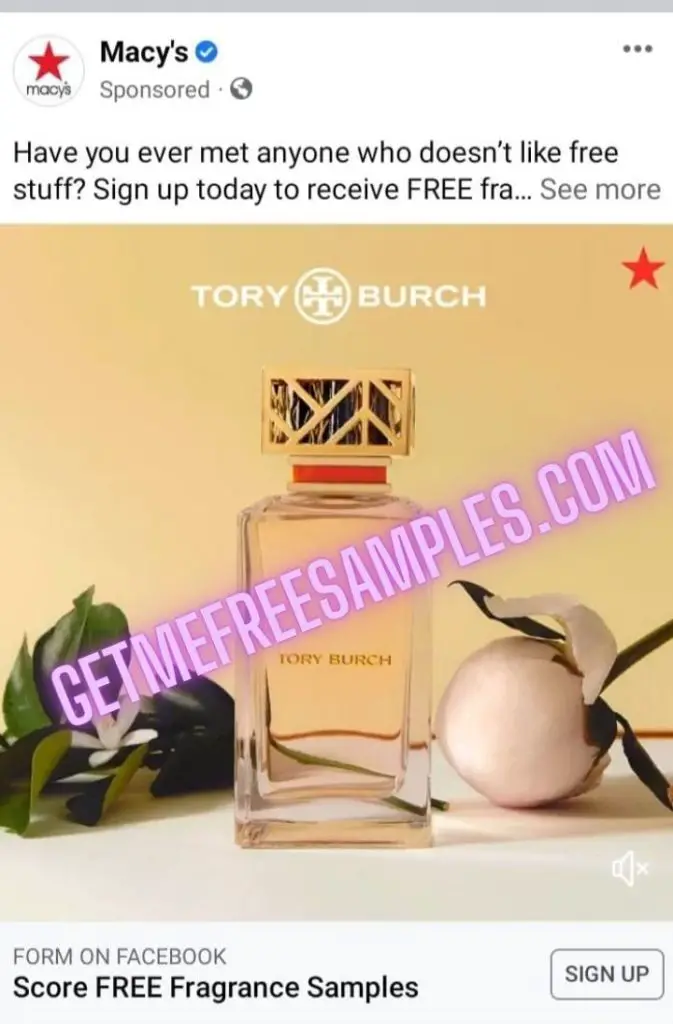 Once it does pop up in your feed, just hit the sign-up button and proceed to order the samples by completing the SoPost form.
We hope you get this freebie!
Be the first to get the latest freebies in your inbox