Last Updated on November 13, 2023
Seize this magnificent offer to get your hands on a free Tory Burch Perfume sample in the US. While supplies last, you can score free samples of the new Essence of Dreams collection of Tory Burch Perfumes in the US.
The new Tory Burch Essence of Dreams collection is composed of 5 fragrances, including:
Sublime Rose
Divine Moon
Cosmic Wood
Mystic Geranium
Electric Sky
Follow the instructions below for a chance to get your sample pack of free Tory Burch Essence of Dreams Collection Fragrances in the mail.
How to claim a free sample of Tory Burch Perfume Collection?
NEW! From Bloomingdale's Website
Bloomingdale's is currently having a pop up on their website that offers the Tory Burch Perfume sample.
To get one, simply visit Bloomingdale's website using the button below, then, type 'Fragrance' in the search bar and check the results for the Tory Burch perfume sample. Here is what it looks like: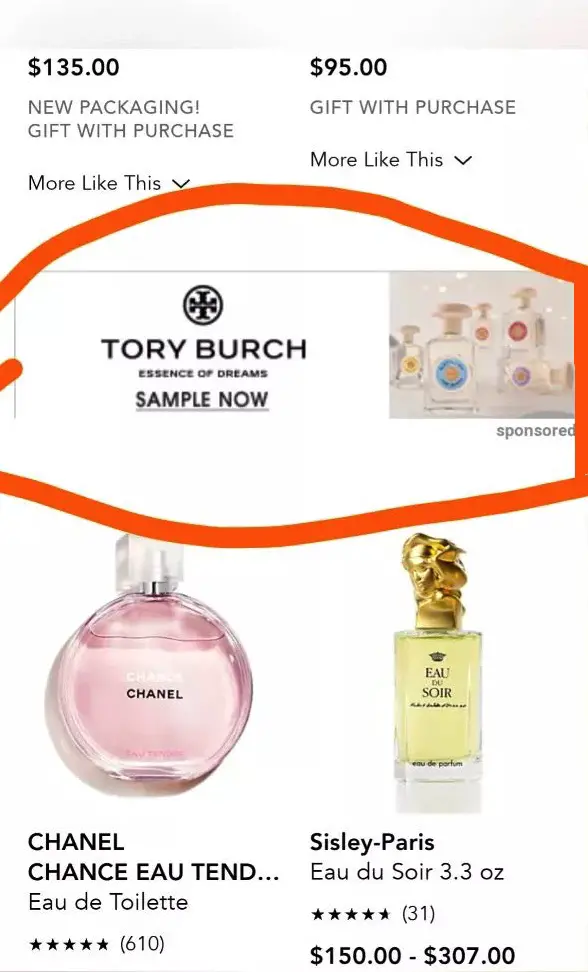 Once you find it, click on the 'SAMPLE NOW' to access the request form. Fill it out and you're all set.
Offer open to residents of the US only.
From Facebook / Instagram
Tory Burch is teaming up with Byrdie and Nordstrom Beauty to giveaway these samples through a sponsored advert on Facebook and Instagram. So I do not have a direct link to the form. This means that in order to get a sample, you need to spot the sponsored post on either Facebook or Instagram.
Don't worry, it's super easy. Simply follow the instructions below to get your sample.
The actions are as follow :
Like and follow the Byrdie and Nordstrom Beauty pages on Facebook and Instagram if you haven't already done so
Like one or two of their posts or engage with the brand on social media
Search the Tory Burch Essence of Dreams perfume collection and check it out on Nordstrom website
After that, just keep scrolling your social media feed and keep an open eye for the advert to pop up in your feed. Below is a snapshot I took of the post you should be on the lookout for.
Once it does pop up in your feed, just hit the sign-up button and proceed to order the samples by completing the SoPost form.
We hope you get this freebie!
Tory Burch Signature perfume is a fragrance for women who want to express their effortlessly chic style. Those looking for a fragrance that is both feminine and powerful, that smells sexy but also fresh, and that speaks to their busy lifestyle.
A sophisticated perfume with addictive notes of Floral peony, crisp citrus, grapefruit, and neroli. The mix is anchored by earthy vetiver. Tory Burch Signature Eau de Parfum is the perfect signature scent for women with a sense of timeless style.
Be the first to get the latest freebies in your inbox