Last Updated on March 17, 2023
Looking for a super volumizing Mascara to elevate your lash game? We have you covered with this free Too Faced Mascara sample.
Too Faced Cosmetics is giving away free samples of their best-selling Better Than Sex Volumizing Mascara to select users.
To get your sample, you need to follow the instructions below.
How to get a free sample of too Faced Better Than Sex Volumizing Mascara?
NEW! On TikTok – AVAILABLE
The brand is offering the Better Than Sex Mascara samples through a sponsored reel doing the rounds on TikTok. So, to get it, you need to spot the advert. Here are some tips and tricks to help you.
Go to the Too Faced account on TikTok and follow them
Watch and like their recent publications
Look up the Too Faced Better Than Sex Mascara on the internet or TikTok Search Bar
After that, keep both eyes open while scrolling through your feed. Here is a screenshot of what the sponsored post looks like.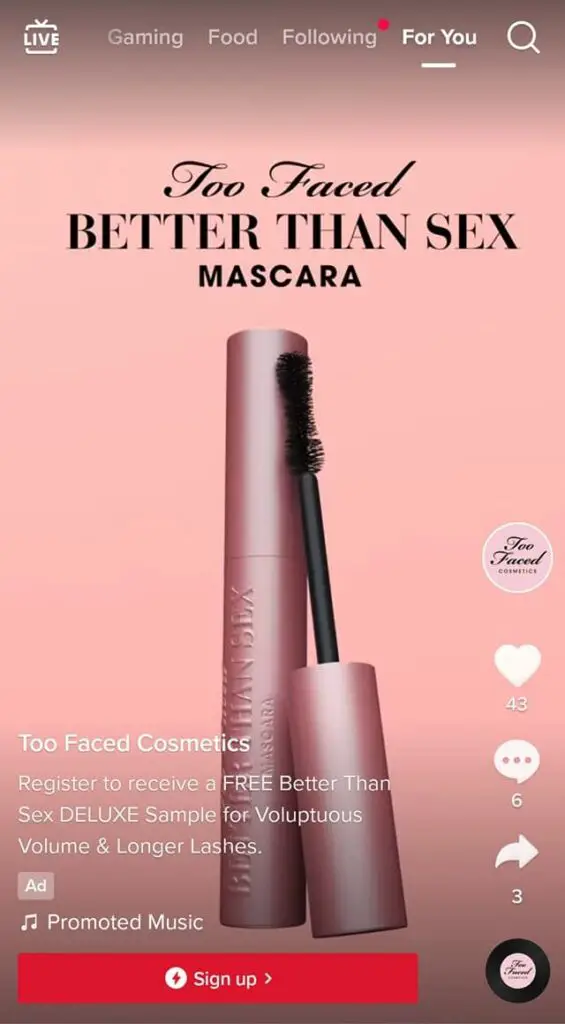 And the second one looks like this. So it could be any of the two or with a different picture altogether. Just keep your eyes open for anything sponsored from Too Faced Cosmetics.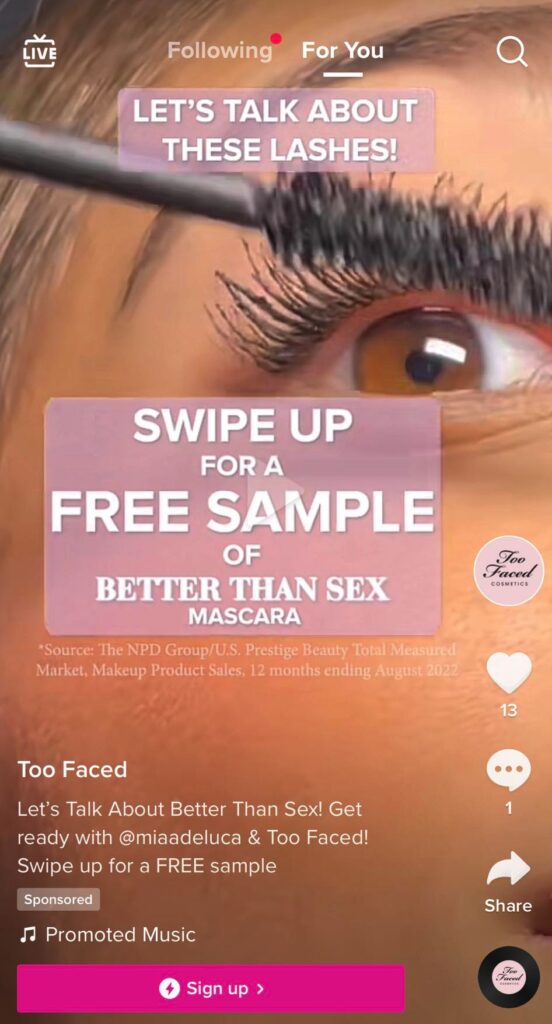 Once you've submitted this information, you'll receive a confirmation email from Too Faced Cosmetics within 24 hours.
There is no obligation to purchase from their website or in-store. It's free, including shipping.
This offer is available for a limited time only or while supplies last.
Open to select users on TikTok.
I will keep you posted regarding any new updates or possible ways to get a sample of Too Faced Cosmetics Mascara.
Good luck.
Too Faced Cosmetics Better Than Sex Volumizing Mascara has an innovative, deep black vegan formula that delivers a well-defined and volumizing effect while fighting clumping and flaking.
Be the first to get the latest freebies in your inbox