Last Updated on December 4, 2023
Hurry up to score a free Tom Ford Oud Wood sample in the US.
Tom Ford is giving away yet another perfume freebie to residents of the United States. While supplies last, you can claim a free sample Tom Ford Oud Wood cologne.
The Tom Ford Oud Wood Fragrance is created to evoke feelings of rare elegance, bohemian modernity, and aristocratic mystery. In addition to the core notes of black rare Oud, sandalwood, and rosewood, the fragrance is embellished with a fresh hint of eastern spices note at its heart, making it feel rather like a winter breeze in an old European city.
Claim a free sample of Tom Ford Oud Wood Cologne to test out gratis. Here is how below.
How to score free samples of Tom Ford Oud Wood perfume?
The brand is giving away these samples through a sponsored advert doing rounds on Facebook and Instagram. Thus, there is no direct link to the form. However, you can apply the recommendations below to increase your odds of getting the post to pop up in your social feed and be able to score the Oud Wood sample as a result.
Like and Follow the Tom Ford Beauty page on Facebook, and follow them on Instagram if you use it.
Engage with the brand by liking recent posts, watching stories, leaving a comment or watching a recent video they have shared
Below is a snapshot of the post you should be on the lookout for.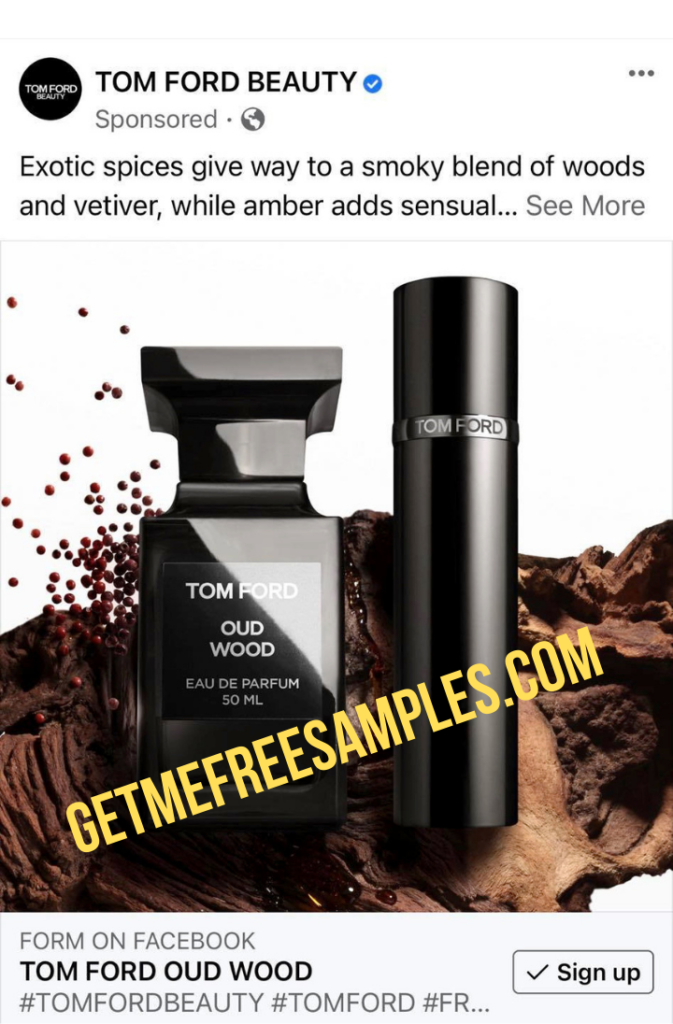 Keep scrolling your social media feed while keeping an eye for the advert to show up. Once it does, you will be able to claim the samples.
Stay tuned for more free perfume samples and freebies in the US.
Check out this list for all the free perfume samples available in the US.
I will update this article with further instructions or a possible SoPost direct link if available.
Good luck!
Be the first to get the latest freebies in your inbox