Last Updated on September 25, 2023
Be quick to score a free sample of Ralph Lauren Ralph's Club Fragrance.
This new perfume is curated for the confident, sophisticated man who inspires togetherness and enjoys the fullness of the life around him.
For a limited time, Ralph Lauren is giving away samples of the new Ralphs Club cologne for men thru a SoPost campaign.
Read on to find out how to claim yours to try gratis while supplies last.
How to score free samples of Ralph Lauren Ralphs Club Fragrance?
NEW! Thru Facebook / Instagram – AVAILABLE
Among other Fragrance samples, Macy's is currently giving away free samples of Ralph's Club perfume by Ralph Lauren. The sampling offer is ongoing through a sponsored post on Facebook and Instagram.
Follow the instructions below and the sponsored post with the form will hopefully pop up in your social feed:
Like and follow the Macy's page on Facebook and Instagram as well if you haven't done so already
Interact with the brand by liking recent posts (5 or more…)
Lookup the Ralphs Club Cologne on the internet and Macy's Website
When you finish with the steps above, simply keep your eyes open while you are scrolling through your Social Feed.
Here is a snapshot of what the sponsored post with the form looks like.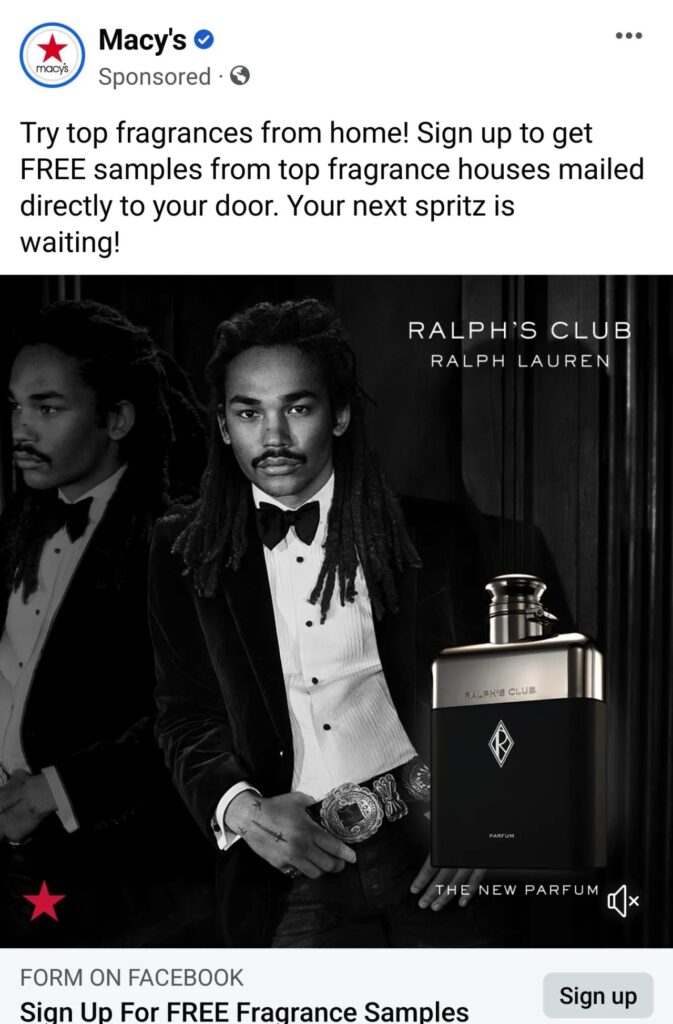 Once you see it, click on the 'SIGN UP' button to access the SoPost form.
Mind you, there are 4 or 5 other perfumes with this freebie so the picture could be of any of them.
Good luck.
Thru SoPost
There is a new SoPost link available as of August 15, 2023.
To receive a free Ralph's Club Fragrance sample in the mail, I invite you to follow these steps:
Click on the button below to go to the offer page on SoPost.
Just pop up your full name and valid address in the required fields to sign up for this hot freebie.
Submit the form
Check your email inbox for a confirmation email.

Allow a few days for your Ralph Lauren Fragrance sample to be shipped by mail.
Ralph's Club exhumes fresh notes of Lavandin and Clary Sage. Balanced with the warm richness of Virginia Cedarwood and luxurious Vetiver, Ralph's Club is literally a scent to die for!
Available for residents of the US only.
Even though this is a fragrance for men, even ladies can order a sample. So get going.
Consider subscribing to our push notifications so I can keep you posted about great freebies like this one.
UPDATE: This campaign is currently closed!
Be the first to get the latest freebies in your inbox