Last Updated on May 11, 2023
Revolutionize your skincare routine with an exciting offer that's taking social media by storm. For a limited time, you can order a free Philosophy Dose of Wisdom sample and try it for yourself. This serum is specially formulated to address multiple signs of aging and skin damage, providing your skin with a rejuvenating and revitalizing experience. Keep reading to find out how you can claim this amazing freebie without paying a cent.
How to get a free sample of Philosophy Dose of Wisdom Serum sample?
Philosophy is giving away these free samples through a sponsored post on Facebook and Instagram. It is available to select US residents. There is no direct link to the form, but you can follow the tips and tricks outlined below to increase your chances of getting the sponsored post to appear on your feed.
Follow Philosophy on social media: To increase your chances of encountering the sponsored ad for the free sample, make sure to follow Philosophy on Facebook and Instagram. Or just one of them, the one you use more.
Engage with skincare content: Start liking, commenting on, and sharing posts related to skincare, especially those from Philosophy. This will help the social media algorithms understand your interests and increase the likelihood of the sponsored ad appearing in your feed.
Use the internet to lookup the product on the brand's website
That's about it. After that, simply keep an eye out for the advert. Be patient and check your social media feeds regularly. When the Philosophy sponsored ad offering the free a Dose of Wisdom Serum sample pops up, don't hesitate to click on it. Here is a screenshot of what it looks like.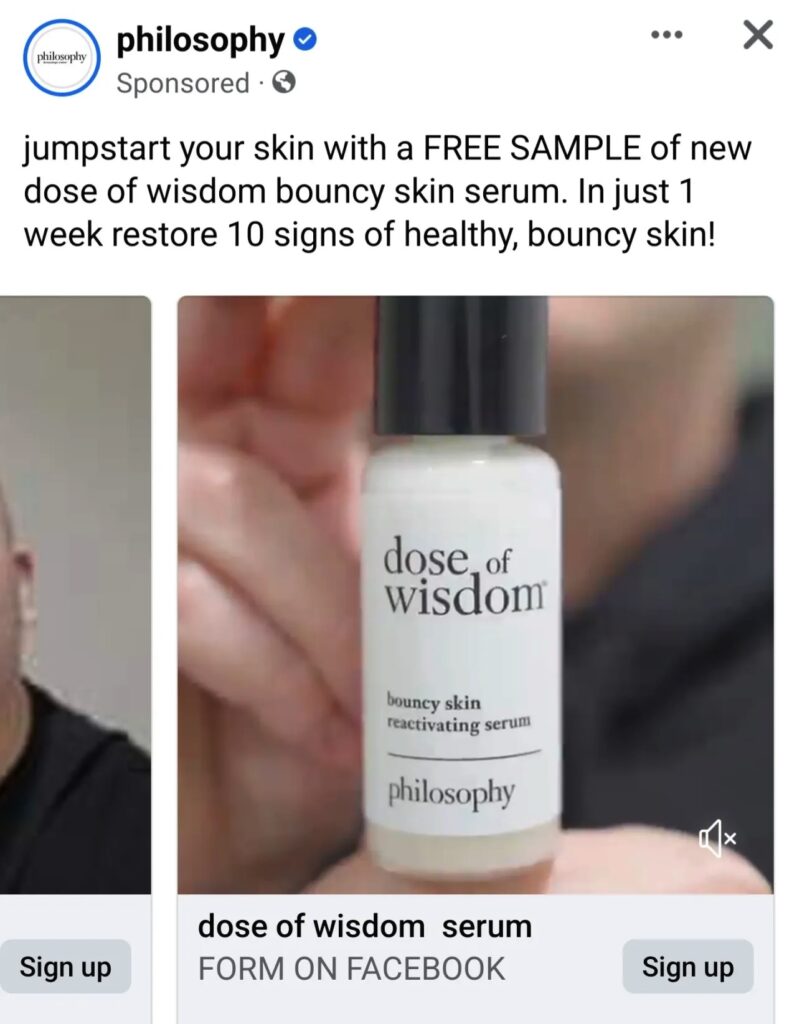 Once you've found the ad, simply click on the 'SIGN UP' button and fill out the required information to request your free sample. Remember to provide accurate shipping details so your serum sample reaches you without any issues.
This offer is currently showing for select residents of the United States.
Available for a limited time only or while supplies last. So be quick!
Good luck and stay tuned for more.
Philosophy Dose of Wisdom Serum: A Skincare Game-Changer
Philosophy Dose of Wisdom Serum is a high-performance serum. It combines potent ingredients to help you achieve a youthful and radiant complexion. Dose of Wisdom harnesses the power of antioxidants, peptides, and skin-nourishing botanical extracts to target visible signs of aging, such as fine lines, wrinkles, and uneven skin tone. With its lightweight texture, the product absorbs quickly and delivers visible results, leaving your skin looking smoother, firmer, and more radiant.
Don't miss out on this opportunity to try it without having to spend a cent.
Be the first to get the latest freebies in your inbox