Last Updated on November 18, 2021
Looking to score a free NEST Perfume sample in the US? You can find below all the available NEST New york sampling offers to get your hands on free NEST fragrance samples in the mail.
Right now, the brand is giving away free samples of their Sunkissed Hibiscus or Indigo perfume to select residents of the United States. Here is how you can claim this freebie.
How to get a free sample of NEST Sunkissed Hibiscus or Indigo perfume?
The brand is offering the samples through a sponsored advert on Facebook and Instagram. This means there is no direct link to the offer. However, as you must know by now, there are a few tips and tricks you can do to hopefully align with the targeting criteria set by the brand. Thus, be able to make the advert pop up in your social feed.
Below are the actions I recommend you to complete in order to increase your odds of seeing the post with the form to order this freebie.
After that, just keep an eye out on sponsored posts your while scrolling through your social feed. Below is a snapshot of the post you should be on the lookout for.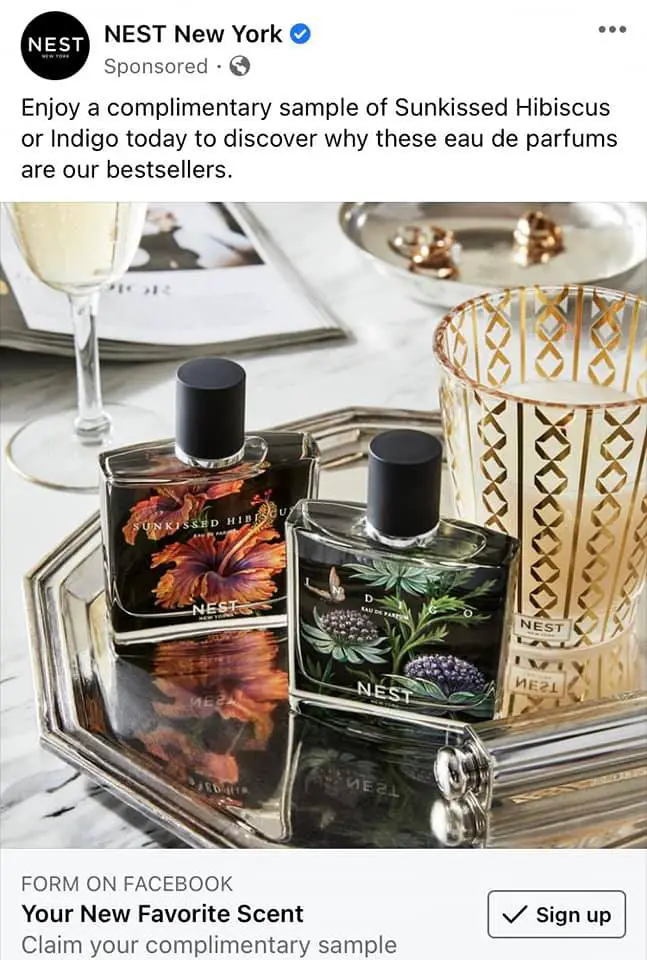 I'll keep you posted regarding any updates or further instructions to get this freebie.
Available for a short period of time only, or while supplies last.
Currently showing up to select residents of the US on Facebook and Instagram. The post has a SoPost form so there could be a direct link available.
Good luck.
Be the first to get the latest freebies in your inbox