Last Updated on August 22, 2022
Do you want beautifully defined curls without ruining your hair with many chemicals? Grab a free MoroccanOil Curl Defining Cream sample while supplies last and try this formidable product while you can.
For a limited time, MoroccanOil is giving away free samples of their famous Curl Defining Cream.
MoroccanOil Curl Defining Cream promotes a soft and manageable look while maintaining a natural shine. If you are looking for a product that will give your curls definition without weighing them down – this is the product. Here is how to get a sample in the mail.
How to get a free sample of MoroccanOil Curl Defining Cream?
The MoroccanOil team is offering these samples to select US residents through a sponsored post on Facebook and Instagram. So there is no direct link to the form. You need to spot the ad on your social feed to be able to sign up for a sample.
So to score this freebie in the mail, simply follow the steps below:
Like the MoroccanOil page on Facebook
Interact with the page (Like recent posts, comment or watch recent videos or stories)
Lookup the MorrocanOil Curl Defining Cream on the Facebook Search bar or the MorrocanOil's website
After that, keep an eye out for the advert as shown in the picture below to pop up in your social feed or sponsored stories.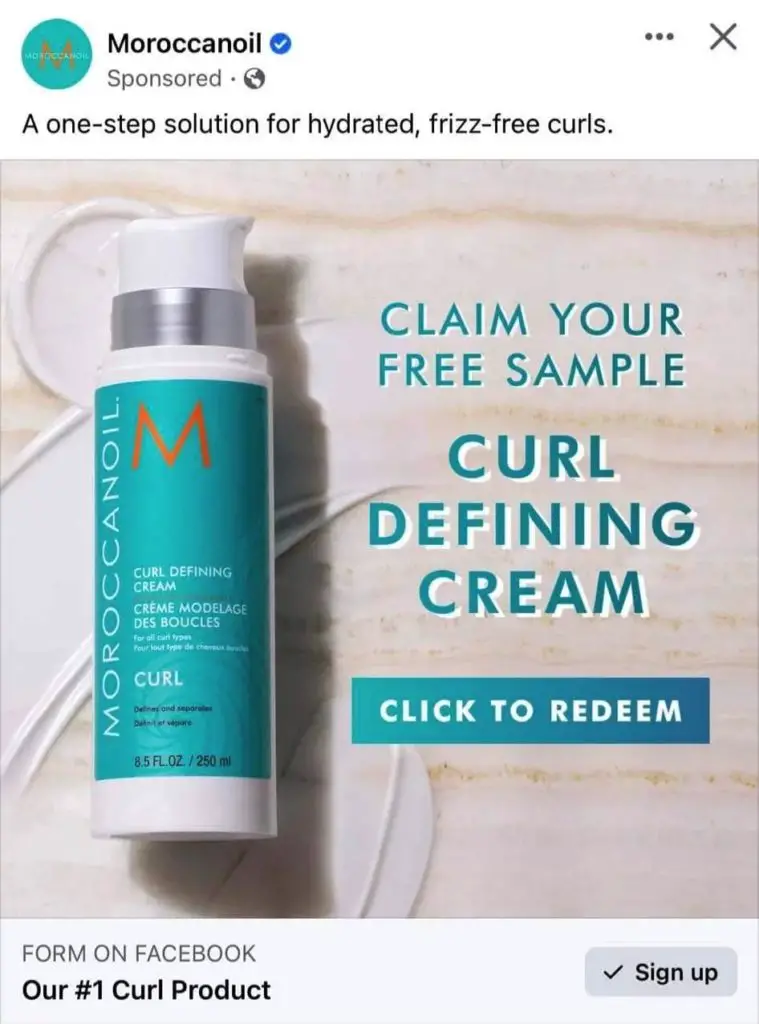 Once you see it, simply hit the 'SIGN UP' button to see the SoPost request form where you can put your details.
This post is currently showing up to select residents of the US.
Good luck.
MoroccanOil Curl Defining Cream has been formulated for curly hair. It will help to eliminate frizziness and dryness and also strengthen the curl. This product is suitable for any curly hair, wet or dry because it is lightweight enough to be absorbed quickly by the hair shafts but nourishing enough to retain moisture.
Be the first to get the latest freebies in your inbox