Last Updated on May 9, 2022
Hurry up to score a free Maison Margiela Replica perfume sample in the US.
Maison Margiela is giving away free samples of their By The Fire fragrance from the Replica collection. Here is how you can score one to receive in the mail within the United States.
How to receive a free sample of Maison Margiela Replica in the mail?
The brand is giving away the samples through a sponsored ad doing rounds on Facebook and Instagram.
The post is showing up to select residents of the US on Facebook. This means there is no direct link to the form since it's on Facebook. However, here are the steps you can complete to increase your odds of getting the post to pop up in your social feed.
Here is the post you should keep your eyes peeled for while scrolling your social feed: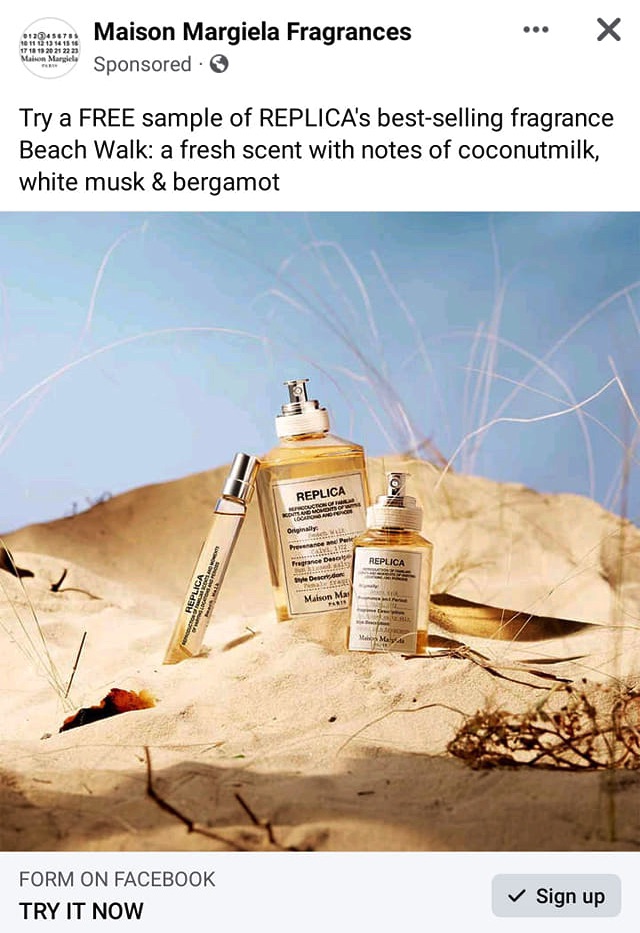 Once you spot it, just hit the 'SIGN UP' Button to see a form appear.
Currently available to residents of the US on Facebook and Instagram. Stay tuned for more updates.
Be the first to get the latest freebies in your inbox