Last Updated on December 16, 2020
Be quick to snag a free L'Oreal Revitalift Ampoules samples to receive by mail. The good news is, it's not just a sample sachet, it's a full-size product sample of Revitalift Hyaluronic Acid ampoules.
There is no direct link to this freebie since the samples are distributed via a sponsored advert on L'Oreal Paris USA pages on Facebook & Instagram. But, below is a list of actions you can complete to make the advert pop up in your social media feed
How to get free L'Oreal Revitalift Hyaluronic Acid Ampoules samples?
We suggest you complete these actions for a possibility to get your mitts on this L'Oreal Revitalift Hyaluronic Acid Ampoules freebie :
Follow and like @LOrealParisUSA on social media (Facebook and Instagram)
Engage with the brand on social media by liking one or two of their recent posts, leaving a comment, or sharing
Search the offered product samples, in this case, search the L'Oreal Revitalift Hyaluronic Acid Ampoules
Go over to the L'Oreal Paris USA website and check out this product in there as well (optional)
After finishing these actions, just keep scrolling your social media feed as usual. This time, keep an eye for sponsored adverts. You should be able to see this one. (see picture below)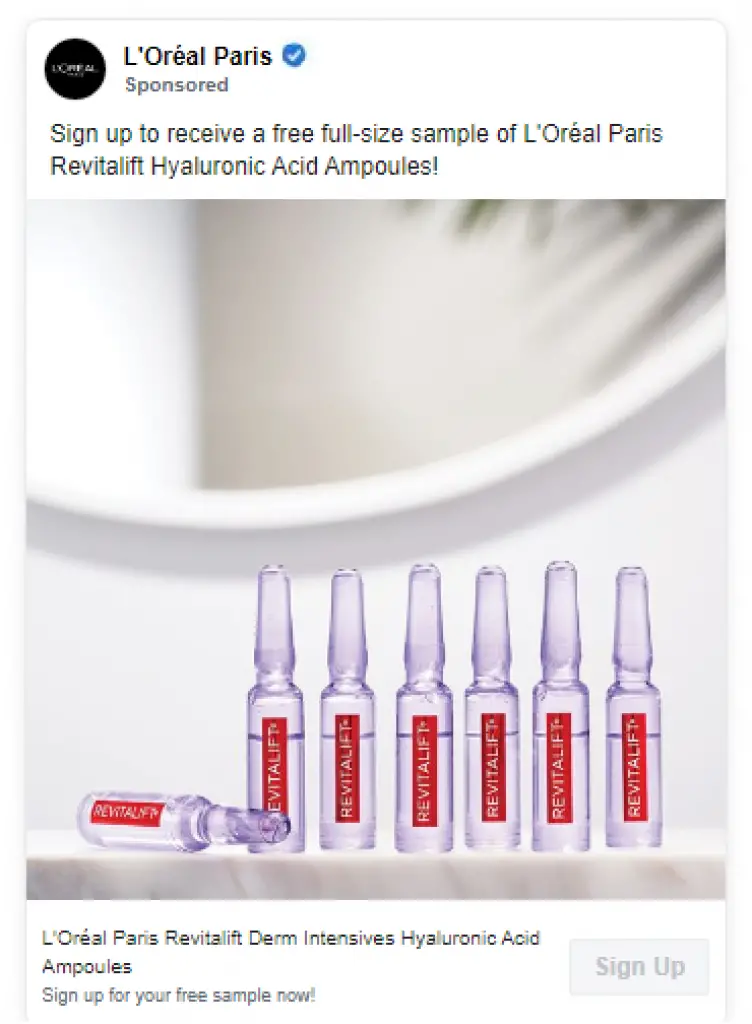 Once you do see the L'Oreal advert on your feed, click the sign up button and pop up your details in the native form on Facebook to receive your samples by mail. Easy peasy!
Valid for US residents only. (for now!)
Available as long as the advert is running so for a limited time only or while supplies last.
Did the advert show up for you? Were you able to claim this great value freebie from L'Oreal? Let us know in the comments below!
Be the first to get the latest freebies in your inbox