Last Updated on August 19, 2023
Hurry up to claim a free La Mer Moisturizing Soft Cream sample in the mail while supplies last.
La Mer Moisturizing Soft Cream is a cult favorite, thanks to its luxurious texture and nourishing formula. It deeply hydrates and plumps the skin for a radiant, youthful glow. And now, select users can try it for themselves without spending a cent. Here is how to get your free La Mer Moisturizing Soft Cream sample in the mail.
How to get free samples of La Mer Moisturizing Soft Cream?
From Facebook / Instagram – AVAILABLE
UPDATE: The sample is now available from La Mer Facebook page.
The brand is currently offering a free sample of La Mer Moisturizing Soft Cream to select users through a sponsored post on Facebook and Instagram. To claim your free sample, you need to find the advert in your feed and then fill out a short SoPost form with your details.
Here are a few tips and tricks to help you get the advert to pop up in your social feed.
Follow the La Mer page on Facebook and Instagram
Interact with the brand by liking recent posts, watching a video they shared on their page or a story, etc…
Look up La Mer Moisturizing Soft Cream on the internet or on Bloomingdale's website directly
You can also try to search for the product on the Facebook or Instagram Search bar
After this, just keep an eye out while scrolling through your social media feed. Hopefully, if you match the users that the brand is trying to reach, you will see the sponsored post.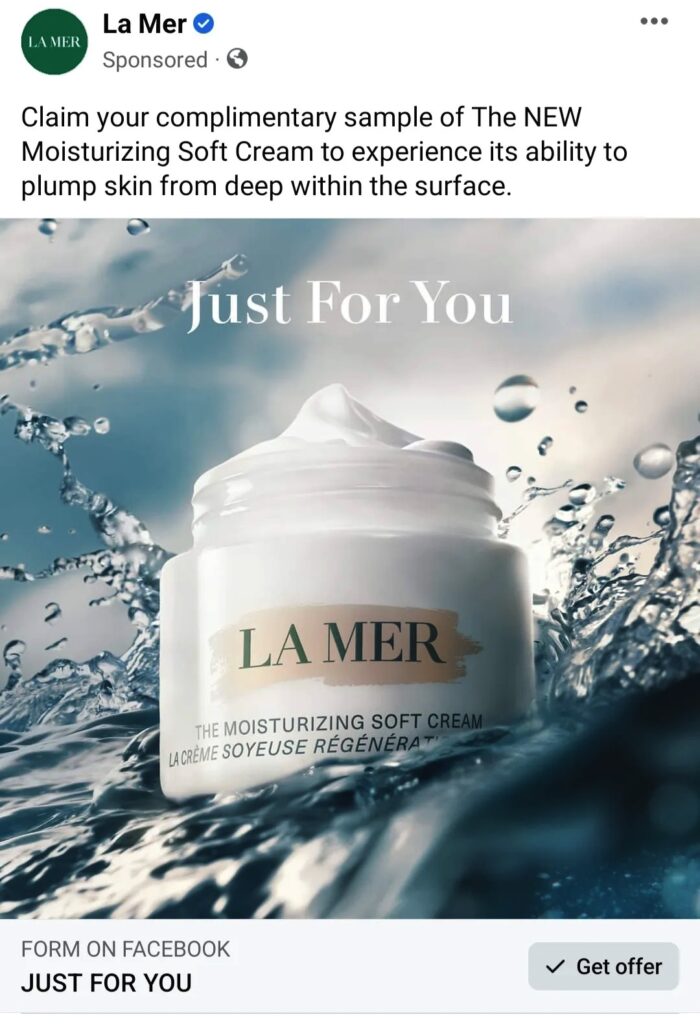 When you see it, click on the 'GET OFFER' button to access the SoPost form.
This offer is available for a short period of time only or while supplies last. So be quick to get yours in the mail.
Currently showing up to select users who meet the targeting criteria set by the brand.
Stay tuned for updates and a possible direct link.
About the La Mer Moisturizing Soft Cream
La Mer Moisturizing Soft Cream is a lightweight yet deeply nourishing moisturizer that's perfect for all skin types, including sensitive and dry skin. It contains La Mer's signature Miracle Broth, which is made with nutrient-rich sea kelp and other natural ingredients that help to hydrate, soothe, and rejuvenate the skin. The formula also includes a blend of antioxidants and marine extracts that protect the skin from environmental damage and improve its overall health and appearance.
When applied to the skin, the Soft Cream absorbs quickly and leaves a velvety-soft finish. It can be used day or night and is suitable for use under makeup or on its own. With regular use, it can help to improve the texture, tone, and elasticity of the skin, leaving it looking and feeling smoother, firmer, and more radiant.
Be the first to get the latest freebies in your inbox