Last Updated on January 21, 2023
HOT Freebie. For a limited time, you can claim a free John Varvatos Cologne sample with Macy's.
Discover the new John Varvatos XX INDIGO cologne with a free sample. Here is how you can get yours by mail in the US while the offer lasts.
Why settle for an ordinary cologne that your friends might recognize as theirs when you can try something new and unique? The wonderful John Varvatos XX INDIGO Fragrance carries a woody, spicy scent that will appeal to men of all ages.
Every man's cologne should be designed to make them feel like a million bucks and this one certainly does!
John Varvatos XX Indigo fragrance is a woody-fougere fragrance with notes of peppermint, fresh lemon, and piquant pink pepper. The spicy element is in the heart, delivered by cardamom, geranium, and the poppy seed of Himalaya. Whereas the base provides an exotic woodsy finish, while the top notes of patchouli, vetiver, and musk intrigue the senses.
How to get a free sample of John Varvatos XX INDIGO Cologne with Macy's?
To receive your sample in the mail, I invite you to follow the instructions below.
First of all, I would like to point out that as usual, Macy's is offering the John Varvatos XX INDIGO Cologne sample through a sponsored ad on Facebook and Instagram. Thus, there is no direct link to the form. You will have to try and align to the targeting criteria set by the brand. Hopefully, the ad will pop up in your newsfeed with the form you need to fill out.
Here are the actions I suggest you complete to increase your chances of seeing this post:
Like Macy's page on Facebook and Instagram
Follow John Varvatos on Facebook and Instagram
Engage with the brands by liking recent posts on their page, leaving a comment or watching a recent video they shared
Show interest in this John Varvatos perfume. Try looking it up on Macy's website.
After that, just keep an eye out while scrolling your social feed for the post as shown in the snapshot below.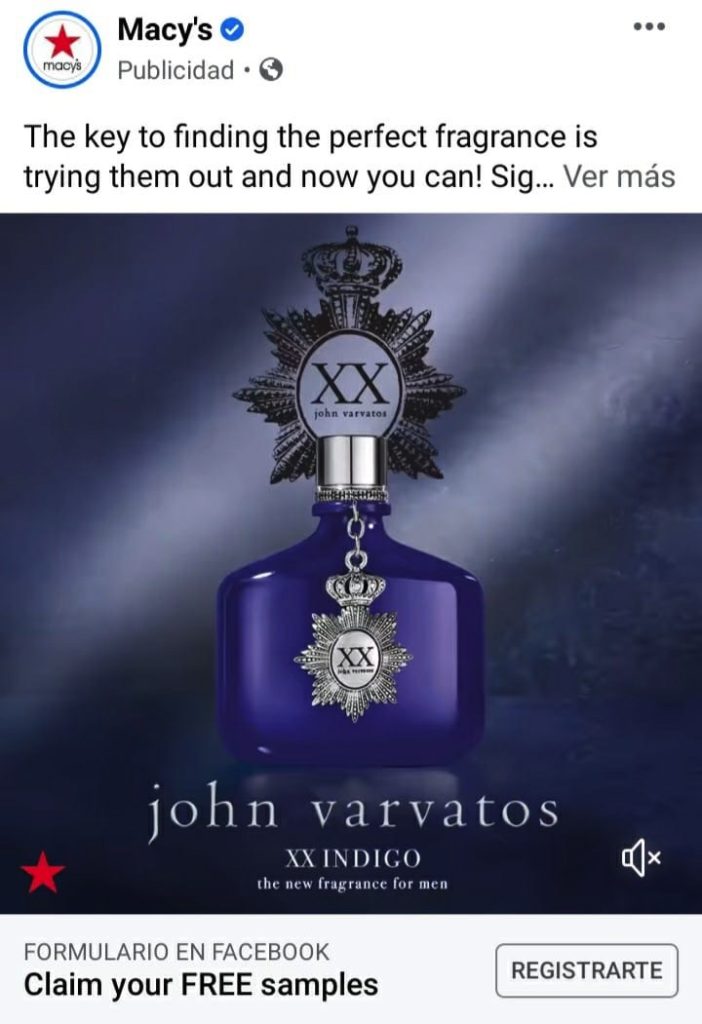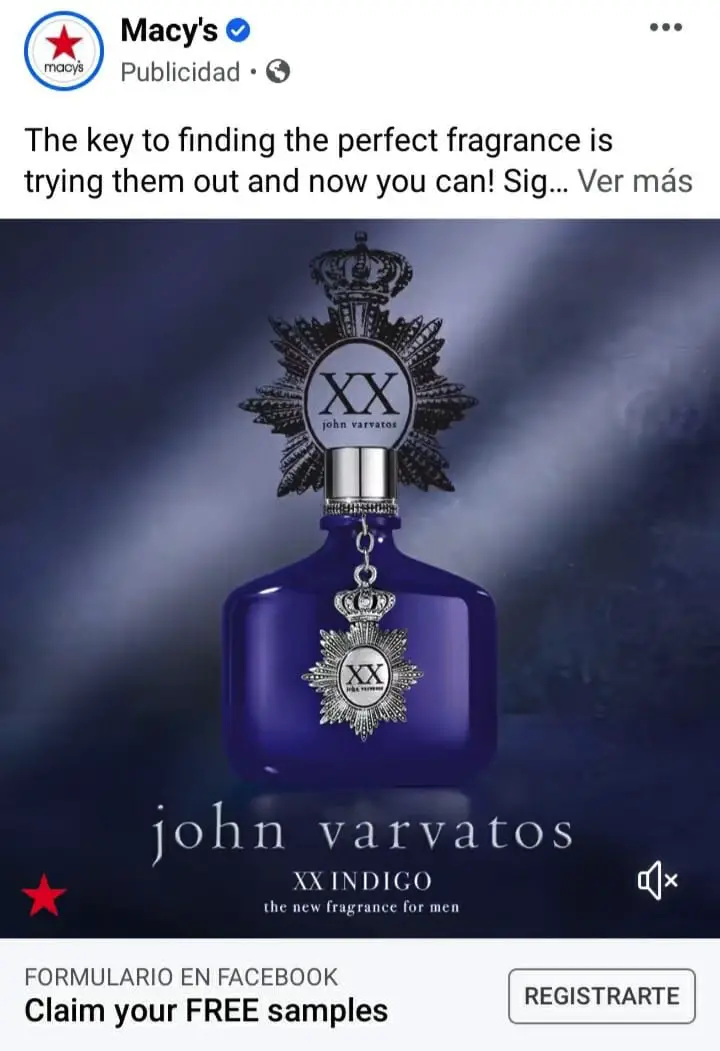 More free perfume samples with Macys? Check out this guide.
Be the first to get the latest freebies in your inbox