Last Updated on September 7, 2021
Do you enjoy drinks? What about Coca-Cola drinks? If the answer to both questions is positive, then hurry up to get a free Coca-Cola Drink.
UK residents
NEW! As of June 2nd, 2021 a new Coca-Cola Zero Sugar freebie is available to order with Send me a Sample UK.
To order a free Coca Cola Zero Sugar Drink while supplies last, just ask your Alexa or Google Assistant App to send you a Coke Zero Sugar. => "Send Me a Sample of Coca-Cola Zero Sugar"
Learn more and sign up by following this link to the offer page at sendmeasample.net/coca-cola-zero
Your Alexa or Google Assistant app needs to be already connected to your Send Me a Sample account, if new, keep reading to get started.
To get this freebie you need two things :
A Send Me A Sample account
An Alexa or if you don't have one, just the Google Assistant App on your Mobile phone. You can download it from the AppStore for iOS or Google Play store for Android users.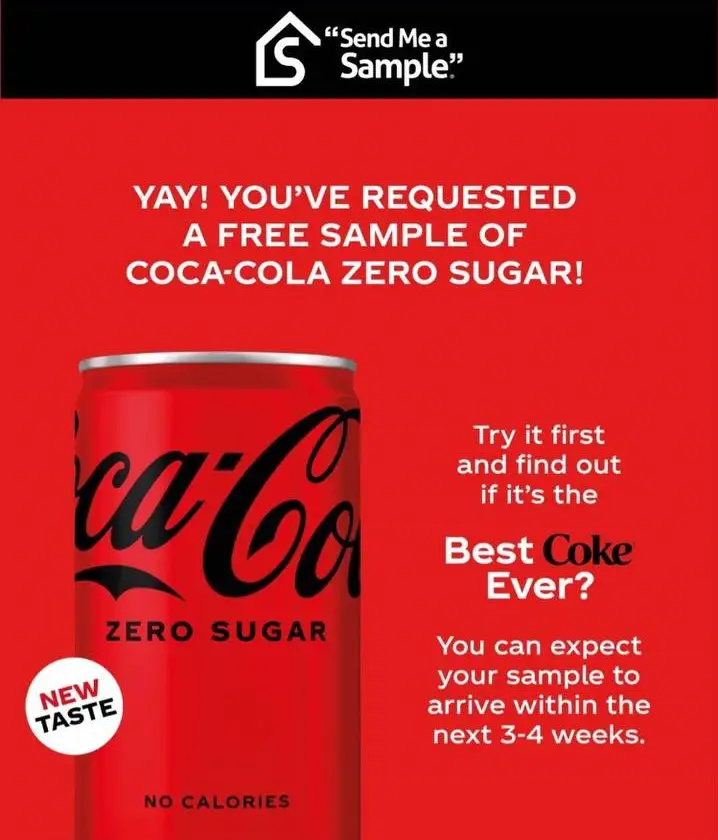 If you don't have an account yet, we suggest you create it. It's simple and free. Also, they give amazing freebies and samples all year long.
After logging in with your pre-existing SendMeASample.net account, just open the Google Assistant App or go to Alexa and say or text :
Send Me a Sample of Coca-Cola Zero Sugar
From there you follow the steps that will show on your device.
Don't forget to check the validity of your shipping address and details before confirming your sample order.
The delivery should take about 14 days from the date you receive your sample order confirmation by mail. The confirmation email has an order number so you can track your delivery if you wish to.
We would appreciate your help with sharing this freebie with your friends and followers through social media.
Updates on Coca Drink samples in the UK
Update December 24th 2020 for UK : new Coca Cola Energy Drink sample on a simple request. Click here, pop up your birth date to see the request form. Complete the form with your personal info for your freebie to get shipped to you by mail.
Update on 7 Dec 2020: New sampling offer for UK residents! Get 2 x FREE Coca Cola Energy Drink cans (250ml each) with Send me a Sample.
There are (30,000 x 2 x 250ml cans) of FREE Coke Energy samples to receive thru this campaign. It will end on December 31st, or when supplies run. Go go go!
Grab a Coca-Cola zero sugar personalised Christmas can (everyday at 9am)
You can also get a FREE Coca Cola Signature Mixer @Sainsburys with Shopmium.
Coca Cola Energy Drink sample with Send a Free sample for UK residents as of December 7th 2020 !
US residents
Coca-Cola has launched in January 2020 its new product: an Energy Drink. Which is the first energy drink under the Coca-Cola brand.
To give people a taste, they are launching a sampling campaign across the US.
The energy drink comes in four flavours which you can choose from :
Coca-Cola Energy Original, Energy Cherry, Energy Zero Sugar or Coca-Cola Energy Zero Sugar Cherry
How do I get a Free Coca-Cola Drink?
if you are wondering what can you do to get yourself a FREE Coca-Cola Energy Drink, then you are definitely in the right section.
Methodically follow the easy step-by-step guide we have made for you to get yourself this Coca-Cola freebie:
Click Here to get redirected to the sampling campaign official page.
Download the Alexa app on your phone if you do not have an Alexa speaker at home ( the only way to claim this freebie is through Alexa)
Then just say, "Alexa, launch Coke Energy". Alexa will ask to access your name, street address, email address, and phone number so that you can automatically be entered to receive a Coke Energy sample by mail.
That's everything you need to do. In case you have any kind of issues, such as a wrong address or email address, phone number, etc… You can check the FAQ on the sampling campaign page.
Who can get a FREE Coke Energy Sample?
This opportunity is only valid for legal residents of the United Kingdom, & The United States of America. It is only open while the supplies last, so hurry up to claim your free coca-cola samples today.
You can also subscribe to our newsletter to receive the latest free stuff in the US or the UK before anyone else.
You can also allow us to send you relevant notifications whenever a deal is available for you. Zero spam! :)
Have a good day!
Expired? Check out the latest Coca-Cola samples and freebies in the US, UK, Canada & more by clicking here.
Be the first to get the latest freebies in your inbox