Last Updated on December 21, 2020
Tom Ford is offering FREE Black Orchid Parfum samples on a simple request. The free perfume samples are being offered thru a SoPost form.
This perfume is unisex. It's suitable and can be used by all genders.
FREE Tom Ford Black Orchid sample in Canada
UPDATE 6th of December, 2020: new advert on Facebook has been spotted from Tom Ford Beauty in Canada. It's offering free samples of Tom Ford Black Orchid Perfume for Canadian residents (see picture below). It has several variations and the one below is one of them.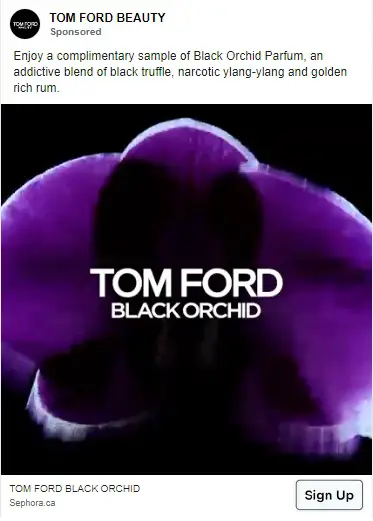 You can try to get this freebie advert to show up on your social media feed by completing a few actions, such as :
Like and follow Tom Ford Beauty on Instagram and Facebook
Engage with the brand by liking one or two of their recent posts
Search the Tom Ford Black Orchid perfume
Go over to Tom Ford website and checkout the perfume there as well
Keep scrolling your social media feed while keeping an eye for the advert to show up. Once it does, you will be able to claim the samples.
How to receive FREE Tom Ford Black Orchid Parfum samples by mail?
For you to receive a FREE Tom Ford Black Orchid Parfum sample by mail while supplies last, we invite you to follow our simple step by-step guide.
Jut follow the link below to the SoPost x Tom Ford sampling form and pop up your valid details in the corresponding fields. You need a valid US number to receive a text message to confirm your freebie order. Now just wait for your FREE Tom Ford Black Orchid Eau de Parfum sample to be shipped to your mailbox by regular post.
Offer is valid for a limited time only or while supplies last.
Limit one free sample per person and per address.
Valid for US & Canada residents ONLY :
Link for Canada (expired)
Link for US (expired)
Don't forget to share this amazing freebie on your social media to invite your friends and followers to get their samples as well. You can also subscribe to our newsletter and push notifications to make sure you never miss a freebie again.
Happy freebies hunting!