Last Updated on March 1, 2023
Come right now to order your FREE Paco Rabanne 1 Million Perfume sample while the offer lasts.
Finding your ideal perfume is not an easy task. In fact, the choice of a fragrance requires not only physical, or cultural criteria but also emotional ones. And let's face it, choosing the perfect perfume for oneself is a very personal process.
In other words, every man will have a good reason to prefer this or that perfume over the rest.
Don't get me wrong, all perfumes and fragrances are good. There are no bad perfumes. We only need to find the right one for us. To do that, there is no secret procedure or formula. Try them to see if they match your style and personality. Unfortunately, as I always say, we cannot buy all of them to try them. That would cost a fortune. What we can do, however, is apply and collect as many free perfume samples as we encounter.
How to get a free sample of Paco Rabanne Men's 1 Million Perfume?
From Facebook / Instagram – AVAILABLE
The brand is giving away the sample through a sponsored advert on Facebook. Thus, the request process for these free perfume samples is a little bit complicated. By, if you thoroughly follow the step-by-step guide I have prepared for you, it shouldn't be that complicated.
So, in order to request Paco Rabanne Men's 1 Million Perfume while the supplies last, all you need to do is follow the steps listed below :
Like the "Macy's" page on Facebook if you haven't already

Like random posts of Paco Rabanne on Social Media. If they are related to perfume, that's great, if not, it's okay, this could help too.
If this doesn't cut it, then we suggest you go to the internet and lookup this perfume. (The idea here is to allow Facebook algorithms to note that you are interested in perfume and fragrances. Why? Well, because the brand have decided to offer these free perfume samples only to select people on Facebook and Instagram.) The free sampling opportunity has been launched as a Facebook and Instagram ad.
Once you think that you made it clear to Facebook algorithms that you are interested in this perfume, close or refresh all your tabs.
Scroll down your Facebook or Instagram feed, until you see a sponsored post. (You can find a picture below of what this ad looks like)
Paco Rabanne Fragrance Quiz Finder – SOLD OUT!
Hurry up to take part in the new Paco Rabanne Fragrance Quiz Finder to score a free sample of one of Paco Rabanne's fragrances for men, including:
Paco Rabanne 1 Million
Paco Rabanne Phantom
Paco Rabanne Invictus
To get your freebie, CLICK HERE for the Paco Rabanne Invictus sample, and fill out the form. Or CLICK HERE for the One Million Cologne. You can only choose one sample.
Limit of one free sample per user. So if you don't get the one you like, hit the 'previous step' button to correct your answer before you fill out the form.
What will you get by requesting FREE Samples of Paco Rabanne Men's 1 Million Perfume?
If you go through the process to request these free samples of Paco Rabanne Men's 1 Million Perfume, you should receive in your mailbox few weeks after the request a glass perfume sample vial with a spray. The quantity Paco Rabanne Men's 1 Million Perfume in it is 1,5 ml.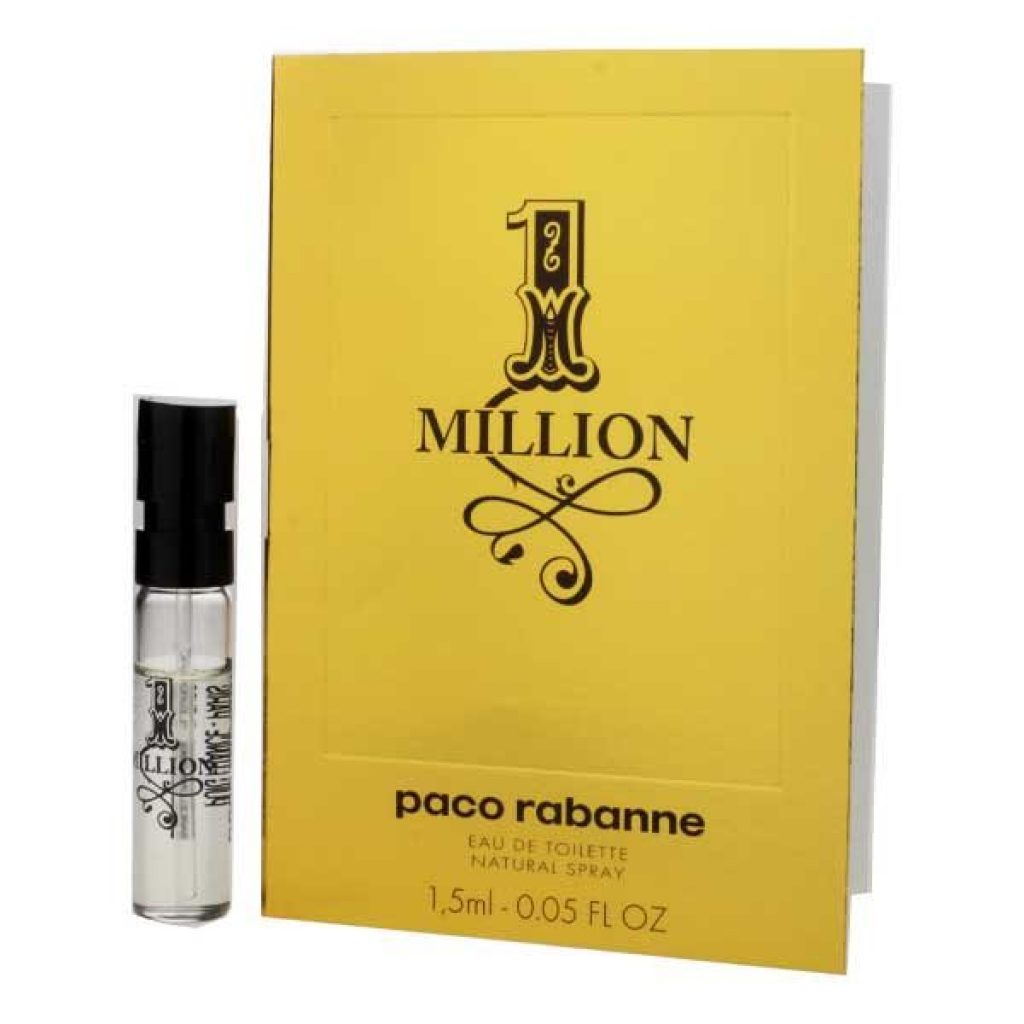 Please note that this opportunity is only valid while the supplies last. So, enough wasting time. You should hurry up to order your free fragrance samples today while you still can.
You could also subscribe to our newsletter to never miss a free fragrance sample in the USA again.
Happy freebies hunting :)
Be the first to get the latest freebies in your inbox