Last Updated on December 4, 2020
Rituals US is offering FREE samples of its iconic The Ritual of Sakura Body Cream. Drop whatever you are doing and be as quick as a flash to claim this great skincare freebie while the supplies last.
The Ritual of Sakura is Rituals' best-selling body cream. It smells so good when you apply it you feel like you are sitting under a cherry in full blossom somewhere in Japan. It also makes your skin velvety, deeply nourished and firm. You can try it out for yourself for 100% free, thanks to Rituals.
How to get FREE Samples of Rituals The Ritual of Sakura Body Cream in the mail?
The quantities are very limited, so you better hurry up to claim your FREE Rituals Body Cream samples to receive in the mail, without any long boring surveys or catches. To snatch this freebie, you just need to follow a couple of easy steps.
To get started, click on the "Get this free sample" button below to be systematically redirected to the official sampling campaign for this free sample, on the Rituals US website.
Scroll down the page a bit until you find a case where you have to put on your email address, check the box beneath it, and prove you're not a robot (Yes, you would be surprised how many robots are out there).
Once through with this step, you will be shown another page where you can claim your FREE Samples of Rituals The Ritual of Sakura Body Cream.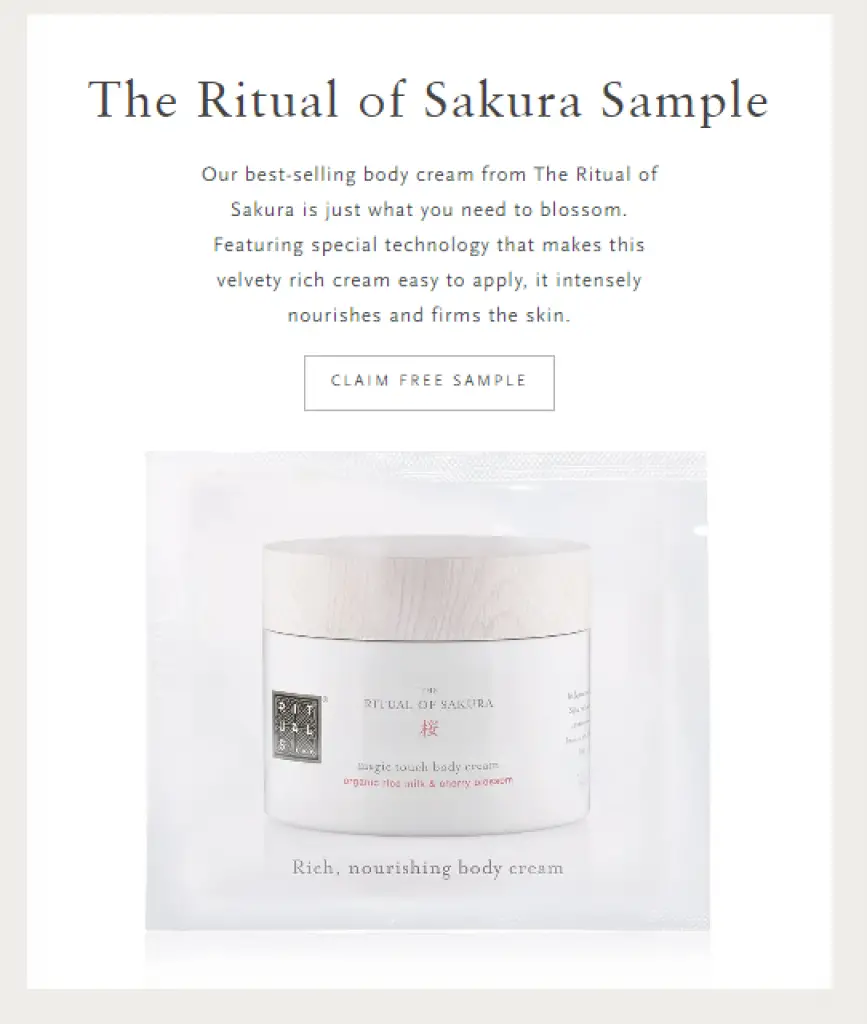 Click on the Claim FREE Samples button and you shall see an online request form to complete with your shipping address and personal info.
This sampling campaign is open for US residents only, all states included.
Don't forget to share it with your friends and family so they can also claim FREE Rituals Body Cream Samples while they last.
Also, subscribe to our newsletter for more free samples and stuff in the US.
Happy freebies hunting to everyone!