Last Updated on June 24, 2020
Great news to all the Americans! Macy's is offering a brand new set of perfume freebies to try. This time, you can get :
So, go at once to claim your samples. You can do it following one of the guides detailed in the next section.
FREE BVLGARI Man Wood Neroli Perfume Samples @Macy's

FREE Coach Dreams Samples @Macy's

FREE Ralph Lauren Romance Perfume Samples @Macy's

FREE Versace Men's Eros Perfume Samples @Macy's
How do I get FREE Perfume Samples from Macy's?
In order to get your FREE Perfume Samples from Macy's today, we invite you to follow this easy step-by-step guide we have prepared for you.
Through Facebook ads
Now, before you start, you need to understand that Macy's is announcing this sampling opportunity through a sponsored Facebook ad, currently serving ads to people across the USA who can be interested in free perfume samples. So, what you need to do is make Facebook Algorithms understand that you are one of these people so you can see the ad, and apply for the samples. Below is a list of actions you can do to make Facebook show you the Macy's ad :
Click on the "Get this free sample" button located down below this offer. Once you click on it, you will automatically be redirected to the official Macy's page on Facebook.
Like the "Macy's" page on Facebook if you haven't already.
Follow @Macys handle on Instagram if you haven't already.
Like one or more posts, you find there. You could also go to the official Macy's website and surf some perfume pages.
Once you are done with that, close all your browser tabs or refresh them, then scroll your Facebook or Instagram feed.
Only a moment after this, you must see a sponsored ad on your Facebook or Instagram feed. (You can find a picture below of what this ad looks like)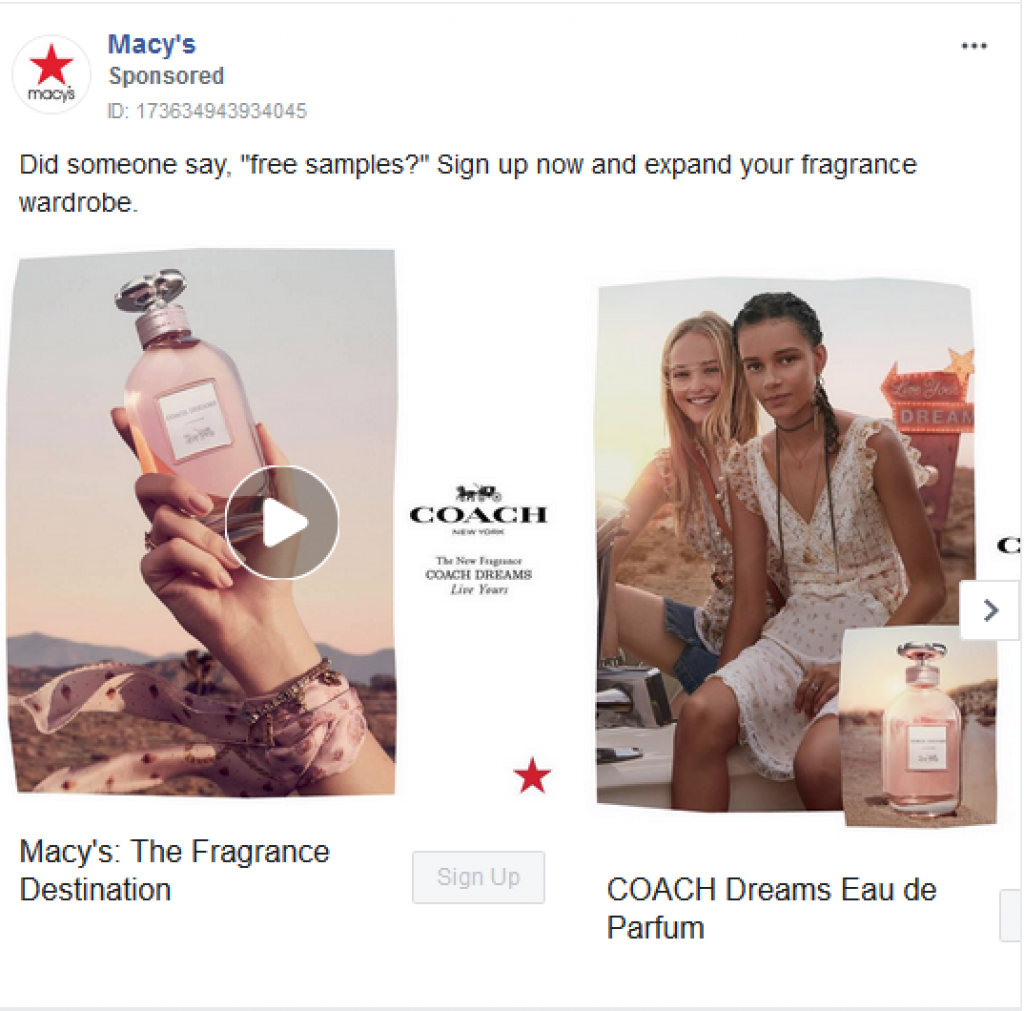 The ad is a carousel, find the one that has a picture of Cartier La Panthère Eau de Parfum Spray, and click on the "Sign up" button located in the left bottom of the ad.
After that, you will be given a request form to fill out with your valid personal details and accurate shipping address.
Submit your request and allow some time to receive your free Macy's perfume samples in the mail.
Through PopSugar Dabble
If you have an account at PopSugar Dabble, then check your inbox to see if you have received an email inviting you to claim these samples from Macy's. If not, then stick with the Facebook ads method detailed above.
Who can get free stuff from Macy's?
All samples offered by Macy's are only available in the United States of America.
Don't forget to subscribe to our newsletter to receive the hottest freebies in the US daily.
Also, we would appreciate it if you help us spread the word about this freebie. To do so easily, just click on the social sharing buttons present on our website.
Happy freebies hunting :)
Be the first to get the latest freebies in your inbox