Last Updated on October 5, 2020
Ladies, make sure you hurry up to claim your FREE Samples of NARS Natural Radiant Longwear Foundation and Concealer.
NARS Cosmetics is currently organizing a sampling campaign in the US, through its social media handles and also their website.
They are offering samples of their bestselling pair to try for FREE. The samples you will get are:
The Natural Radiant Longwear Foundation
The Radiant Creamy Concealer.
You can get both without paying any money.
If you want to seize this opportunity and score some new foundation samples for free, then you are in the right place. We invite you to follow this simple step-by-step guide outlined below.
It seems that there are two ways to get these samples. Even though I'm not 100% sure it's the same NARS Product being sampled. That's why I recommend you apply those 2 methods, best-case scenario, you get several NARS Products samples to test. Worst case scenario, you only get the Foundation and Concealer, which is not a bad deal at all. Enough said, let's just dive right into it.
How to get FREE NARS Natural Radiant Longwear Foundation & Concealer Samples?
This freebie is being announced and given away through a sponsored Facebook ad. Which means, it is only shown to selected people. In order to be one of these people to see the said ad. Start by looking for the NARS Cosmetic official page on Facebook. From there, complete these actions to make sure you make it clear to Facebook algorithms that you are interested in trying this foundation, and eventually, buying it.
Like the "Nars Cosmetics" Page on Facebook if you haven't done it already
Follow Nars Cosmetics handles on social media, especially on Instagram
Like some of their posts on Facebook and Instagram
Google the Natural Radiant Longwear Foundation and the Radiant Creamy Concealer and check them out on the NARS website
That should be enough for you to see the sponsored ad on your feed, and as a result, apply to get the samples.
Once you complete these actions, close your Facebook or Instagram browser tabs or refresh them. If you use your mobile, close the apps and reopen them and keep an eye on your feed or stories from a sponsored ad from NARS Cosmetics. (See the sponsored ad picture below)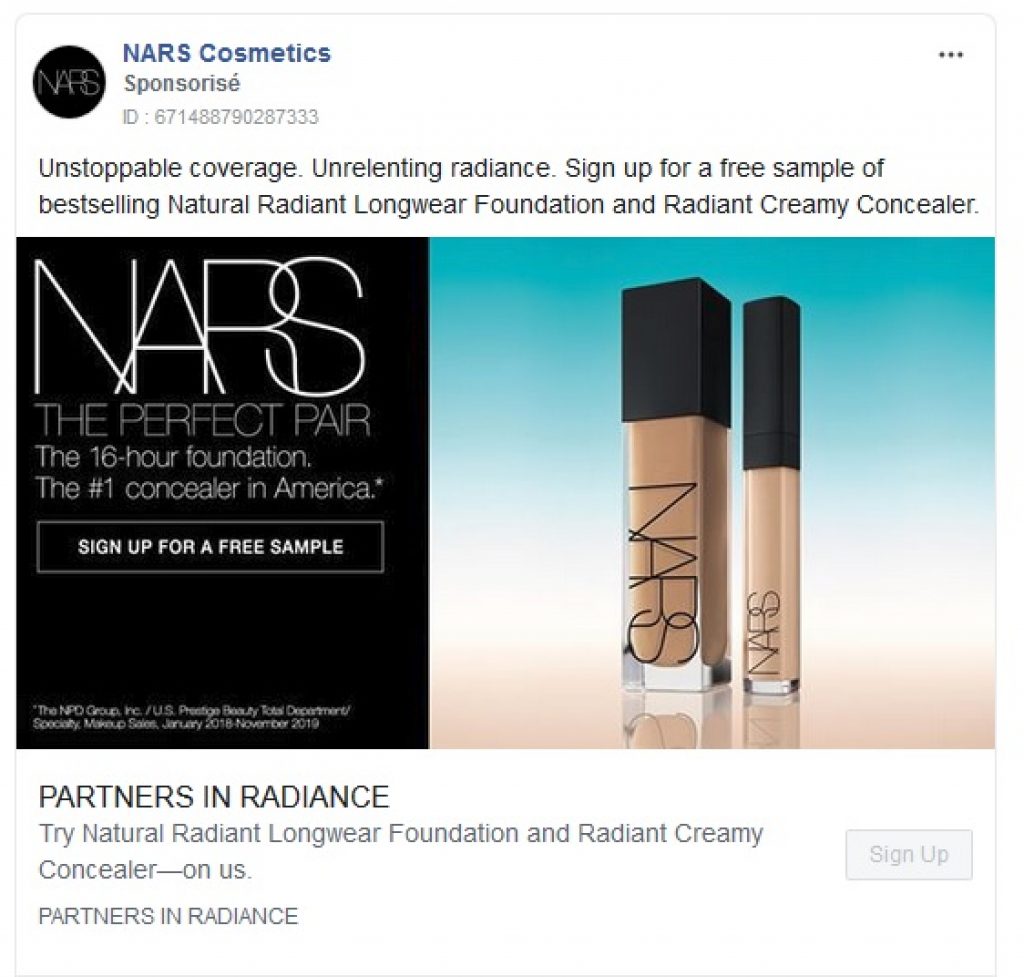 Once you see the ad, make sure you click on the "Sign up" button and complete the request form with your valid coordinates.
UPDATE Oct. 2020: The ad is running again! (see picture below)
How to get FREE Samples of NARS Products?
Now, the second NARS freebie is unclear to me. As I mentioned above, it might be the same campaign or not. Either way, it's worth a try. To get it, I invite you to go to their website through the "Get this free sample" button below.
Once you are there, wait for a few moments and you will see a black pop-up appear. It states that they are offering free samples or NARS Products (see picture below).
Provide your valid email address and full name. Then check out your inbox for an email from them.
That's about it. We hope you will succeed and get your freebies in the mail.
Don't hesitate to share this amazing offer with your friends and family through your social media. It's doable in one click thanks to the social sharing buttons present all over Get me FREE Samples!
Who can get this NARS Freebies?
This sampling campaign is currently open to selected residents of the US. It is being promoted through Facebook and Instagram sponsored publications.
If you enjoy our content, please consider subscribing to our newsletter to make sure you never miss a free makeup sample in the US again.
You can also allow us to send you relevant push notifications whenever a deal is published. To do so, simply click on the red bell button. If you can't see it, it means you have already given us permission.
Happy freebies hunting!
Be the first to get the latest freebies in your inbox