Last Updated on October 26, 2021
HOT! Get free Michael Kors Gorgeous sample while the supplies last. Be as quick as you can to get your mitts on this great perfume by Michael Kors.
How to get a free free Michael Kors Gorgeous sample
NEW! Thru Facebook / Instagram – AVAILABLE
Currently, Michael Kors is giving away free samples of Michael Kors Gorgeous Perfume to residents of the US. The freebie is available through a sponsored post doing rounds on Facebook and Instagram.
Now, there is no direct link to the form since it shows up to select users based on the targeting criteria set by the brand. But what you can do is try to align with the targeting criteria. Hopefully, the advert will pop up in your feed and you will be able to claim it.
Here is what you need to do:
Like and Follow Michael Kors page on Facebook and Instagram
Engage with the brand by liking a couple of recent posts, maybe leave a comment or watch a recent video they shared
Visit the Michael Kors website and check out the Gorgeous perfume in there.
After that, just keep an eye out while scrolling your social feed. Here is the advert you should be on the lookout for.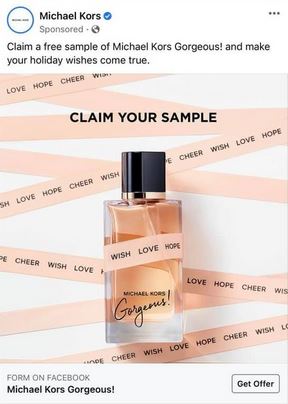 Good luck.
Thru Send Me A Sample – SOLD OUT
Update: is now sold out. But check out the most recent samples thru Send Me A Sample USA here.
Send Me A Sample USA are offering 10,000 Michael Kors Gorgeous samples. Restricted to 1 per Send Me a Sample user and 2 per physical address.
To get your free Michael Kors Gorgeous perfume sample follow the link highlighted here to the samples page. You need to log in using your pre-existing account or create one if you are new to requesting samples through Send Me a Sample. We highly recommend it since they regularly offer great free samples and stuff to people living in the US and other countries.
After logging in, you need to have an Alexa or a Google Assistant app on your phone. Just open the app and say say to your Google Assistant or Alexa "Hey, ask Send Me a Sample for Michael Kors Gorgeous". Check your shipping address and details and wait for your free stuff to be shipped to your doorsteps by post.
Offer is valid for US residents ONLY, while supplies last.
The campaign will last until all 10,000 samples have been claimed.
Be the first to get the latest freebies in your inbox