Last Updated on November 23, 2022
Check below for the latest free Lancome samples in the US, and how you can get each while the supplies last.
Lancôme is giving away tons of free samples of Lancome Advanced Génifique Face serum to residents of the United States with a new sampling campaign. The campaign is powered with SoPost so this won't last for long.
How to get a free Lancome Genifique Serum sample in the US?
NEW! From SoPost – AVAILABLE
To get a free sample while the offer lasts, follow this link and fill out the form with the requested details in the corresponding fields to receive your free sample of Lancôme Advanced Genifique Serum.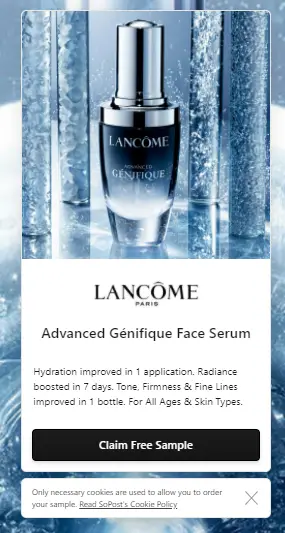 NOTE: If the page says sold out or out of stock, I suggest you retry later as the link goes on and off. I will make sure to update you on any development for this Lancome freebie.
NEW! Thru Facebook / Instagram – AVAILABLE
Lancôme is currently giving away free samples of their iconic Advanced Genifique Serum thru a sponsored post on Facebook and Instagram. There is no direct link to the form but you can complete the steps below to increase your chances of seeing the ad pop up in you social feed.
Like the "Lancôme" page on Facebook if you haven't done it already
Like posts published by Lancôme and watch recent videos or stories shared
Search for the Lancôme Genifique serum and access the official website of Lancôme. Then, check out the serum there
This should be enough for Facebook to add Lancôme to your list of interests, thus, serving you this ad. Once you see the ad ( see picture below ), click on the "Sign up" button right below the sponsored ad.
Available for US residents only. If you are in the UK and end up here, you can check for this same product sample in the UK here.
Valid for a short period of time or while quantities last.
At any time, wherever you are, you can visit the section for all Lancôme related samples here to find the most recent ones.
Be the first to get the latest freebies in your inbox