Last Updated on August 30, 2022
The IT Cosmetics team is currently running a sponsored ad on their Facebook & Instagram handles, offering free IT Cosmetics CC+ Cream samples to receive by mail.
The IT Cosmetics CC+ Cream and Moisturizer are the best-selling anti-aging prestige moisturizer in America. If you want to grab a complimentary sample to put to the test, you're in the right place. Just hurry up to claim it while the supplies last.
How to get free samples of IT Cosmetics CC+ Cream Samples by mail?
To order your free IT Cosmetics CC+ Cream nude sample and receive them by mail, simply follow our instructions.
First of all, this freebie is offered through a sponsored ad as I mentioned, so it is shown to select people only. However, you can apply these techniques to hopefully see it as well on your Facebook or Instagram feed.
Click on the "Get this free sample" button below to be taken to the official Facebook page of IT Cosmetics for American consumers. Like the page, and maybe one or two of their recent posts. Please note that you can do the same on Instagram too if you have an Instagram account.
Search and visit the IT Cosmetics website and the product sampled
Go on with your regular scrolling on Facebook or Instagram, but pay attention to the sponsored ad. It should look like the picture below.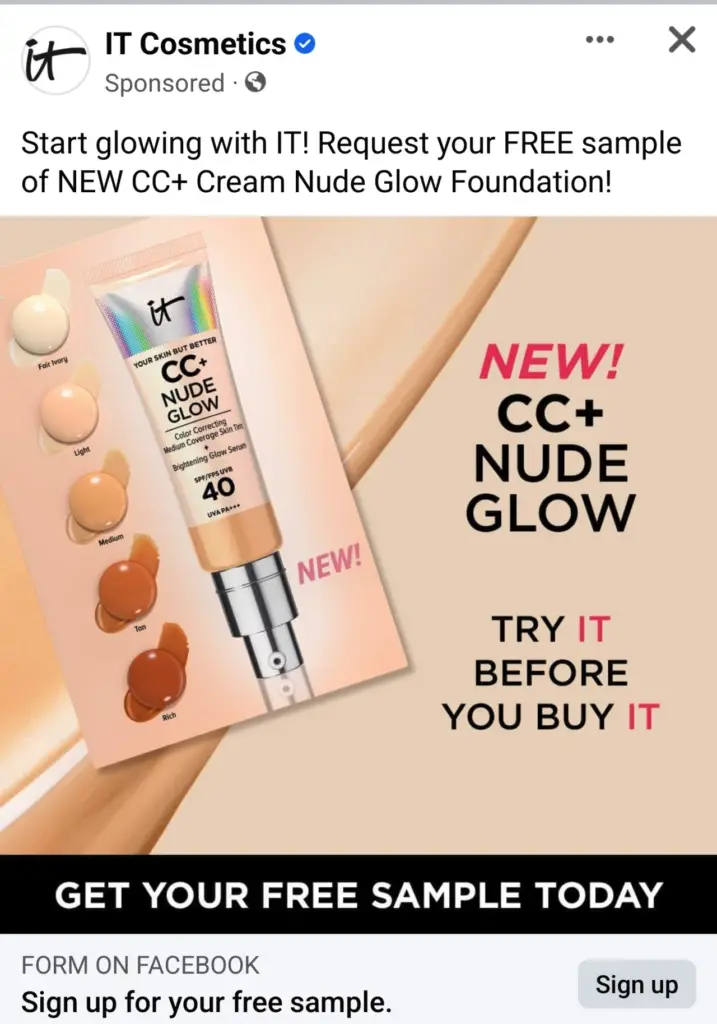 Once you see it, just hit the "Sign up" button and provide your valid shipping details and personal info.
This sampling opportunity is valid for people living in the US ONLY, all states included.
Don't hesitate to share it with your pals and family members on your social media to tip them off.
Stay tuned for more free stuff and skincare samples in the US.
Have a great day.
Be the first to get the latest freebies in your inbox