Last Updated on October 21, 2020
Another perfume freebie for men from Macy's. This month, you can also receive a FREE Giorgio Armani Acqua Di Gio perfume sample by mail on a simple request.
Be as quick as a flash to seize this perfume freebie for men in the US.
The samples are being offered through a sponsored advert on Facebook and Instagram. It's currently ongoing on the social media accounts of Macy's.
The advert include a SoPost form that you need to complete with your details and valid mobile number to receive the Giorgio Armani Acqua Di Gio perfume sample, and 3 others.
How to get FREE Giorgio Armani Acqua Di Gio perfume samples by mail?
There is no direct link to it, however, we will share with you the method to use to make the advert pop up in your social media feed as soon as possible.
The actions we suggest you to follow are :
Like and follow the official handles of Macy's on social media if you haven't already done that (especially their Facebook page and/or Instagram account)
Like one or two of their posts or engage with the brand on social media
Google the Armani Acqua Di Gio Eau de Toilette being offered here
Visit the Macy's website and check the fragrance being sampled there too
That should be enough for you to see the sponsored advert on your feed, and as a result, apply to get the samples.
Once you complete these actions, close your Facebook or Instagram browser tabs or refresh them. If you use your mobile, close the apps and reopen them and keep an eye on your feed or stories from a sponsored ad from Macy's. (See the sponsored ad picture below)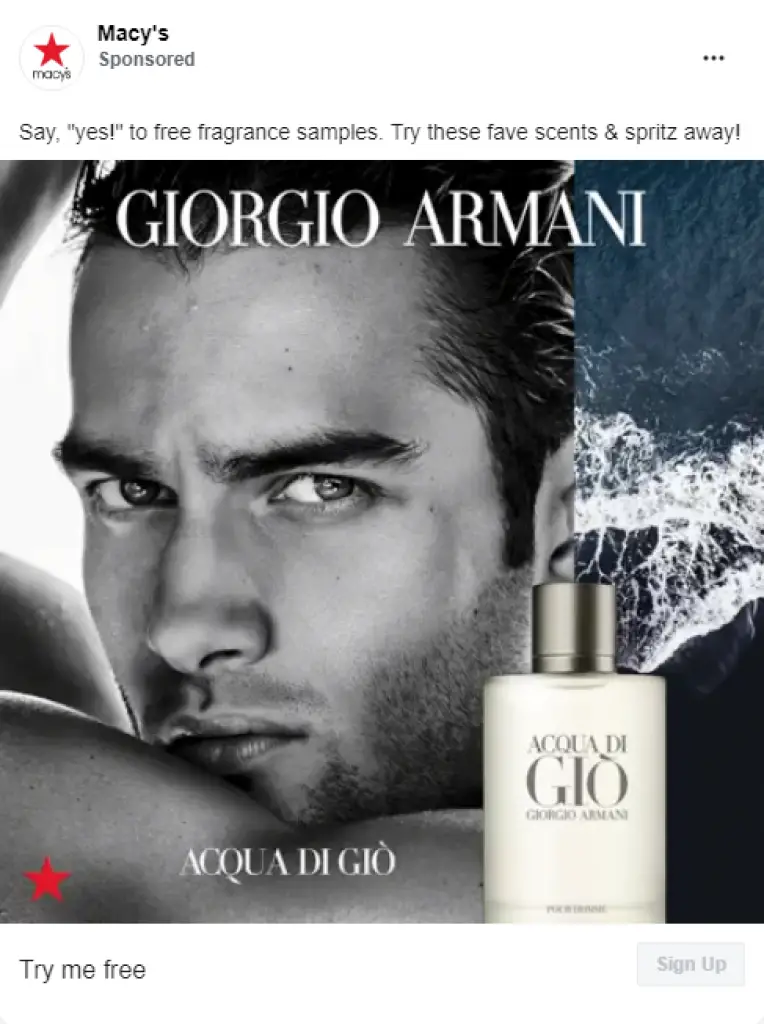 Once you see the ad, make sure you click on the "Sign up" button and complete the request form with your valid coordinates.
For US residents ONLY.