Last Updated on November 16, 2021
Here, here, you can grab a free Estee Lauder Dream Dusk sample to try gratis.
For a limited time, Estee Lauder is giving away free samples of Dream Dusk Perfume for women to select residents of the US.
The new Estee Lauder Dream Dusk fragrance is an enticing fragrance for women. Its composition is floral, fruity and refreshing. It has a mesmerizing scent of Cherry Blossom, roses and flowers that persists throughout the fragrance.
You can grab a free sample by mail to try out. Here is how.
How to grab free Estee Lauder Dream Dusk fragrance sample?
This freebie is currently ongoing on Facebook and Instagram as a sponsored post. There is no direct link. However, here is a list of things you can do to increase your odds of getting the post to popup in your social feed.
Follow and like Estee Lauder USA page on Facebook and Instagram
Like a bunch of recent posts or watch a recent video they have shared
Lookup the Estee Lauder Dream Dusk on the internet, and particularly the Estee Lauder website
Here is the post you should be on the lookout for: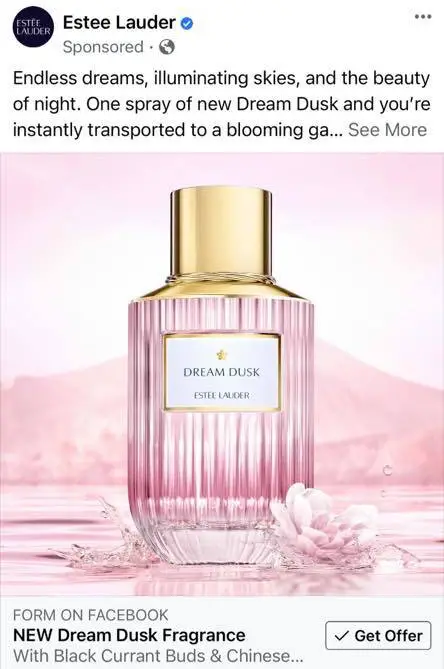 Once you see it, hit 'GET OFFER' to fill out the SoPost form. I will make sure to update you if there's a direct SoPost link or further details about the targeting criteria for this freebie. So make sure you subscribe to push notifications. 
Available for a short period of time or while supplies last for residents of the US.
Be the first to get the latest freebies in your inbox