Last Updated on March 21, 2023
A NEW Freebie is available. This is your opportunity to get a free Creed Aventus Fragrance sample while supplies last.
Creed is giving away free samples of Aventus cologne for her, or for him. If you have been looking to try this great fragrance, now you can do it gratis. Here is how.
How to receive free samples of Creed Aventus Fragrance?
From Facebook / Instagram – AVAILABLE
Bloomingdale's is offering the samples through a sponsored post on Facebook and Instagram. This means that I do not have a direct link to offer you and that you need to make the post pop up in your feed to be able to claim it.
To increase your chances of getting the post and claiming a free Creed Aventus sample, I invite you to follow the steps below.
Like and follow Creed's page on Facebook and Instagram and also Bloomingdale's page since it's then giving away the sample this time
Engage with the brand by liking recent posts, commenting or watching a recent video on both pages
Check out the Creed Aventus for Her or for Him on the internet, and specifically on the Creed website or Bloomingdale's
After that, just keep your eyes peeled while scrolling your social media feed. The post you are looking for is the one in the snapshot below.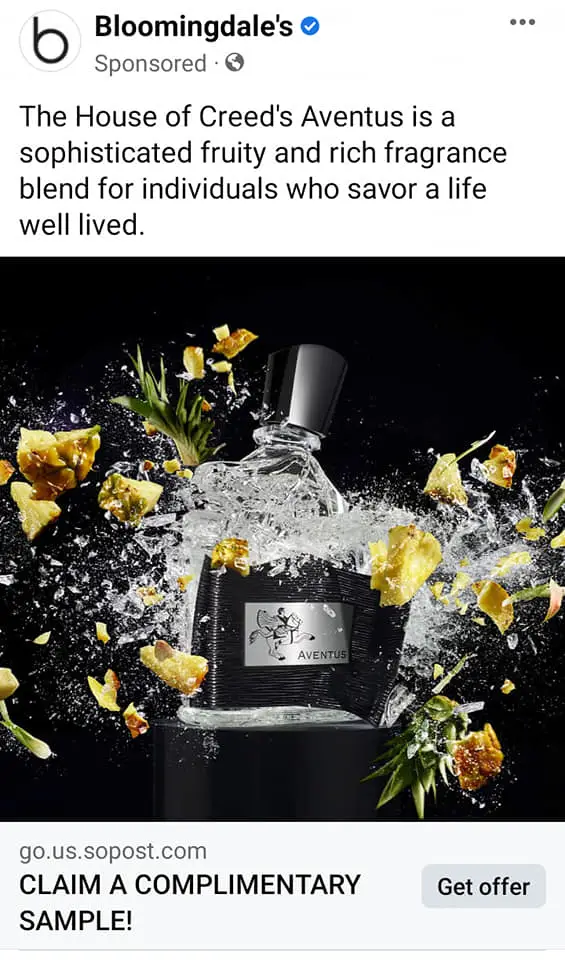 Once you spot it, simply hit the 'LEARN MORE' button to see a form appear. Fill it out and wait for your sample to be shipped by post.
Keep an eye out for this article for further updates or a possible direct link.
Good luck.
NEW! Direct SoPost Link – SOLD OUT!
UPDATE: This was sold out fast, but the sponsored link is still working, you just need to find it. Follow the steps above to get yours.
Hurry up to get a sample of Creed Aventus with no hassle thanks to this new direct link from SoPost. To get yours, simply CLICK HERE to go to the offer page. Fill out the form and you're good to go.
Expect your freebie to be shipped in the mail within the coming few days or weeks.
Offer available for a limited time only or while supplies last.
The exceptional Aventus was inspired by the dramatic life of a historic emperor, celebrating strength, power, and success. Introduced in 2010, this scent has grown to become the best-selling fragrance in the history of the brand. Olivier Creed created its iconic name derived from "A" meaning "from" and "ventus" meaning "wind", illustrating the Aventus man as destined to live a driven life, ever galloping with the wind at his back toward success. Aventus is a sophisticated blend for individuals who savor a life well-lived.
Be the first to get the latest freebies in your inbox