Last Updated on October 29, 2022
HOT Freebie. Notice to all the fragrances lovers. This is a new opportunity for you to add an amazing BVLGARI Perfume sample to your collection.
For a limited time, Bulgari is giving away free samples of Bulgari Le Gemme Tygar Fragrance to select residents of the US.
The Bvlgari Le Gemme Tygar Perfume is an Ambery Citrus Aromatic fragrance for men. This Bvlgari perfume top note is a mesmerizing scent of wild Grapefruit that develops on a woody mix of cedar and sandalwood heart. To finally settle on a musky ambery base of ambergris and fresh Amber.
Bulgari Le Gemme Tygar Perfume is a must-have for any gentleman who wants to feel confident throughout the day. This fragrance is perfect for a young man who is just entering adulthood or an older man who wants to keep his sense of style. The citrusy scent and masculine aromas in this fragrance will compliment any man's style and bring out his inner confidence.
This is one of the most expensive perfumes out there. So a sample would be a great deal before spending money on a $360 bottle. Right?
How to claim a free sample of Bvlgari Le Gemme Tygar perfume?
To receive your free sample of Bulgari Le Gemme Tygar Perfume, I invite you to follow the steps below.
Bulgari is offering this freebie thru a sponsored post on Facebook and Instagram. This means there is no direct link as of now. However, you can see and try to fit their targeting criteria to get the post to pop up in your feed. Thus, be able to access the SoPost form and score this sample.
Here are the steps you can follow :
Here is a snapshot of the sponsored post you should keep an eye out for.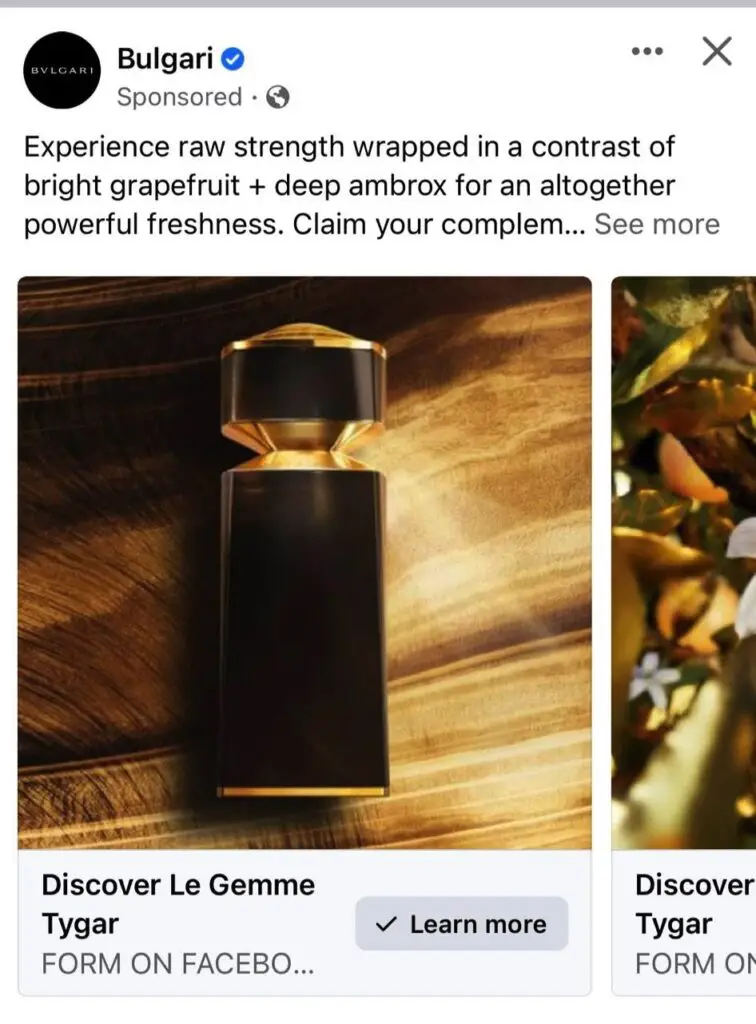 This is available for US residents only.
Check out more perfume freebies with Bloomingdale's here.
For all the free perfume samples you can sore in the US, check out this section.
Be the first to get the latest freebies in your inbox