Last Updated on September 23, 2023
There's no better feeling than discovering a new scent that resonates with your personality. Thanks to Macy's and Burberry, you now have a chance to order a free Burberry Hero sample!
Burberry has recently launched its new version of Hero Eau de Parfum, and Macy's is giving away samples to select US residents via sponsored ads on Facebook and Instagram.
This article will guide you on how to snag this freebie and give you a glimpse into the fragrance's unique composition.
How to order a free sample of Burberry Hero Eau de Parfum from Macy's?
To increase your chances of getting this sponsored ad on your Facebook or Instagram feed, you'll want to follow a few steps:
Begin by liking and following both Burberry and Macy's on Facebook and Instagram. Engage with their posts by liking, commenting, and sharing them, which will signal your interest in these brands to the platforms' algorithms.
Visit Macy's and Burberry's websites, specifically browsing the pages related to Burberry Hero. This action can trigger the algorithm to show you related ads.
Use the search function on Facebook and Instagram to look up terms such as "Burberry Hero Eau de Parfum,", etc..
After doing these activities, keep your eyes peeled for the ad offering the Burberry Hero sample. Here is what it looks like: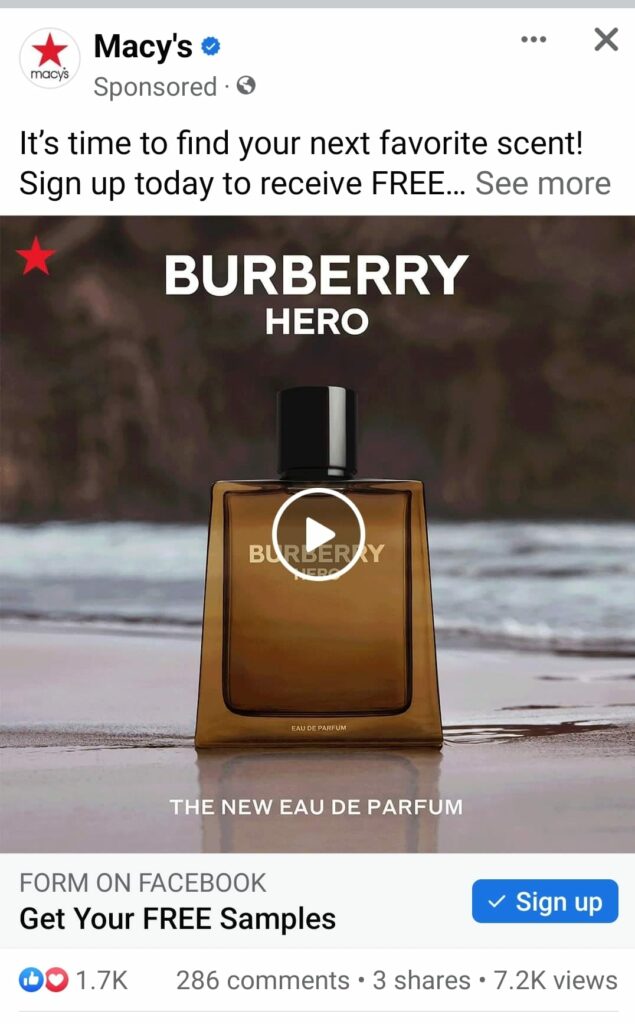 Once it appears in your feed, click on it, fill out the requested information, and voila! Your free sample will be on its way.
Meet Burberry Hero the new Eau de Parfum – Your new signature scent
Burberry Hero, the new Eau de Parfum by Burberry, is a scent that aims to celebrate the essence of masculinity. Crafted by master perfumer Aurélien Guichard, this fragrance is a harmony of contrasts – powerful yet gentle, timeless yet modern.
The composition opens with the sparkling freshness of bergamot and juniper, transforming into a heart of black pepper for an invigorating burst. This is elegantly contrasted with the warmth of cedarwood at the fragrance's base, creating a scent that's simultaneously robust and refined.
Designed to evoke the spirit of the modern man, Burberry Hero is about authenticity, embracing contradiction, and standing up for what you believe in. Encased in a sleek, minimalist bottle inspired by the iconic Burberry trench coat, it is truly a scent that celebrates strength and sensitivity in equal measure.
So, are you ready to try this heroic new fragrance? Start engaging with Burberry and Macy's on social media today, and you may soon receive a complimentary sample of Burberry Hero!
Be the first to get the latest freebies in your inbox