Last Updated on April 11, 2023
AERIN Amber Musk is a perfume as comforting as a warm blanket on a chilly day. For a limited time, Estee Lauder is giving select users the chance to grab a free AERIN Amber Musk sample. Get yours to test out gratis.
The Amber Musk fragrance captures the spirit of personal liberation through self-empowerment. The perfume is inspired by the sensual warmth of sensuous amber, with notes of Amber and lush Rose Centifolia.
Here is how you can order a free sample to try.
How to order a free sample of AERIN Amber Musk perfume sample in the US?
To receive your free sample of AERIN Amber Musk perfume in the US, I invite you to follow the guide below.
First of all, this freebie is available as a sponsored post on Facebook and Instagram. Which means there is no direct link to the offer. However, you can apply the instructions below to increase your odds of getting it to pop up on your social media feed.
I suggest you :
Like and Follow Estee Lauder's page on Facebook and Instagram if you use it
Engage with the brand by interacting with its social accounts. You can like recent posts, leave a comment or watch a recent video they have shared on their page
Search the Estee Lauder AERIN Amber Musk perfume and check it out on the Estee Lauder website
After this, simply keep an eye out while scrolling through your Facebook or Instagram feed. Here is the post you should be on the lookout for.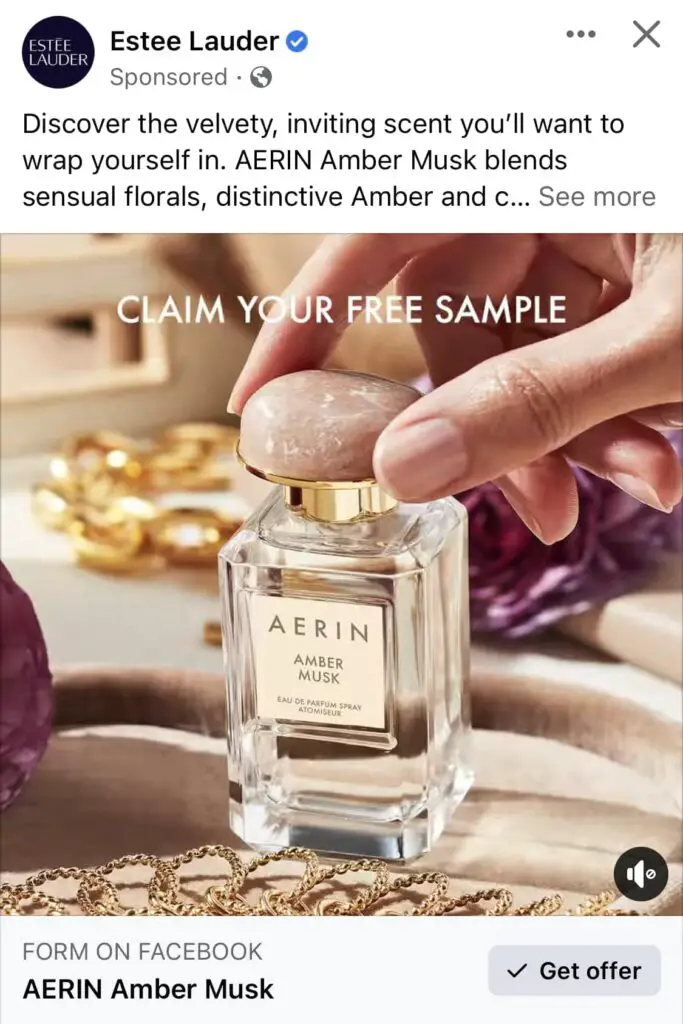 Once you spot it, just click the call to action button and fill out the form.
The post is powered by a SoPost form. So there could be a direct link to the form available. I will make sure to update you if I find one so you can use the direct link to form.
Make sure you are subscribed to push notifications so you won't miss any updates.
For more freebies and samples in the US, you can check out the list here.
Be the first to get the latest freebies in your inbox