Last Updated on June 22, 2021
Grab a possible free Yves Saint Laurent Y Perfume sample with the new sampling offer from Yves Saint Laurent.
How to score a free Yves Saint Laurent Y Perfume sample?
Thru SoPost direct link to form
UPDATE: Available again as of June 21, 2021. Hurry!
New direct link to a SoPost form. Follow this link to claim a free sample of Yves Saint Laurent Y Eau de Parfum.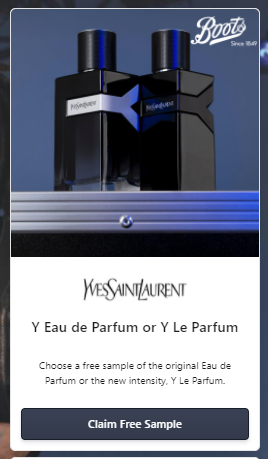 Thru a Facebook / Instagram sponsored ad
YSL Beauty page on Facebook is running a sponsored post with a SoPost form to sign up for a perfume freebie. Not any perfume freebie, but the mesmerizing Yves Saint Laurent Y Eau de Parfum for men.
This is a sponsored advert ongoing on Facebook and possibly Instagram as well. Which means that there's no direct link to the form. All you can do is stay alert while scrolling your social media feed and going through stories and such. There is at least 3 variations of the advert, so stay focused. Below are snapshots:
You can also follow and like some YSL Beauty posts, and maybe do a quick search for this perfume and look it up on the Yves Saint Laurent website.
I hope you'll get it to pop up for you. I'm excited about this one since I really really love this perfume on men.
The freebie is showing up to select Facebook users living in the United Kingdom. So UK only. It's mostly poping up for women as well.
Be the first to get the latest freebies in your inbox