Last Updated on October 28, 2022
Hurry up to score a free Viktor&Rolf Good Fortune perfume sample before the new Viktor and Rolf Fragrance hit the shelves on July 1st.
To promote their newest perfume, Viktor&Rolf are giving away free samples of Good Fortune perfume for women to select people. Here is how to get yours by post and discover this new fragrance.
How to get a free sample of Viktor&Rolf Good Fortune perfume?
NEW! Thru Odore – AVAILABLE
Fragrance Direct is giving away free samples of Good Fortune Fragrance with a simple request.
Hurry up to get a sample of Viktor&Rolf Good Fortune perfume by CLICKING HERE to access the Odore form. Fill it out and you're all set up.
Available for a limited time or while supplies last.
Facebook / Instagram ad – SOLD OUT!
The brand is offering this freebie through a sponsored post doing rounds on Facebook and Instagram. To get yours by post, I suggest you follow the steps below. Hopefully, after completing them, the sponsored ad will pop up in your social feed.
Engage with the brand by liking a couple recent posts, or watching a video or story they shared
Look up the perfume on the Facebook or Instagram Search Bar and the Viktor&Rolf website
These actions will help align you with the targeting criteria of the sponsored post. Once it shows just click the signup button and pop up your details in there to get your freebies. Here is a screenshot of what it looks like.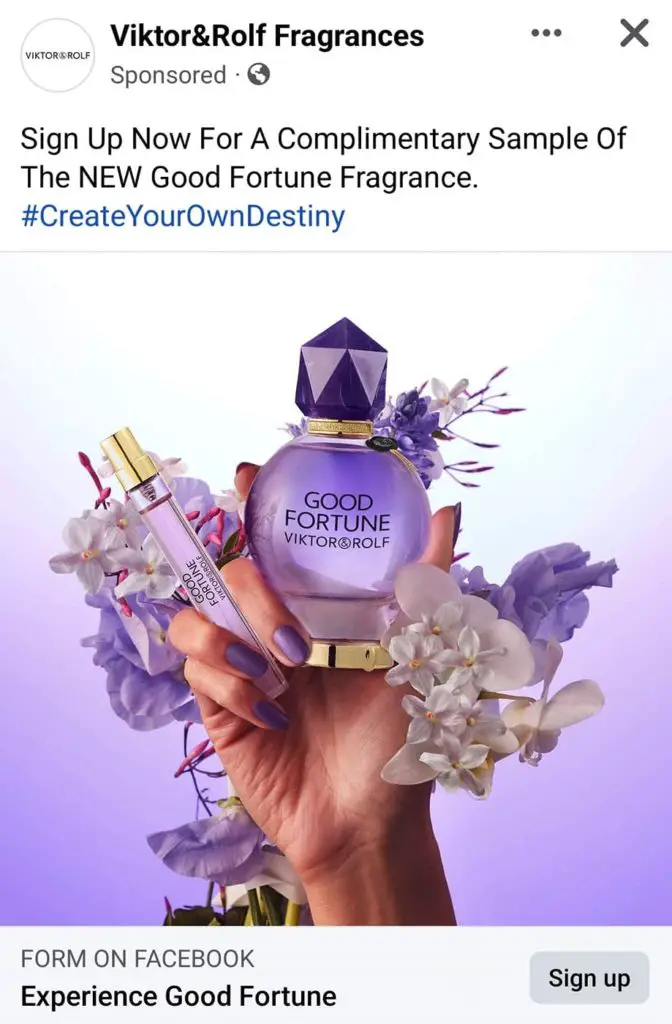 Don't miss out on updates regarding this freebie or a possible direct SoPost link. To make sure you don't miss any, I recommend you allow push notifications or subscribe to our Newsletter.
Stay tuned for more free perfume samples and freebies by mail :)
Be the first to get the latest freebies in your inbox