Last Updated on July 7, 2022
Do you like Valentino Makeup collection products? YES? So here is your opportunity to grab a free Valentino lipstick sample.
Here is everything you need to know to get a sample of this iconic lipstick in the UK.
How to get a free Valentino Lipstick sample by post?
NEW! Thru Facebook / Instagram – AVAILABLE
Smoking hot freebie alert! Valentino is giving away free samples of Rosso Valentino Lipstick through a sponsored post on Facebook and Instagram. For a chance to score this amazing freebie, I suggest you follow the instructions below.
Like and Follow the Valentino Beauty page on Facebook and Instagram
Interact with the brand by liking recent posts, watching videos or stories, etc…
Visit the Valentino official website and check the Rosso Valentino Lipstick there too
Once you complete the steps, keep an eye out for this sponsored post to show up on your Facebook feed or Instagram stories and posts. Below is a snapshot of the Valentino advert you should be keeping an eye out for.
Once you spot the ad, click on the 'SIGN UP' button to access the SoPost request form. As simple as that.
I will keep you posted regarding further updates or a possible direct link.
Good luck.
With Vogue Insiders – SOLD OUT!
Vogue Insiders UK is giving away free samples of Rosso Valentino Refillable lipstick. Please note that this is available to select registered members only.
This freebie is with Vogue Insiders UK. It's only for select registered members who matched with the Rosso Valentino Lipstick. Registered members can check their email inbox to see if they received an email from Vogue. There you should find a unique link to claim your freebie.
Here is the email :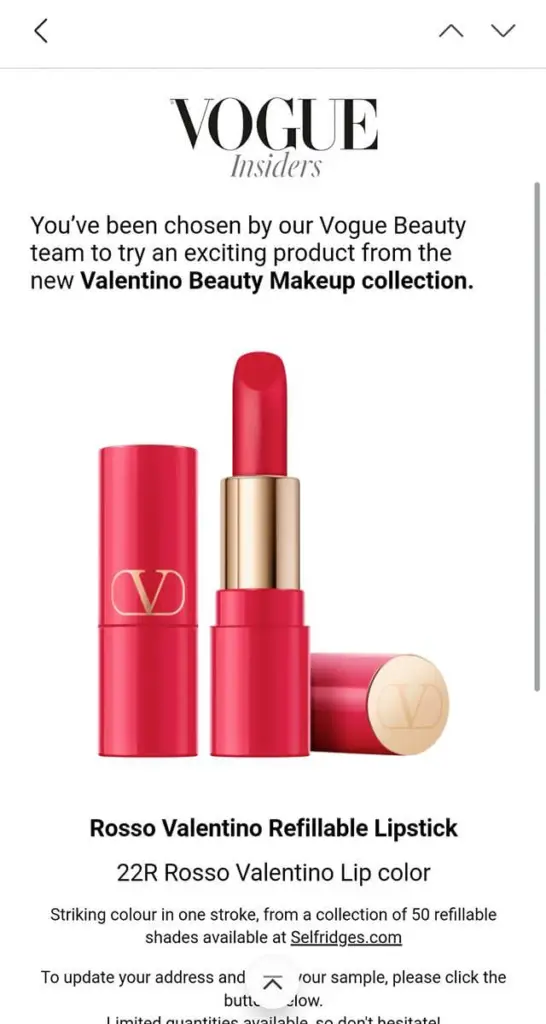 NOTE: Not everyone will be getting this. You could find something else or nothing at all. But sit tight, because there is always new freebies with the Vogue Beauty Insiders program.
You are not a member yet? I highly recommend you sign up for a free account. So, this way you won't miss out on future offers and free samples. You can read this guide for more info.
About the Valentino Refillable lipstick
The Rosso Valentino Refillable lipstick delivers striking color to your lips in one swipe. The formula is creamy and glides on effortlessly, leaving your lips wonderfully conditioned with just one application.
The Rosso Valentino lipstick is available in 50 shades, each designed to flatter all skin tones. There are two finishes: a rich, creamy satin and a non-drying matte. Besides, you can refill it when it's finished because a Valentino Lipstick is for life.
Be the first to get the latest freebies in your inbox