Last Updated on May 24, 2022
Don't miss out on this new offer to claim a free Valentino Born in Roma sample in the UK.
For a limited time, Valentino is giving away free samples of the new Valentino Born in Roma Coral Fantasy Perfume.
Valentino Born in Roma Coral Fantasy Donna perfume is the newest fragrance addition to the Valentino Born in Roma Fragrances lineup.
It is a cool and sexy scent that is meant to represent femininity, sensuality, and style. The fragrance features top notes of Juicy Kiwifruit, Sweet Orange, and rose petals with lingering soft notes of Jasmine, musk mallow, and cedarwood.
The new Valentino Born in Roma Coral Fantasy perfume is a fresh fruity and floral light scent that represents the luxuries of life. It is meant to promote personality and elegance. Being in line with Valentino's history, it was made for women who have an appreciation for beauty and artistry.
For a limited time, you can order a free sample to try out in the UK. Here is how.
How to get a free sample of Valentino Born in Roma perfume?
NEW! Direct Link – AVAILABLE
There is a new campaign for Valentino Born in Roma perfume range samples. You can choose one of 3 samples by following this link right here. Simply choose your fragrance and fill out the form.
Available for a limited time or while quantities last.
Thru GoodHousekeeping Magazine
Right now, there is a sponsored ad showing up on select Good House Keeping Magazine pages for a free sample of Valentino Born in Roma Coral Fantasy fragrance. To get one, go to this page. Accept cookies and scroll up and down until you see the pop-up for the sample. Below is a screenshot of the popup you should be on the lookout for.
Please note that this might now show up for everyone. You can try to open the page on private mode browsing.
You can still get the sample through Facebook and Instagram by following the method below. Good luck!
Thru Facebook / Instagram – AVAILABLE
The brand is trying to reach females (aged 18 and above), living in the United Kingdom, and who watched a video on the Valentino Beauty Facebook page. So to increase your odds of getting this sponsored post to pop up in your feed, simply follow these steps:
Like and follow the Valentino Beauty page on Facebook
Like one or two of their posts to interact with the brand
Look for a recent video they shared and watch it
Visit the Valentino official website and check the new fragrance there too
Once you complete the steps, keep an eye out for this sponsored post to show up on your Facebook feed or Instagram stories and posts.
Below is a snapshot of what the sponsored post you should be keeping an eye out for looks like.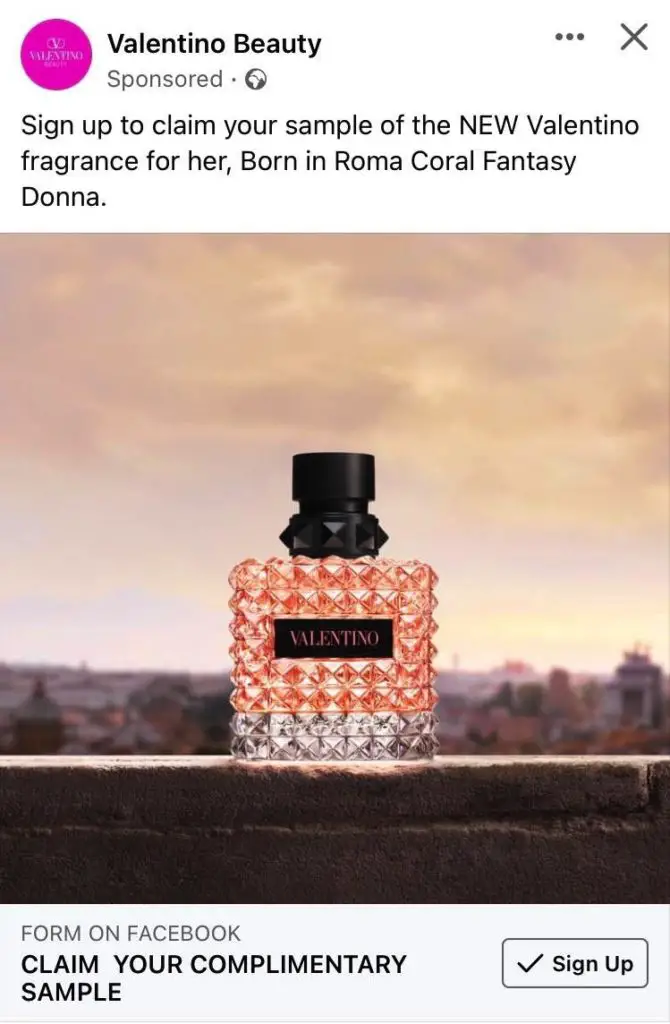 Be the first to get the latest freebies in your inbox