Last Updated on November 22, 2021
Tom Ford perfumes are one of the most luxurious out there. For a limited time, you can grab a free Tom Ford Ombre Leather sample to try out gratis. Here is everything you need to know about this sampling offer.
The brand is giving away free Tom Ford Ombré Leather perfume samples. Be quick to grab one while supplies last.
How to get a free sample of Tom Ford Ombre Leather Eau de Parfum?
Right now, the TF Ombré Leather samples are only available through sponsored posts on Facebook and Instagram. There is no direct link as of now. But what you can do is complete a few actions and hopefully, the post will pop up on your social feed.
Here are the actions I recommend you to complete :
Like and Follow Tom Ford Beauty page on Facebook and Instagram if you haven't do so already
Check recent posts and like a couple of them. You can also watch a recent video they shared on their page.
Visit Tom Ford Website and view the Ombré Leather Eau de Parfum in there
UPDATE: so for this post, you an try to like Adidas page as well and look them up on Facebook. The brand is trying to reach UK residents aged 18 and above, interested in Music and Adidas. Another targeting in place is for people interested in Chanel, or Gucci. So try showing interest in these brands as well.
Let me know if this works for you. Good luck.
Here is the post you should be on the lookout for :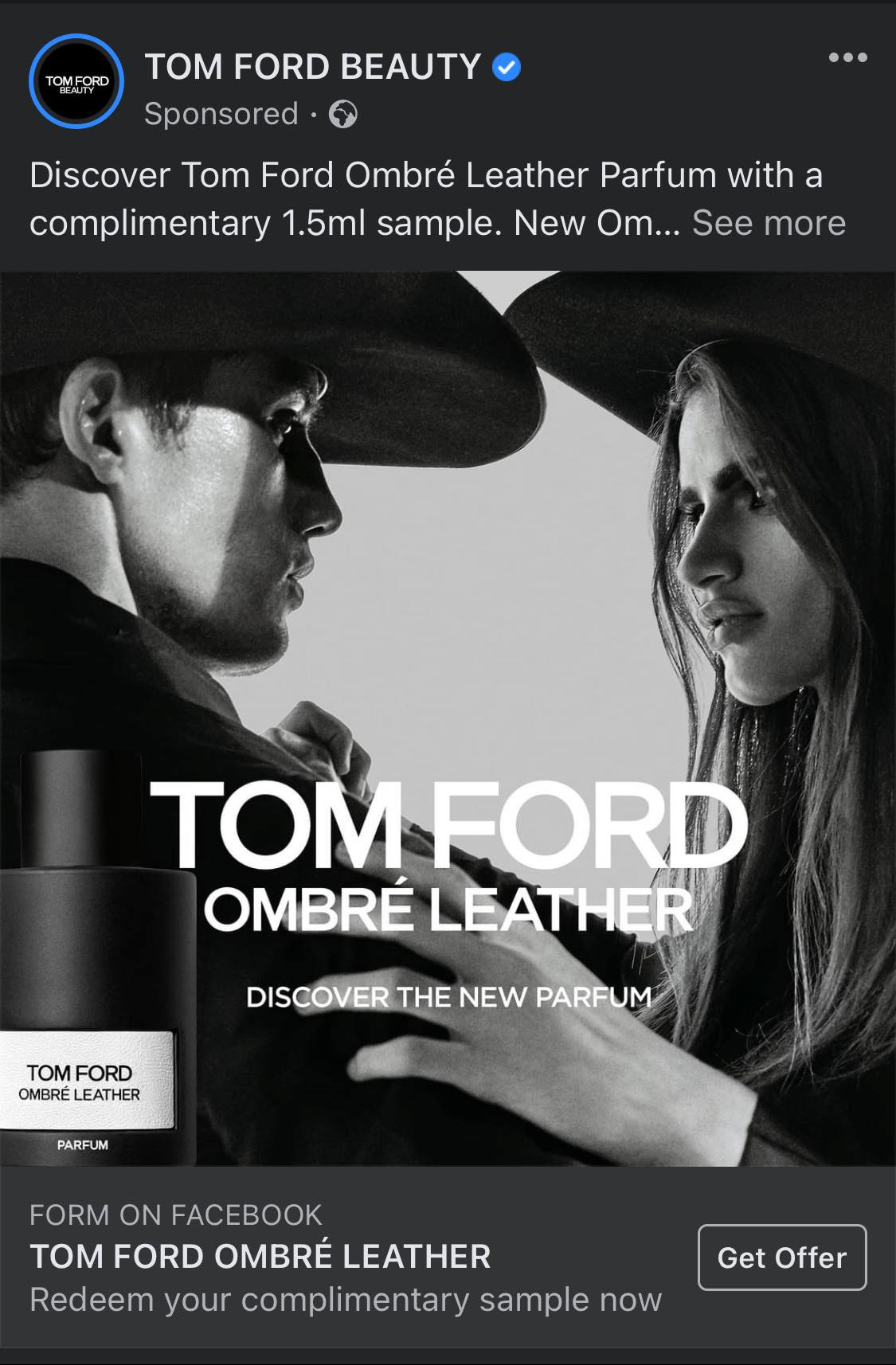 Once you spot it, hit 'GET OFFER' to see a SoPost powered form. Complete it and check for the confirmation email in your inbox.
This is currently available for residents of the UK. Not sure about other countries. But I'll keep you posted as usual.
Stay in the loop for a possible direct link to SoPost form for this gorgeous freebie.
About Tom Ford Ombré Leather Fragrance
Tom Ford Ombre Leather perfume has a sleek bottle design, more subtle than the traditional square shape of other perfumes. While not as visible, it still screams luxury. The packaging is beautiful and grabs your attention at first glance. This perfume is for someone who wants to look elegant and sexy on the outside, while feeling calm and confident on the inside. The Ombre Leather Eau de Parfum has warm yet spicy notes of Black leather, patchouli, and vetiver.
This Tom Ford Fragrance is Unisex. So it can be used by both women and men.
Be the first to get the latest freebies in your inbox