Last Updated on July 1, 2023
Want to try a free Stella McCartney Serum sample without spending a fortune on a product that might not be suitable for you? Look no further than this offer.
Stella by Stella McCartney Alter-Care Serum is a regenerating serum that uses the natural powers of vitamins and minerals to protect skin from external aggressors. Beauty Bloggers have largely praised the Stella McCartney Alter-Care Serum, and often included it on the list of top skincare products due to its natural formula. You can try it for yourself with a free sample thanks to this new sampling offer.
How to get a free sample of Stella Alter-Care Serum?
To get your hands on a free sample of Stella by Stella McCartney Alter-Care Serum, you need to complete the instructions below and find the sponsored post. This sample is also distributed using sponsored posts on Facebook and Instagram. I suggest the following:
Like and Follow the Stella McCartney Beauty page on Facebook and/or Instagram
Interact with the brand to show interest by liking any recent posts, watching videos, stories, or reels, etc…
Search for the Stella Alter-Care Serum on the Facebook Search Bar or the internet
Visit their website and check out the product there
When done, keep using your social media as usual while paying extra attention to the sponsored posts showing up for you. One of them could be the one with the sample request form. Here is a screenshot to help you identify it quickly.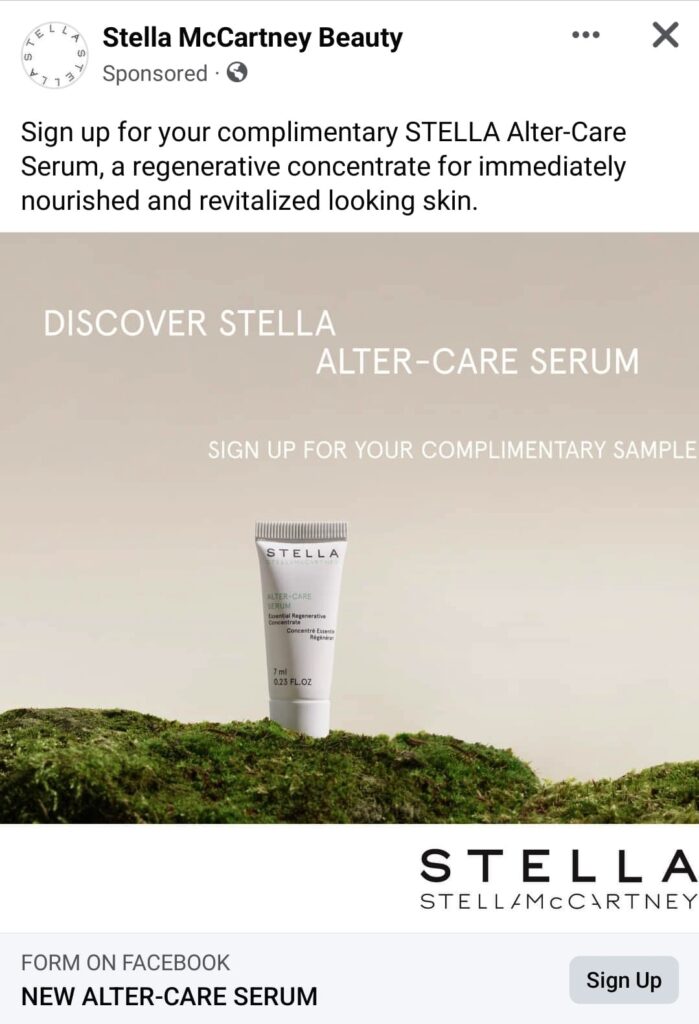 Once you see the sponsored post, click on the 'SIGN UP' button to fill out the form and get your Stella McCartney Serum sample by post.
This offer is currently available to select users on Facebook and Instagram.
Stay tuned for a possible direct link or more details about the targeting criteria for the sample post.
Good luck to everyone. And don't hesitate to contact me for any questions or help.
Be the first to get the latest freebies in your inbox