Last Updated on November 14, 2023
Want a free Sol De Janeiro Body Cream sample by post? Don't miss out on this opportunity to get your hands on a free sample pack without paying a penny.
By signing up for this freebie, you will get two Sol De Janeiro Body Cream samples, including:
Sol de Janeiro Brazilian Bum Bum Cream
or Sol de Janeiro Bom Dia Bright Cream
Without further delay, find out how to get this freebie by following the steps below.
How to get free samples of Sol De Janeiro Body Creams?
The brand is giving away these samples through sponsored posts on Facebook and Instagram. So to get it, you need to spot the advert. Here are a few tips and tricks to help you in your quest.
Follow the Sol De Janeiro page on Facebook and Instagram if you use it
Follow Space NK page on Facebook and Instagram
Interact with both pages by liking their recent posts, etc…
Search the internet for the products and check them out on the brand's website
After that, keep an eye out on your social feed for the advert to pop up for you.
Here is what it looks like.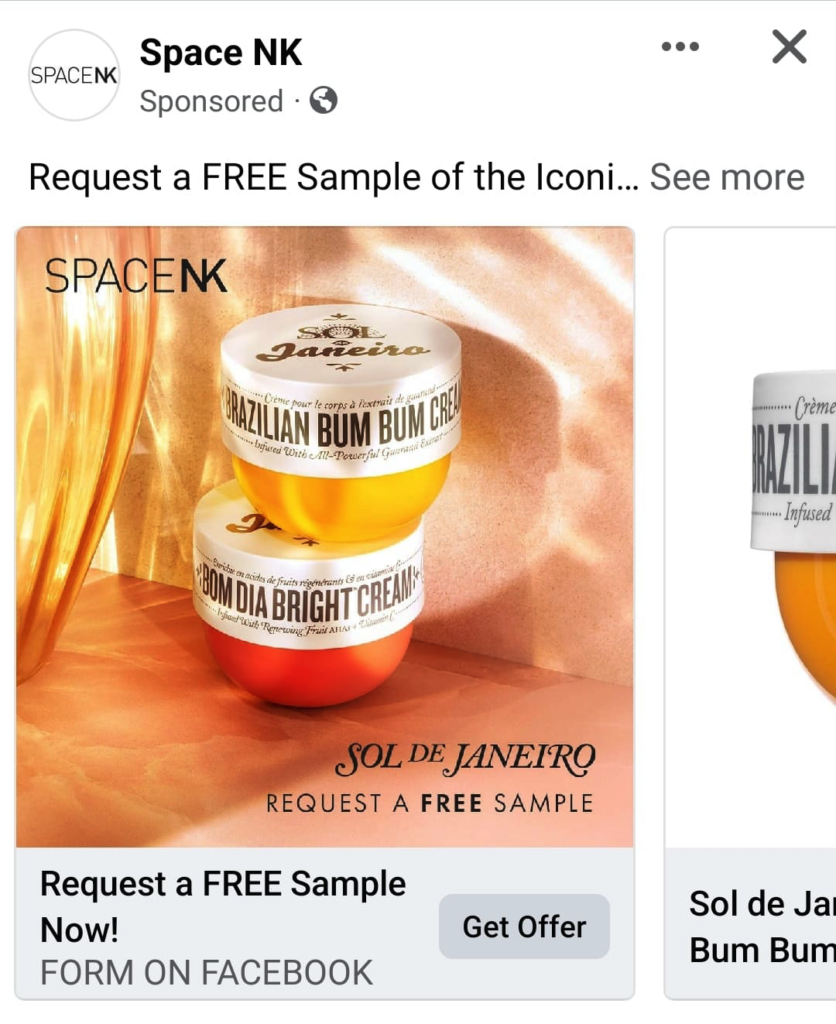 I will make sure to update this article with more details as soon as I know more. And who knows, there could be a direct link to the form.
So make sure to subscribe to notifications or emails from me so that I can reach you easily to keep you posted.
Sol De Janeiro Brazilian Bum Bum Body Cream visibly firms and deeply moisturizes your skin. It comes with irresistible pistachio, salted caramel, and vanilla scent. In contrast, the Sol de Janeiro Bom Dia Bright Cream is a brightening moisturizer, that retexturizes and gives skin a glowing boost thanks to its exfoliating Fruit AHAs and Vitamin C formula.
Both Sol De Janeiro Body Creams have light, fast-absorbing formulas that feels you feeling hydrated instead of greasy.
Be the first to get the latest freebies in your inbox