Last Updated on March 1, 2023
Be quick to discover the new Prada Paradoxe Eau De Parfum before it hit the shelves. Claim a free Prada Paradoxe perfume sample to try yourself without paying anything at all with this new offer.
The new Paradoxe by Prada Persona Eau de Parfum is a floral fragrance for a woman impossible to frame. It has mesmerizing notes of Neroli, masterfully matched with Amber accords and a Musk finish.
Right now, Prada is giving away free samples of Paradoxe Eau de Parfum for her. Here is how to order one and receive it by post.
How to get a free sample of Prada Paradoxe Fragrance in the UK?
NEW! Thru Facebook / Instagram – AVAILABLE
The brand is offering these samples through a sponsored post on Facebook. So there is no direct link. To get it, you need to follow the steps below, and hopefully, the advert is going to pop up in your social feed.
Like and Follow the Prada Beauty page on Facebook
Interact with the page (Like recent posts, leave a comment, or watch recent videos or stories)
Lookup the new Prada Paradoxe perfume on the internet or the Facebook search bar
After that, keep an eye out for the sponsored posts showing up on your social feed. Here is a screenshot of the one you should find to claim the Prada perfume.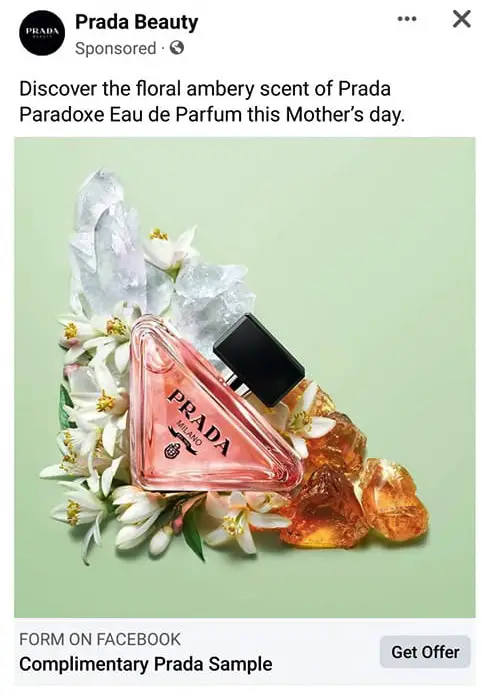 As you can see in the targeting Criteria, this advert shows up to select users on Facebook and Instagram who match the following criteria:
Female residents of the United Kingdom
Age Between 18 and 44 years old
Interested in Music, Technology and more
Once you spot it, simply hit the 'GET OFFER' button to see a SoPost form pop up. Fill it out and wait for your freebie to be shipped by post.
Stay tuned for more updates or a possible direct SoPost link. Subscribe to push notifications and our Newsletter to be first informed.
On TikTok – AVAILABLE
The Prada Paradoxe fragrance sample is also available through a sponsored ad on TikTok. It shows to select UK residents. Here are a few tips to help you get it on your social feed.
Follow the Prada account on TikTok
Watch and like their recent videos (3 or more…)
Search the Prada Paradoxe perfume on the TikTok Search bar or the internet
After that, keep an eye out on your social feed for this popup as shown in the picture below.
You can also check out this page for all the current free samples you can get on TikTok.
Good luck.
IMPORTANT: I have joined TikTok to spot as many freebies and free samples to share with you. You can follow me on TikTok now to stay up to date and informed about the latest offers.
Thru Direct Link to Odore Form – SOLD OUT!
Score a free sample of the new Prada Paradoxe Eau de Parfum thru a direct link to Odore. CLICK HERE and fill out the form to receive your sample.
If it says you do not have access to this link, I invite you to try doing it from the Source. You can go to this Instagram Story by Fragrance Direct and click the link in it.
Available while supplies last.
Amid Magazine page – SOLD OUT!
There is a new sponsored advert on a specific page of Women's Health Magazine with a free sample of the new Prada Paradoxe fragrance. To get it, CLICK HERE to go to the page. Accept cookies and scroll up and down while keeping an eye out for sponsored posts popping up.
UPDATE: Now it's showing on other magazine pages. Try these links as well. You might get the Prada Paradoxe perfume, YSL Libre or YSL All Hours Foundation sample. There are 3 different ads popping out randomly on these magazine pages.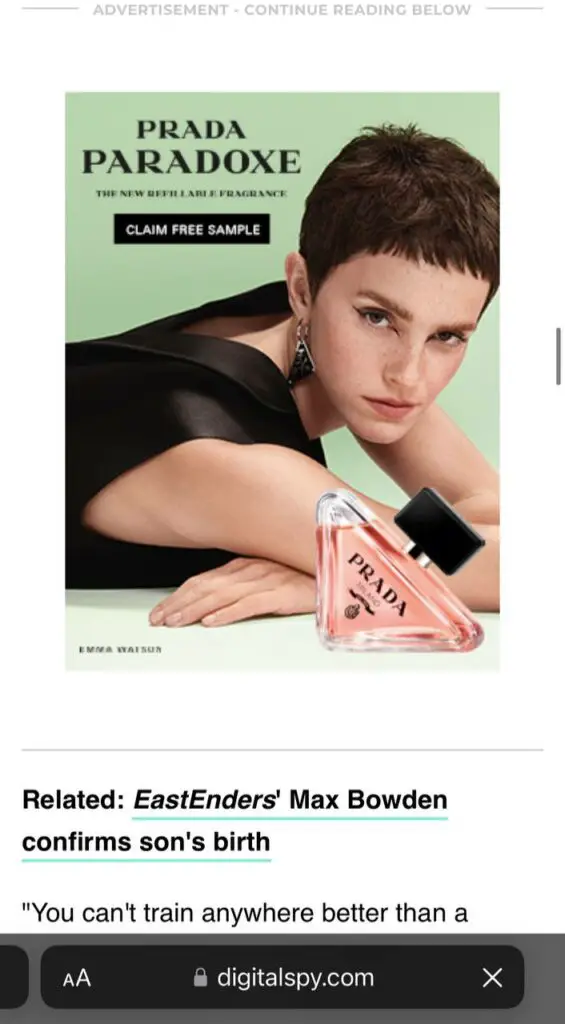 UPDATE: I'm not sure this is still available, but it's worth a try. Here is a snapshot of the advert I mentioned.
Be the first to get the latest freebies in your inbox