Last Updated on January 17, 2023
Get a possible free Paco Rabanne Invictus perfume sample while supplies last. Order your freebie to get in the mail by post within the UK.
Article updated regularly to regroup all the possible offers and ways you can score a free sample of the Invictus fragrance for men.
NEW! Paco Rabanne Invictus Victory Elixir sample
UPDATE: the all new Paco Rabanne Invictus Victory Elixir perfume is now sampled thru a sponsored advert on Facebook and Instagram. To get it, you need to complete a few steps and hopefully, it is going to show up in your social feed, giving you direct access to the request SoPost form.
Here is what the advert looks like and the criteria they are choosing to target people.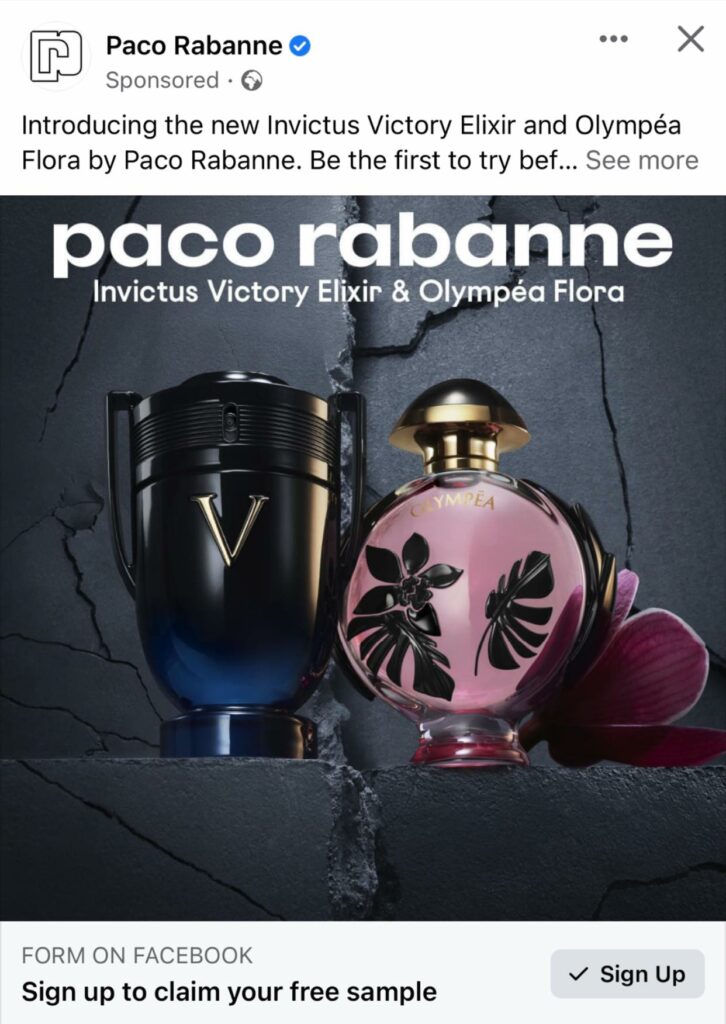 Once you spot this one, you will be able to claim a duo sample of Paco Rabanne :
Invictus Victory Elixir for Him
and Olympea Flora for Her
I suggest you like and follow Paco Rabanne's page on Facebook and engage with the brand by liking recent posts, leaving comments, and watching a video shared there. You can also visit their website to increase your odds of getting the ad.
Happy freebies hunting!
Stay tuned for a possible direct SoPost link.
Discover Invictus Victory Elixir, the new powerful fragrance for men. The pinnacle of intensity from Invictus, a potent elixir made to push victory beyond limits. Discover Olympéa Flora, the new intense Eau de Parfum for women. The most feminine, long-lasting incarnation of the Olympéa goddess.
How to get free Paco Rabanne Invictus perfume sample?
With Boots sampling campaign – SOLD OUT
NEW! New sampling offer for Paco Rabanne Perfume samples with Boots UK. Run to score a free sample of Paco Rabanne :
Invictus Victory Eau de Parfum for him
Olympea Blossom for her.
Yes! You can get both. Follow this link and order your fragrance samples whilst supplies last. Just fill in the form and submit. Expect your freebie in the mail shortly after.
Thru Facebook/Instagram sponsored post
We spotted a new sponsored post on Facebook and Instagram from the Paco Rabanne accounts. The post is offering select users (living in the UK), a free sample of Invictus perfume. Users get to choose between the Fresh Classic or Extreme Victory fragrance.
There is no direct link to this sampling campaign. It's a sponsored advert that shows to select people. It's powered by SoPost. However, we know how you can make the advert pop up in your feed. Just follow these actions and keep an eye on the sponsored adverts you see on Facebook and/or Instagram.
Like and follow Paco Rabanne on Social Media, maybe like a post or two, watch a video… You know, show interest in the brand. The post you should be on the lookout for looks like the snapshot below :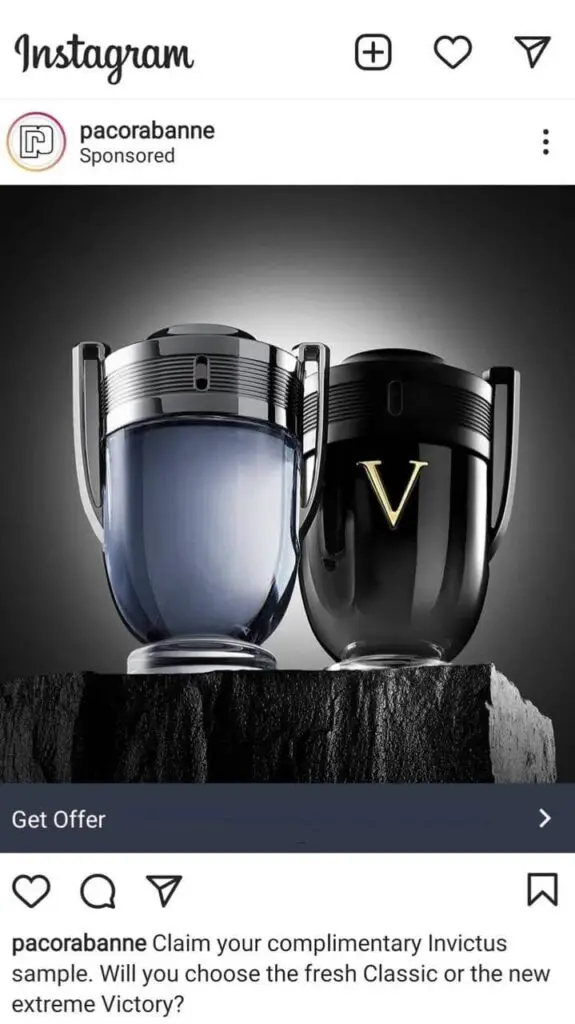 In case a find the direct link to the form to apply for this SoPost freebie, I will make sure to notify you thru push notifications. So make sure you are subscribed to those.
As with all freebies thru Facebook, this will go out and on. So, keep an eye out these days.
Be the first to get the latest freebies in your inbox