Last Updated on September 13, 2023
Be quick to discover the new feminine fragrance by Paco Rabanne – Fame. Claim a free Paco Rabanne Fame Perfume sample while supplies last to try this new fragrance for her without paying a cent.
Fame by Paco Rabanne is a Floral Woody Musk fragrance for women that will hit
Fame by Paco Rabanne features a fusion of addictive, intoxicating, and daring top notes of Pure Jasmine and Bergamot, creating an electrifying, fresh sensation. A heart of Tempting luscious Mango blends with addictive and dazzling creamy incense and sandalwood to create desire. The base is bold yet feminine. Vanilla enhances the sensuality with its exquisitely provocative richness.
Don't miss out on this offer and claim a free sample of Paco Rabanne Fame while supplies last. Here is how.
How to get a free Paco Rabanne Fame Fragrance sample?
NEW! From Facebook / Instagram – AVAILABLE
To receive a free sample of the new Fame By Paco Rabanne fragrance for her, you need to spot the sponsored post on Facebook or Instagram. That's the only way to access the request form and fill it out. So here is how to.
There are a bunch of actions you could complete to make the ad pop up in your social media feed and be able to claim free samples of Fame Fragrance By Paco Rabanne.
Go back to your Facebook or Instagram newsfeed and keep an eye out for this advert to pop up. Here is a screenshot of what it looks like so you can spot it easily.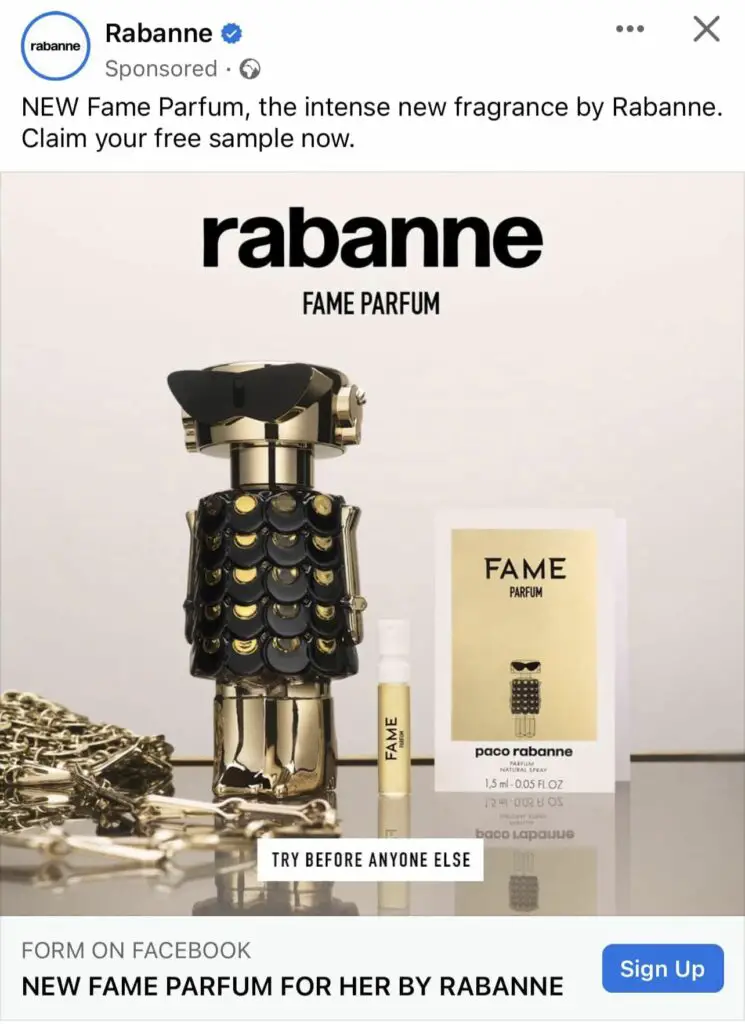 After seeing the ad, just click on the "SIGN UP" button to make the online request form appear. Complete it with your valid info and submit your request.
This advert is showing up to select users on Facebook and Instagram who meet the following criteria:
Female residents of the United Kingdom
Age between 18 years old and 35
Interested in Shopping and Online Shopping
Allow up to 2 weeks for your freebies to be shipped to you. That's about it. I hope you will get it. Don't hesitate to share your thoughts or any tips with me and the community.
This sampling campaign is ONLY for UK residents.
On TikTok – AVAILABLE
Rabanne is giving away free samples of the new Fame Parfum to select users on TikTok. The form is available on a sponsored ad. To help you increase your chances of finding it, I recommend you follow the steps below:
Follow Paco Rabanne's Official Account: Follow Rabanne's account on TikTok
Engage with their content: Like their posts and reels, significantly the posts about Fame or fragrances
Search for Paco Rabanne Fame on the TikTok Search bar and check out the sponsored posts
Here is a screenshot of what the advert looks like.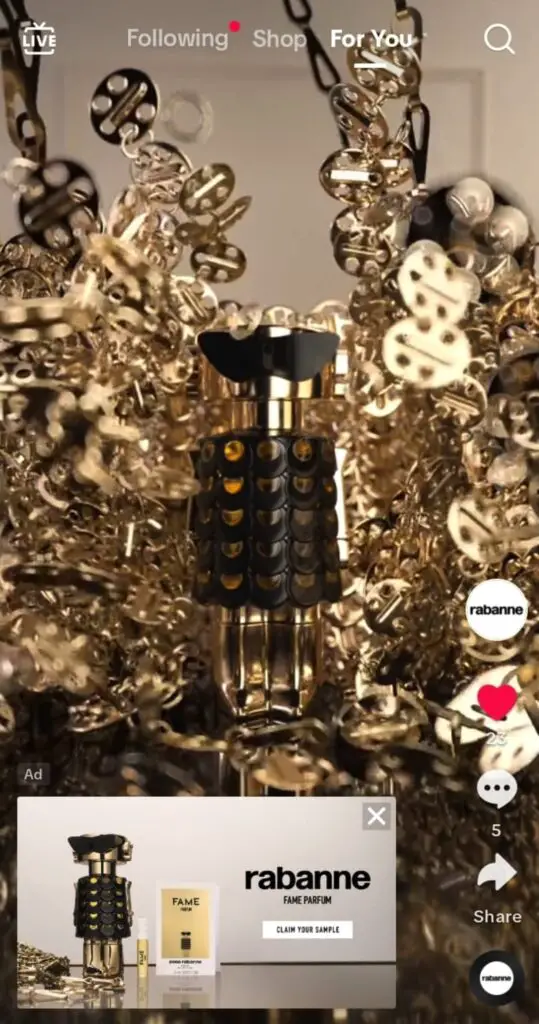 Once you see it, click on it and fill out the form to receive a sample.
Amid Magazine page – SOLD OUT!
There is a new article in ELLE Magazine with a sponsored advert inviting you to claim a free sample of the new Paco Rabanne Fame Fragrance for her. To get a sample, CLICK HERE to go to the page on ELLE Magazine, accept all cookies and scroll up and down until you find it. If it doesn't show up, you can try to open the link on a private page.
UPDATE: There is also the same advert in Women's Health Magazine. CLICK HERE and scroll up and down until you find the ad with the sample.
NOTE: The same page also shows another advert for a free sample of YSL Black Opium perfume.
Be the first to get the latest freebies in your inbox