Last Updated on August 15, 2022
Be quick to get your hands on a free Origins GinZing Eye Cream sample while stocks last.
Origins is giving away free samples of their new and improved GinZing Eye Cream to select UK residents.
The Origins GinZing Eye Cream helps to reduce the appearance of dark circles and depuff your eye area to make your eyes look brighter. Now you can test it yourself and see how radiant your look would be.
It also has Niacinamide which is known for its anti-aging properties and Vitamin C, an antioxidant that helps promote healthy collagen levels in the skin around your eyes.
Here is how you can grab a free sample to try by post.
How to claim a free Origins GinZing Eye Cream sample in the UK?
To receive your free Origins Eye Cream sample by post, you need to read the instructions below carefully.
NEW! Thru Facebook / Instagram – AVAILABLE
First of all, this freebie is available through a sponsored post doing rounds on Facebook and Instagram. The post shows up to select UK residents who match the targeting criteria by Origins.
There is no direct link to the form as of yet. However, what you can do is complete the actions below to hopefully align with the brand's targeting criteria. Thus, making the Post show up in your feed and be able to claim your sample.
Here are the actions I suggest you follow:
Like and Follow Origins page on Facebook and Instagram if you use it
Engage with the brand by liking recent posts, leaving a comment or watching a recent video they have shared
Visit the Origins.co.uk website and view the GinZing Eye cream there
Here is the snapshot you should be on the lookout for these days while scrolling through your social media feed.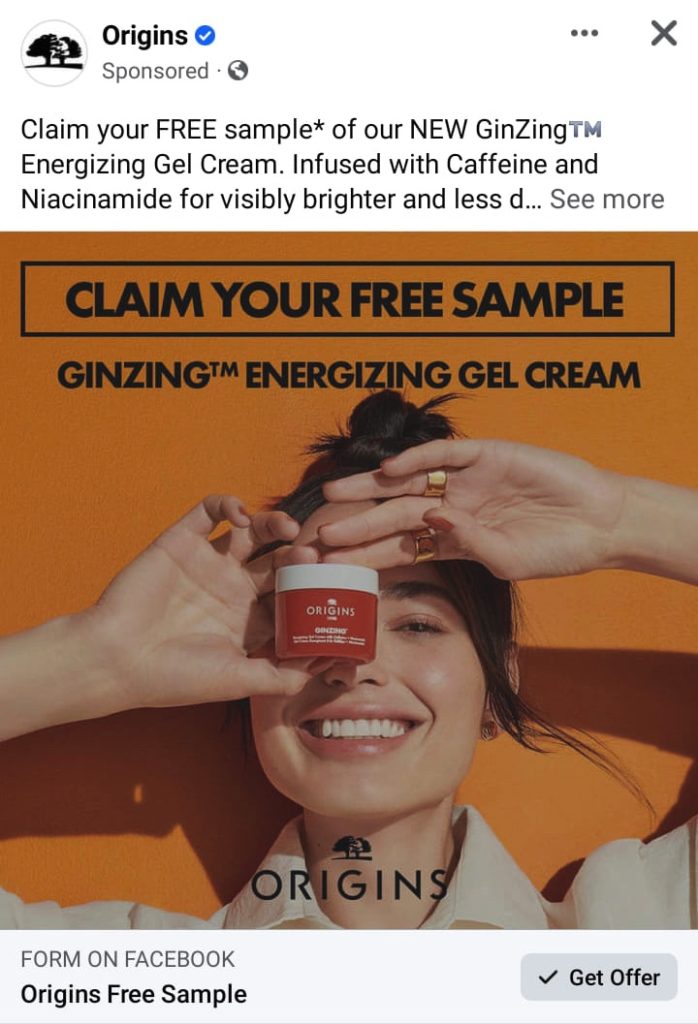 The advert is showing up to females aged 22 to 55 who may be similar to Origins customers.
Once you see the pop up, just hit sign up and a SoPost form will appear. Fill it in and wait for your samples to arrive in the mail.
This is available thru SoPost. So there could be a direct link to the form. I'll update you if I manage to find one or with further targeting criteria that you can line up with.
Good luck
Free Facial Treatment and Origins GinZing Eye Cream sample in-store – SOLD OUT!
Fantastic new opportunity from Origins. For a limited time, the brand is not only offering free samples of the GinZing Eye Cream, but also a free Facial treatment. To jump on this golden opportunity before it's too late, simply follow this link to the appointment Booking page at Origins.co.uk. Once there, follow the steps and book your appointment. Head in-store to get both your free Facial Treatment and free samples.
Be the first to get the latest freebies in your inbox