Last Updated on June 6, 2023
The Perfume Shop is offering residents of the UK to snag a free Montblanc Explorer perfume sample.
For a limited time, you can score free samples of the NEW Montblanc cologne for men. Try the Montblanc Explorer Ultra Blue Eau de Parfum gratis.
This fragrance is dedicated to the spirit of discovery. It starts with an uplifting mix of zesty Italian bergamot and citrus, before easing in notes of Marine breeze in the heart. The scent is then sealed with patchouli leaves and refined woods that combine in harmony with leathery facets for a lingering trail.
How to score a free Montblanc Explorer perfume sample?
To receive a possible free sample of Montblanc Explorer Platinum Cologne for men, you can simply follow the instructions below.
First of all, this freebie is available through a sponsored post on Facebook and Instagram. Thus, there is no direct link to the form. However, what you can do is increase your odds of getting it to pop up on your social feed by trying to fit the targeting criteria as defined by the sponsor.
I suggest you complete these actions:
When done, simply keep both eyes open while scrolling through your social feed. Below is a snapshot of the post you should be on the lookout for.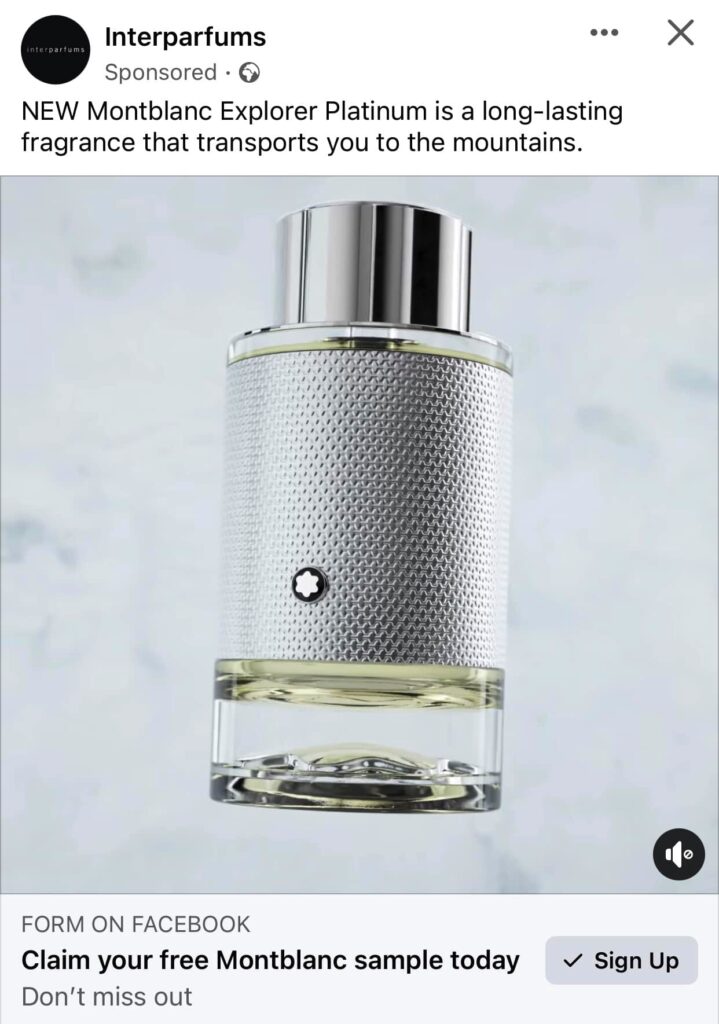 Available for a short period of time for select UK residents. Or whilst supplies last.
As usual, I'll update you when I know more. Don't hesitate to share any info you know about this post or the type of users they are targeting they are using. Good luck.
Check out this list for more SoPost perfume freebies in the UK.
Be the first to get the latest freebies in your inbox