Last Updated on May 14, 2023
HOT Freebie from MAC Cosmetics. Be quick to get your hands on a free MAC Hyper Real Serumizer sample and discover the new Skinnovation by the brand.
The new MAC Hyper Real Serumizer Skin Balancing Hydration Serum has a lightweight and breathable formula, to offer you deep hydration throughout the day without the greasy film. You can order a free sample to try out for free. Find out how below.
How to get a free sample of MAC Hyper Real Hydration Serum?
To get your hands on this freebie, I invite you to read and follow the instructions below.
NEW! In-store at participating MAC Stores
Here is another way to get your hands on a free sample of MAC Hyper Real Serumizer along with a 10-Day sample of MAC Studio Fix Foundation. You can simply visit your nearest participating store and go to the MAC Cosmetics counter and they will offer you a shade match to figure out your perfect foundation shade and give you a free MAC Sample Bundle.
I found out about this offer this evening through a sponsored post on Facebook. You can use this link to go to the offer page on MAC's Website and learn more about it. Moreover, you can find there the list of the participating stores for this freebie.
NEW! From NEXT on Facebook / Instagram – AVAILABLE
UPDATE on February 2, 2023. This freebie is available again but this time, it's from NEXT on Facebook and Instagram. So follow the NEXT page on Facebook and like their publications and look out for the sponsored post as shown in the screenshot below.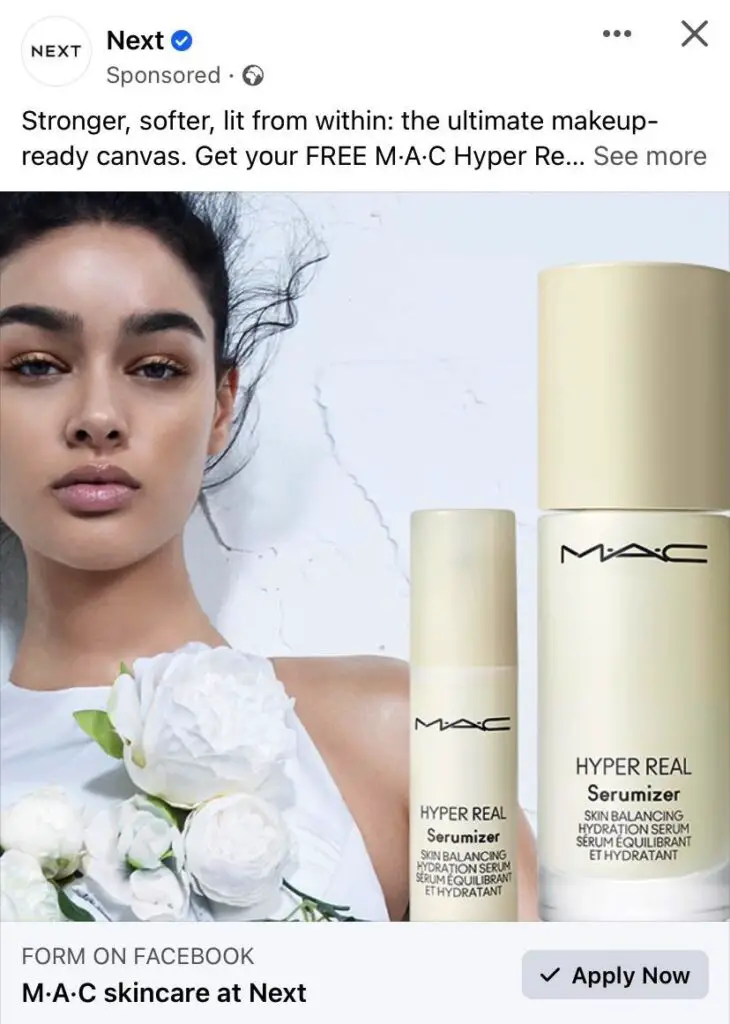 From MAC Cosmetics on Facebook and Instagra
MAC Cosmetics is giving away this freebie to select UK residents on Facebook and Instagram. So to get it, you need to complete a few actions to make that advert pop up in your feed. I suggest:
As you can see below, there is a snapshot of the advert you should be keeping an eye out for and the ad's targeting criteria. It shows to:
Female users of Facebook and Instagram who set their age to 18 and above,
Visited MAC's Cosmetics website or their partner's website
Interacted with MAC Cosmetics Facebook page or Instagram account
Shown interest in Skin Care, Clinique, and more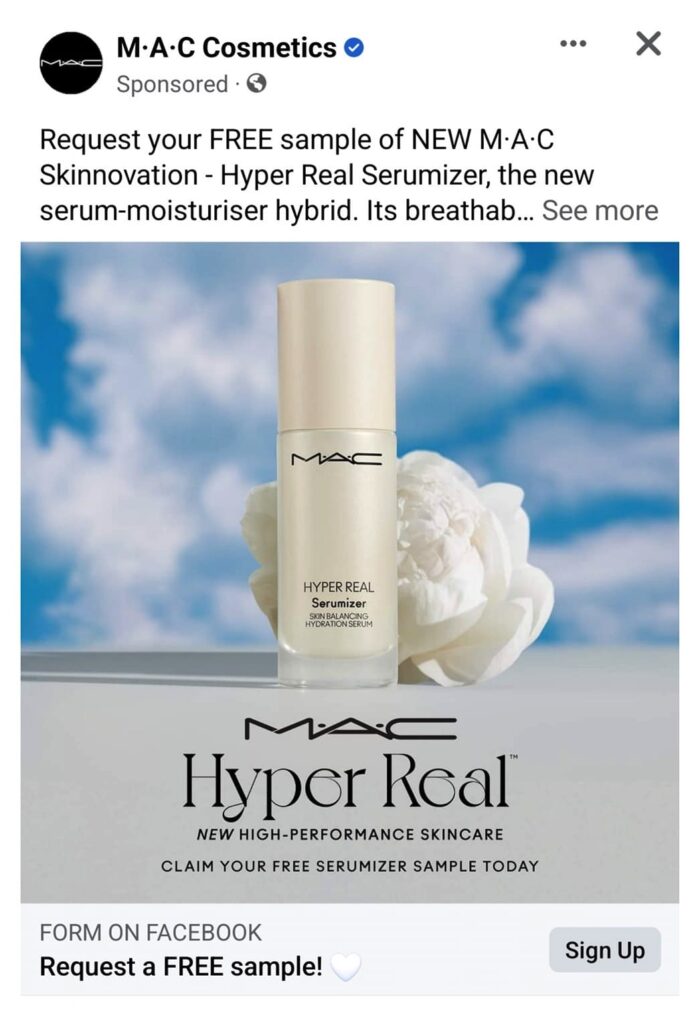 Once you spot it, it's all easy from there. Hit the 'SIGN UP' button to access the request form and claim your sample. As simple as that.
I will keep you posted regarding any updates.
Good luck.
Be the first to get the latest freebies in your inbox